OH.EM.GEEEEEE!!!  Y'all aren't going to believe how the house looks now!  I think I am still chanting that the house has finally been painted.  And if you are totally confused right now about why I am so excited about paint, you can catch up here and here.
If you have been with me on the painting ride, I'm sure you are wondering what color I finally went with.  And it was SW Balanced Beige (but used Behr's paint and primer in one, in flat finish). I love that paint! You can also read about me possibly becoming a Behr convert in this post.  I decided to go with the Behr (color matched) because I was wondering if the color would look different with the primer in one paint. So I bought a sample of Behr's formula, and it WAS different.  Much more greige like I wanted, and no blue at all which there was a slight tint of in my SW sample. So I'm thinking the primer made a pretty big difference in the color variations.
So yes, Balanced Beige it was. Remember that was the very first one I liked, but then thought it would be a good idea to keep looking at other colors and buying oh, about 20 different paint samples, maybe more?  Yea.  Awesome.  But I am sooooo happy with how it turned out, if that isn't yet obvious. :)
First I have to show you the before photos–brace yourself because it's a drastic change.  And also be prepared because NONE of the before or after photos have been staged.  I'm still redoing lots of things and need to rearrange things, but I couldn't wait to show you all!
BEFORE: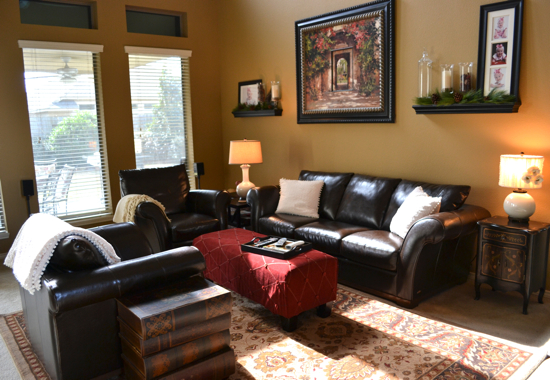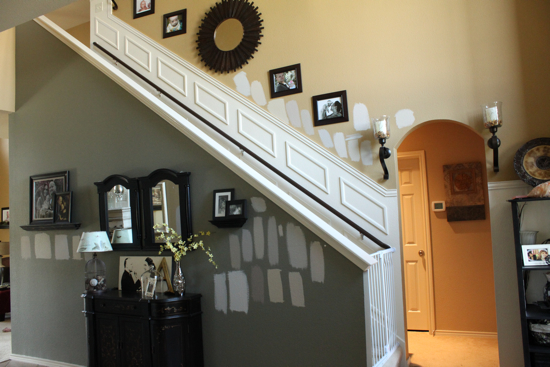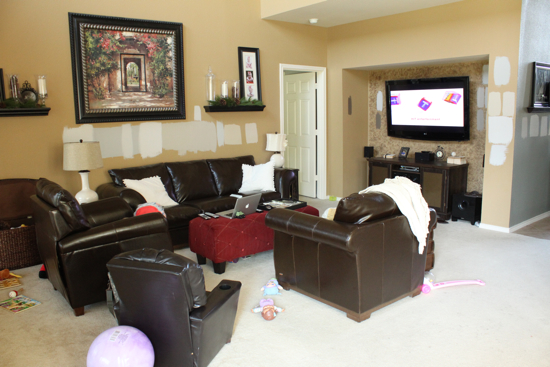 Aaaaand AFTER!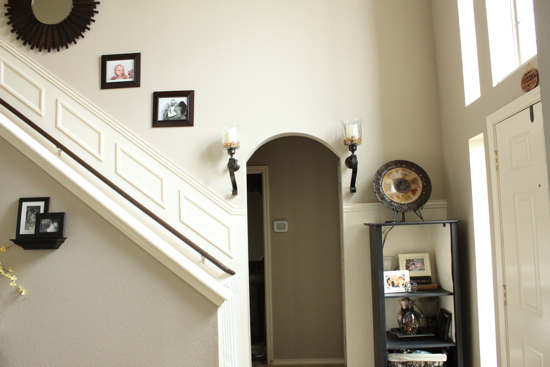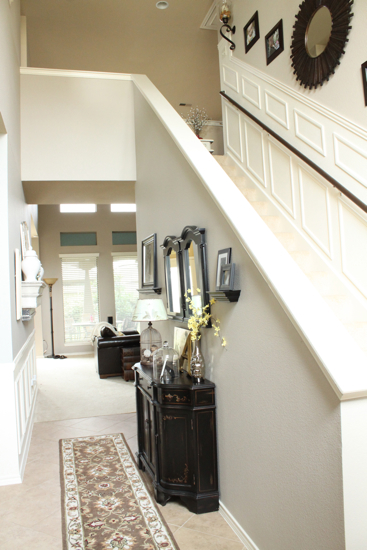 Isn't that crazy?!?!  Gosh, I just love new paint.  It is amazing how much cleaner and fresher and brighter the house feels now. Oh, and yes I'll fix those crooked pictures and candle sconces don't you worry. :)
And remember when Brittany photoshopped our living room for me so I could see what it would look like in the greige I wanted? If you don't remember, here is her photoshopped photo: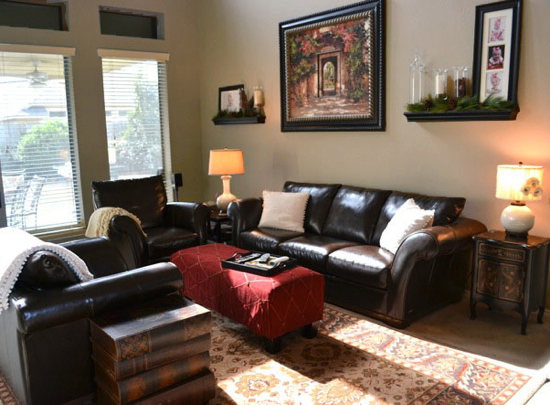 And here is the new (real) living room after painted in Balanced Beige.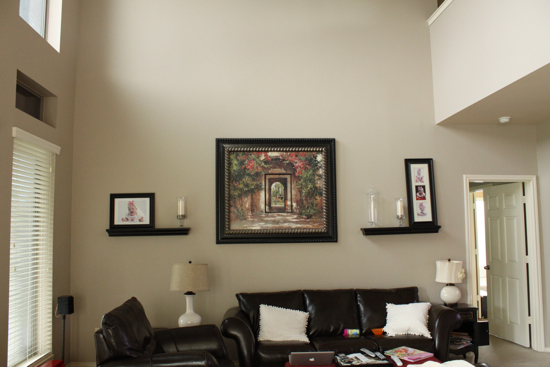 Um, they are almost identical! Good job Brittany! :)
Oh, I sold that big area rug too on Craigslist.  I bought a new one that I will show you soon.  And yes, still need to change up that red ottoman!
A few more pics…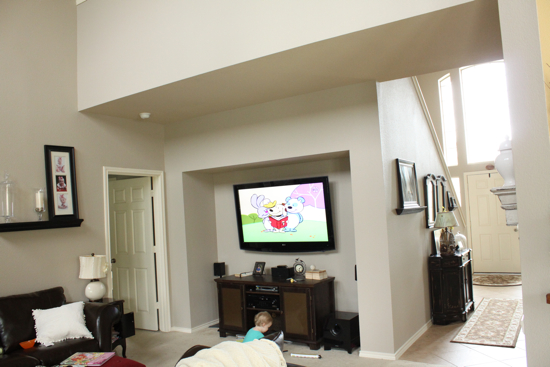 And still lots of things to do in the T.V. nook, I know.  But it's way better than the ugly faux! :)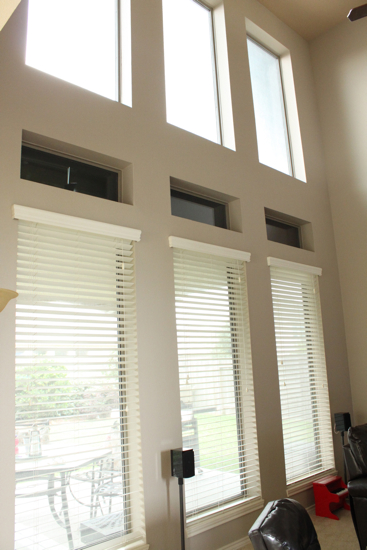 If you are curious why those little windows are black, it's because we had a patio built, so instead of seeing all the beams of wood we just had them cover them up.  But I am going to do something to them from the inside to make them pretty.
And one more pic.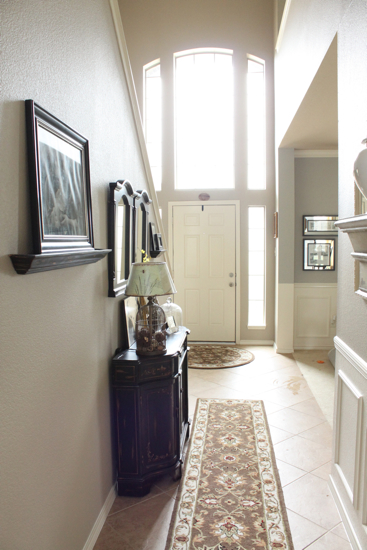 Soooo whatcha think?!  It's a craaaaazy difference and it did take a day or so to get used to, but, I'm in love. :)  It is the perfect greige in our house–just enough brown in it for the warmth, and still grey and neutral at the same time like I was hoping for.
We left the office as is because I still like the color (SW Mindful Grey), and we did not paint the kitchen which is Tobacco Road. But I kind of want to paint the kitchen now too. But not until we stain the cabinets darker.  Shhhhh. :)
Other BIG things are happening this week and I am just about to bust at the seams with excitement, but I will try and keep it together and update you on the progress of everything during the week. :)
P.S.- Yes, we did have to spend a little and hire this project out so I called up our contractor who is very good to us.  I'm sure you understand after seeing those crazy tall walls.  I would have done it but I wasn't willing to risk falling to my death using one of those big metal ladders that I don't even know how to properly use.  I did however, paint the little hallway by the staircase all by myself. :)
I'll be sharing this post at Sarah's before and after party, The Shabby Chic Cottage Transformation Thursday, Tatertots and Jello, Funky Junk Interiors, Between Naps on the Porch and The Shabby Nest Frugal Friday.
xxoo,
Decorchick!