So we escaped somewhere last week. If you follow me on Instagram you'd know, but if you don't….that's why it's been quiet over here! I didn't know whether or not I was going to write about this trip, but this place was so dang wonderful, it would be a crime if I didn't tell you all about it.
So where did we go?
PUERTO RICO!! Aye aye aye!
We haven't been on a vacation since our last tropical trip to Hawaii 2 1/2 years ago, and while that was so amazing, I'm totally in love with Puerto Rico.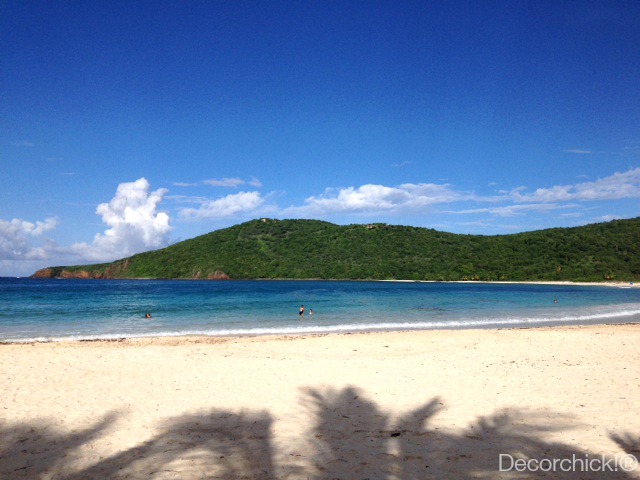 So first let me say I was so stuck on going to Cozumel. This was for our 8 year anniversary (yay!) and I wanted some pretty water darn it! I've never been to Mexico. And my mom loves it there and always says how pretty the water is. But we have friends that are from Puerto Rico, and the more I researched about it, the more I was for it. So Puerto Rico it was. Plus, you don't have to have a passport!
We stayed at the El Convento hotel in Old San Juan and that is probably the best hotel I've ever stayed at. I just loved everything about it. It is highly rated on Tripadvisor, and was super affordable. We went during off-season and our hotel was about $151 per night. We have spent more than that in San Antonio! Plus the rooms are gorgeous with super high wood-beam ceilings and antique furniture. The place use to be an old convent! It's definitely old world charm.
I also fell in love with the town of Old San Juan.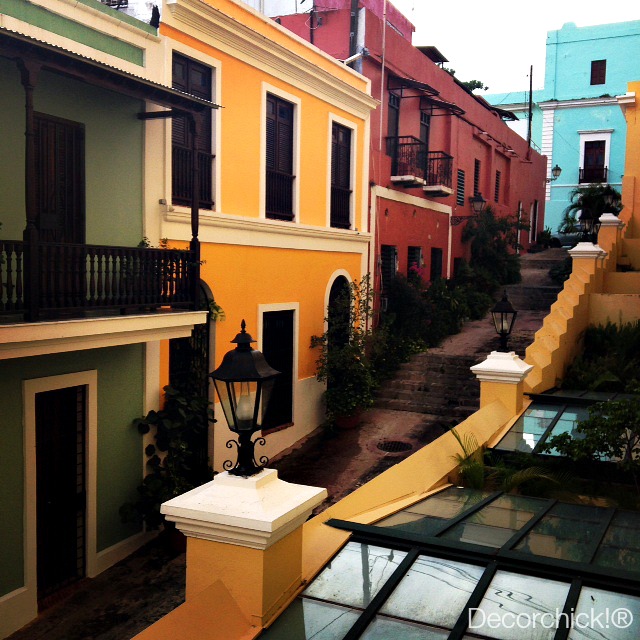 The whole town looks like this. With colorful buildings and one way cobblestone streets where many people walk everywhere.
You can find the best cup of coffee you've had in your entire LIFE at Cafecultura in Old San Juan. I am not kidding. This was my handsome date.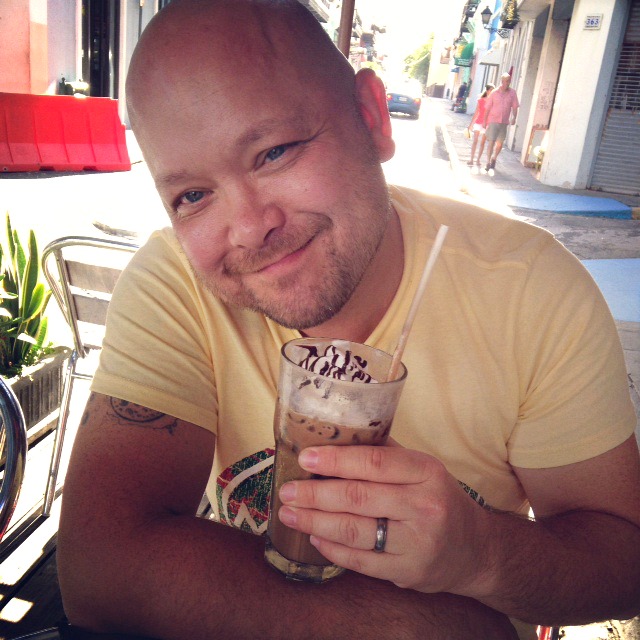 The food is wonderful also.
We did a lot of the sight seeing in Old San Juan, then ventured out and went on a little tour to the El Yunque Rainforest.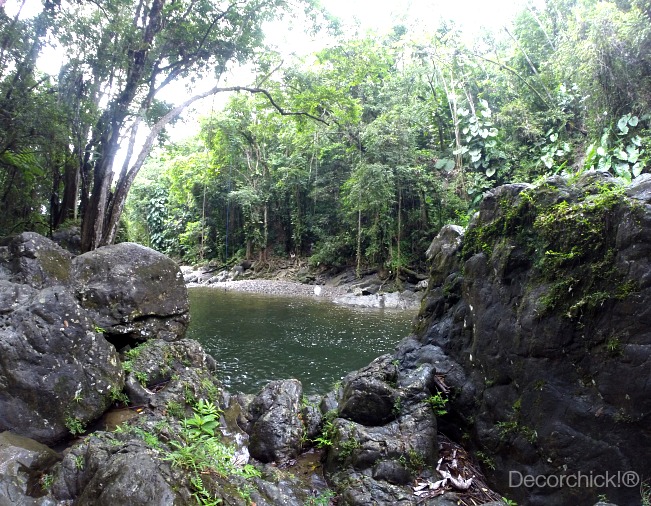 It was so so beautiful!! We went with a guy we met on the beach one day who does little tours where he offers you waterfalls on the tour, empanadas for lunch, swinging rope, cliff jumps, a slide that was formed out of the rock, and unlimited rum on his tour. Sign us up! Especially for the unlimited rum.
But Carlos is his name and he was great!
But little did we know we'd be doing death-defying hiking and climbing on this one trail he took us on! Seriously. I still can't believe we did it. And that we survived. I thought we did hard trails in Maui, but nope. This one takes the cake.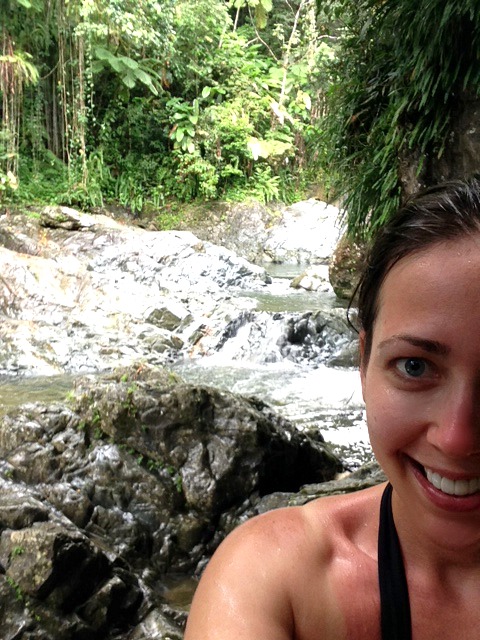 When it rained in the rainforest, it was so magical. I can't exactly describe it. I'd highly recommend visiting El Yunque if you ever go to Puerto Rico too.
Oh yea, and those awesome tan lines I have going on are just from walking around Old San Juan! They aren't kidding when they tell you to wear sunscreen when you're out roaming around.
Now here's where the trip gets really interesting.
Our friend from PR told us we MUST visit the island of Culebra with the world famous Flamenco beach. But my other friend who you all probably know Cassie, is ALL about the other island, Vieques. I was torn y'all. I texted Cassie and called her several times asking her questions since she is the Puerto Rico queen, so I thank her for all her help! Now I can totally see why she is in love with the place too.
But the problem with visiting one of those islands is that it's pretty difficult to do it in just one day. I didn't have a place booked over there and didn't want to pack up our stuff in San Juan, go back to the airport yada yada, because it just sounded like a hassle.
So here's the funny part. We ended up choosing Culebra. Sorry Cass! And we totally did not take her advice, and ended up on the ferry from h*ll that was 2 hours late, therefore putting us on Culebra at about 1:00 pm, then we would have had to catch the ferry BACK by 4:30 p.m. Ummm, no. And not to mention the hour cab ride from h*ll on the way to even get to the ferry. Our driver was INSANE. Or drunk. I am not sure.
So like we should have done all along, we called a little cottage place (while on the ferry!) and booked a room at Flamenco Beach. Since it's off-season, availability wasn't a problem.
And while we didn't have a single thing with us other than our bathing suits and cover ups, it was just perfect there.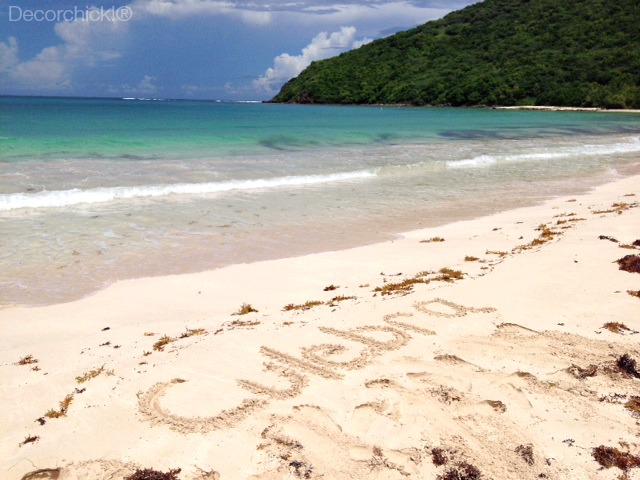 It is TOTAL island life. Like everything closes at 5pm or something. There isn't one stop light on the entire island and you either rent a car or jeep to get around or a golf cart. It's awesome. If you are looking for shopping and high end condos or resorts to stay at, this is NOT the place for you! haha
We did manage to find some food to eat, and find a bar of soap and a toothbrush at a little tiny store. But really, that's all you need there!
We did some super fun snorkeling at Tamarindo Beach in Culebra.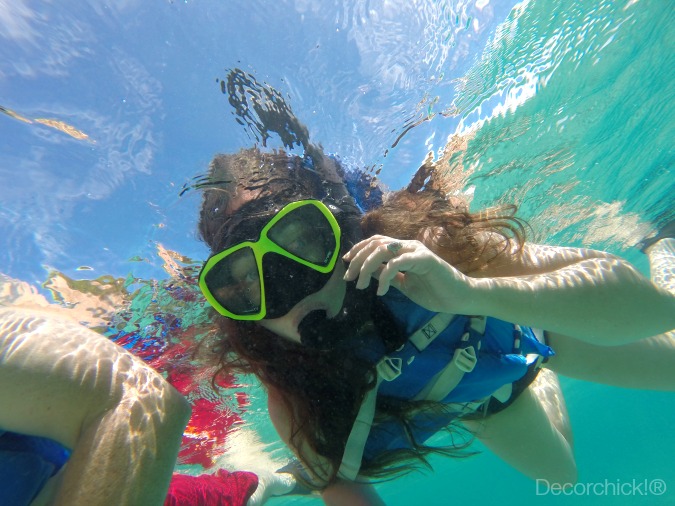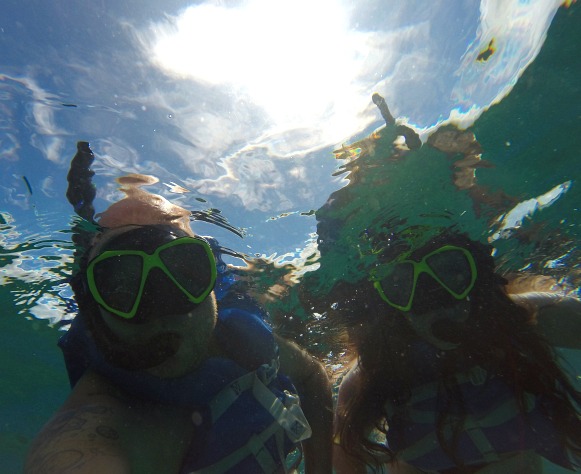 See how clear the water is? It's just amazing.
And by the way, snorkeling kind of freaks us both out at first, but then we warm up to the sting rays and sea turtles and fish that are swimming right by you. :)
We were smart on the way back and booked one of the little flights back to the main island, and went to Isla Verde airport, which is near Old San Juan. It was $70 per person, and soooooo worth the views and experience in a tiny tiny plane!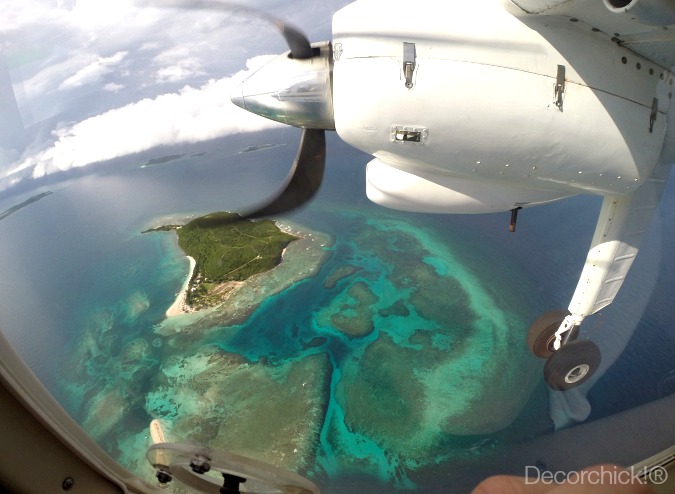 And then it was our last night in San Juan.
It really was the best trip ever. I was so sad to leave.
I didn't think I would fall in love with Puerto Rico as much as I have. The food is great, the people are SO nice, and it's just gorgeous.
These photos were all taken with my hubby's GoPro that he really wanted to buy for this trip, and I'm so glad he did, even though I resisted at first. Taking the camera underwater, filming things that wouldn't have been captured otherwise, putting the thing on the hood of your rental car and videoing while you are driving are totally worth the investment.
Some of the other grainer photos are of course with my trusty iPhone. ;) I have so many other photos to go through on the real camera, but I just haven't had the time yet.
So about the heavier thing as in the title of my post….when we got back the next morning I weighed.
And I gained 6 lbs!!! In a week!! Puerto Rico is not the easiest place to eat healthy, and believe me, I tried. I tried hard. I am sure it was all of the unlimited rum and too many to count pina coladas we had while we were there, and while I was sad for a moment, it was all worth it.
The good news is I'm back down 4 lbs! :) Traveling does that to you.
If you've been wanting a tropical vacay, I'm begging you to visit Puerto Rico. It is a very affordable trip, much much less than Hawaii, and really, just as beautiful. I never thought I'd say that. Not kidding. Plus, it's just a 4 hour direct flight from Texas, vs. 8+ hours to Hawaii!
Thanks for listening to me ramble on today. It was just such a special vacation, and a special reason to celebrate.
Big thanks to my mom for watching the kiddos!!
Have any of you visited, or want to visit PR? What did you think?
xxoo,
Decorchick!