First let me say a HUGE thank you to all of you that commented on the skincare post!! Wow! Y'all are awesome, and I read all of the comments and I have tons of great information now and many new products to try.  I will keep you posted on how the ole' face turns out. :)
And now for the table.
Remember this little table we have in the kitchen/breakfast room?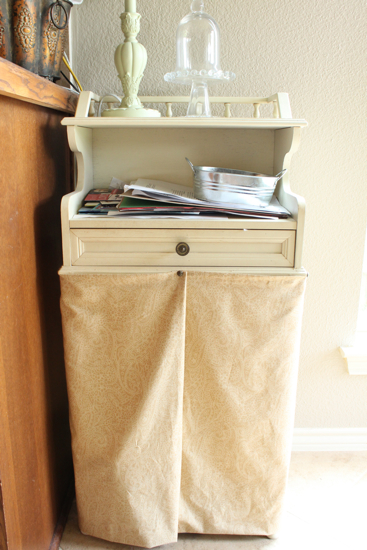 Ehhh, nice little table skirt huh? ;)  This is where our router is for the tv/internet connection, so that's why I tried to make it cute with that fabric. But it really wasn't doing it for me anymore.  My new word of the year is "enhance," so I thought that's what this little table needed.  I've had this table for years…like early apartment days.
First I primed it then spray painted it grey in a glossy finish.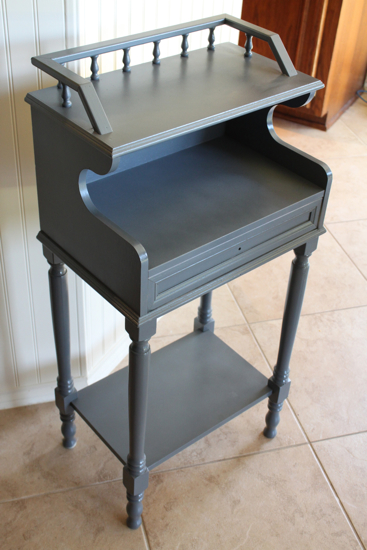 And this time I didn't want to cover up the legs, and was just going to find a cute shower curtain or something and cut it up, but when I was at Marshall's recently I came across this: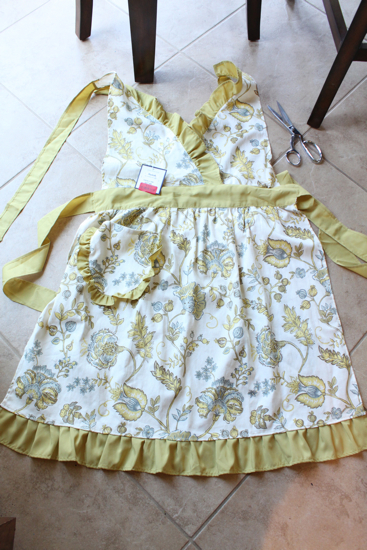 They had tons of cute aprons on clearance so I bought 2 of them. How perfect right?  All of the work was done for me and it has ruffles which is what I was envisioning.  And the length was perfect!
I cut from where the waist is and then I had my perfect length "skirt."  I used 1 apron for the front of the table since it's wider, and the other apron split down the middle for the 2 sides of the table. Then I just glued them up with fabric glue on the underside of the table.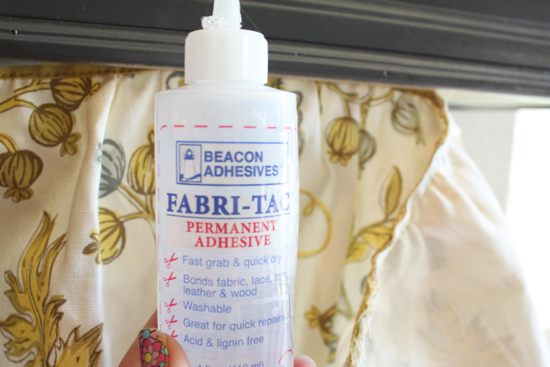 And here's the new table all dressed up!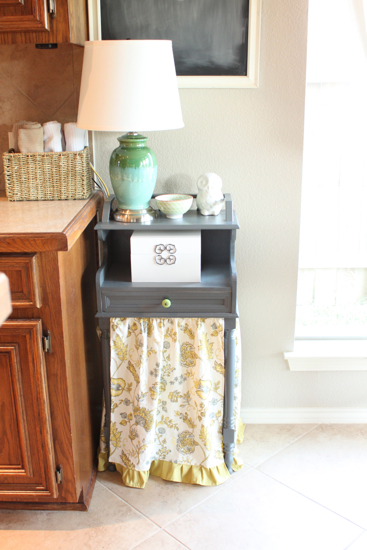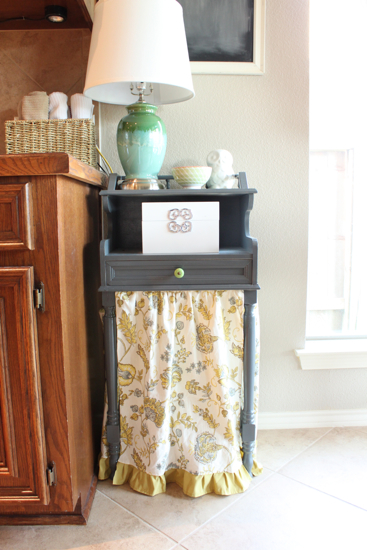 So cute right??  The lamp shade is a little big I know.  But I had such a hard time finding the perfect lamp and I finally found one at Homegoods and love the base, so I may get a new shade one day. But it's actually grown on me. :)
A pretty white lacquer box found on clearance at Marshall's, and my new obsession is white ceramic owls (even though I'm a little late on the owl trend).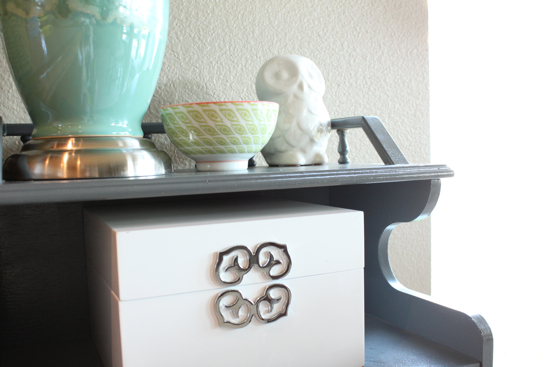 Some owls are creepy looking, but I picked this one up at West Elm on the blogger meet-up and it's just too cute!  The little bowl is from Anthropologie.
And the ugly router box is nicely tucked away and hidden, and easier to get to since I did the skirt differently this time.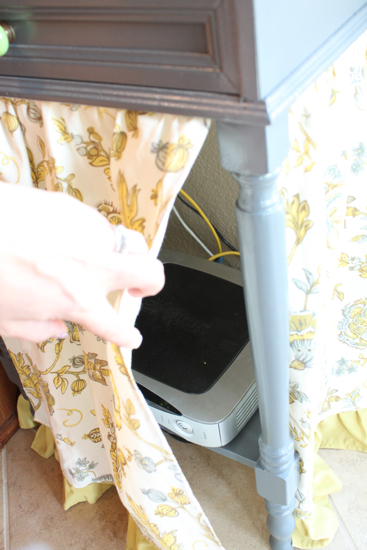 And a few more pics.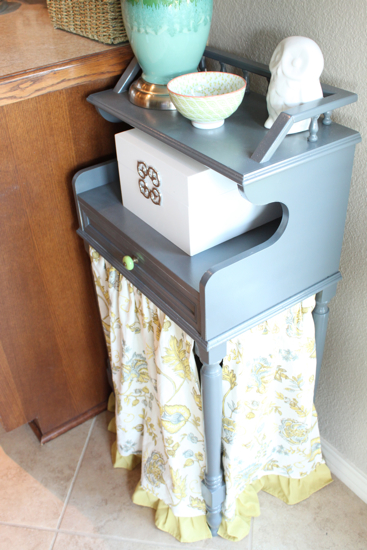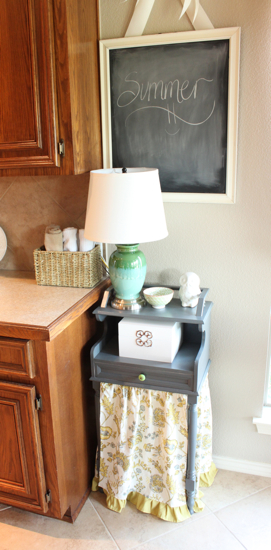 And a night photo because it looks so pretty at night. I put in a bright halogen bulb and love the way the big shade casts the shadows on the wall and the ceiling.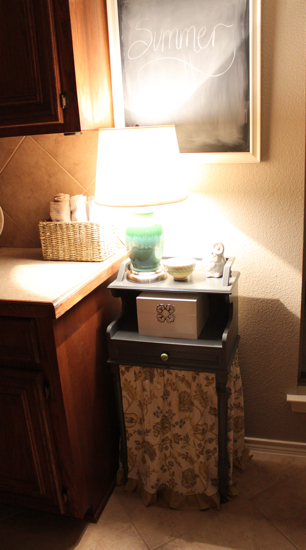 So whatcha think?  Paint is a magical thing, yes?  This table is now a little modern mixed with traditional…right up my alley. :)
And of course this is not a perfect paint job by any means.  I totally forgot to put a coat of polycrylic on to seal it before I primed and painted and so then I got a few cracks.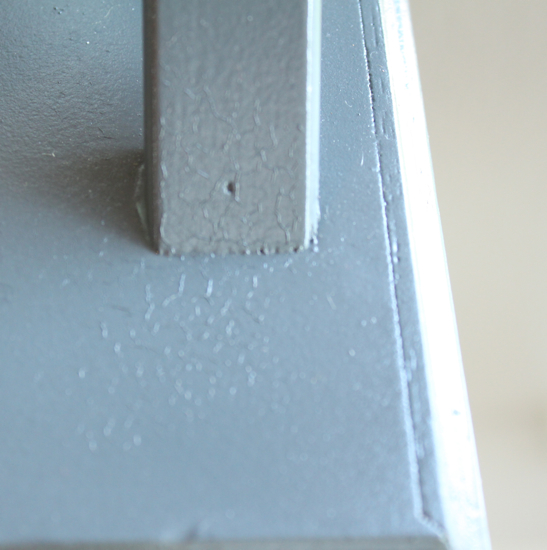 But that's ok. Me and perfect don't get along.  :)  It's really not that noticeable in person but of course it looks like it is in that magnified photo of my mistakes. Cracks are whack y'all.
But the good news is that my friend Mandie does tell you how to paint like a pro (because she is one), like with a brush and everything, in her awesome e-book on how to paint furniture.  I think I will follow her instructions next time. :)  But you can download for ten bucks by clicking the button below, if you'd like to learn to paint the right way.



And I'll be sharing this post at The Shabby Nest, Tatertots and Jello, Between Naps on the Porch, Funky Junk Interiors, The Shabby Chic Cottage and Sarah's spray paint party so get your projects ready and get trigger happy. :)
Don't forget to enter the giveaway from Curtainworks to win a $365 gift certificate for my blogiversary! You can also enter to win a Silhouette SD Machine here.
xxoo,
Decorchick!