I finally did start the laundry room redo this week, and orange was the winning color.
I know it probably looks scary in the can but don't you worry. It sure looks pretty on the walls!  And let me tell you, our crazy size laundry room is not easy for a pregnant person to paint.  Squatting under the stairs and painting is not an easy task.  If I ever want to repaint this room in the future, I think I'll spend the $50 and hire someone to do it for me.  In fact, I know I will.  I'd much rather paint a big room than a small room that's hard to move around in.
So anywho, I am doing the orange/aqua combo like I've been talking about for forever now, and I just ordered this rug which I'm SUPER excited about.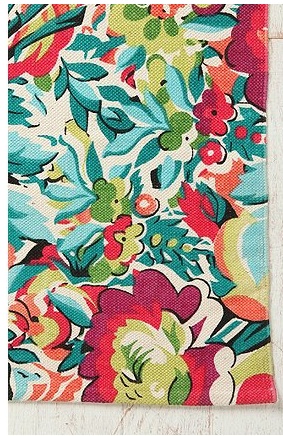 It's going to tie everything together nicely and I can't wait to get it!
You know you'll be the first ones to see the progress on this room so I'll be sure and keep you updated. I have to do this redo in baby steps because well, I get tired really easily now.  At least there is no crazy demolition happening or anything and the hard part is over now. Now it's time to decorate the room! :)
What have you been working on? Anything exciting?   I feel like I have so much to do before the baby gets here, yet, have done nothing!
xxoo,
Decorchick!
_________________________________________________________________
Also find me on Facebook, Twitter, Pinterest, Google+, and RSS.