I get asked all the time how I cook my okra. Remember that okra I planted a few months ago in our garden? Man it has really taken off. And because of that we eat okra at least twice a week, sometimes 3. :) If you follow me on Instagram (@decorchick1) you've seen an okra picture probably more times than you care to. But, everyone always asks how I make it, and one of my favorites is roasted okra with Rosemary. Mmmm!
Trying it with fresh rosemary was something new and I really loved it. But roasting veggies is probably the easiest thing to do. It's how I cook the majority of all of our vegetables.
Here's the recipe for it, and you can basically do this with all veggies.

Oven roasted okra with rosemary.
Recipe type:
Vegetable/Side
Ingredients
Fresh Okra
1 TB Olive Oil (use more or less depending on how much you are cooking)
1 tsp Salt (use more or less depending on how much you are cooking)
1 tsp Garlic Powder (use more or less depending on how much you are cooking)
1 tsp fresh Rosemary (or dried) - use more or less it's personal preference
Instructions
Pre-heat oven to 425 degrees
Line cookie sheet with foil or use a roasting pan and lay your okra on it
Drizzle olive oil all over and rub it in to coat the okra
Sprinkle the garlic powder, salt, and rosemary on top
Put in the oven for 15-20 minutes or until done. (just start checking it around the 15 minute mark until desired softness/doneness)
After it's cooked it will look like this.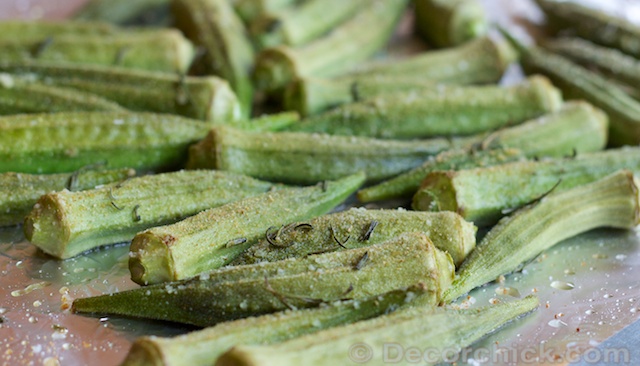 Then serve on a pretty plate! Villeroy and Boch sent me these orange salad plates from their Anmut collection and they are really pretty.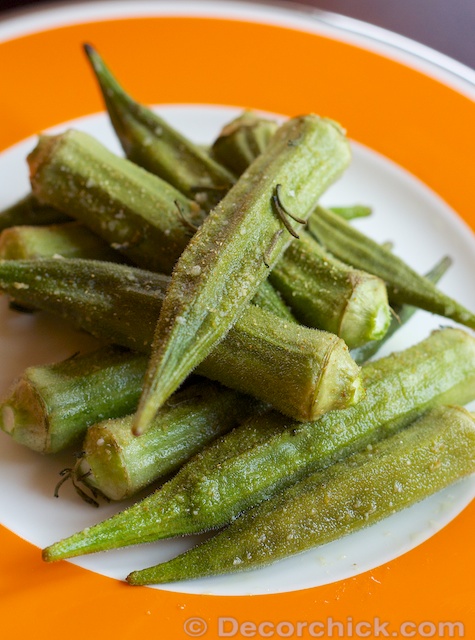 Makes eating something delicious that more fun.
FYI I had to sneak a pic of my okra plants in this post too.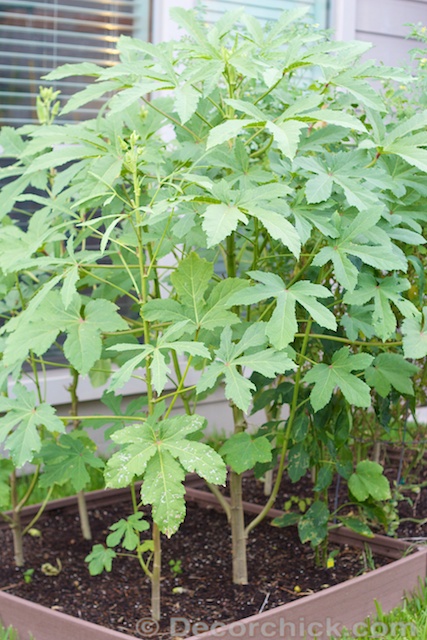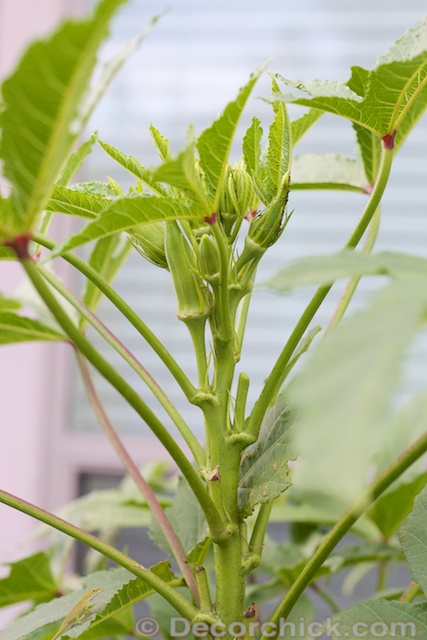 They thrive in the heat so being in Texas is perfect for growing okra. But my garden has gotten huge right?! It's about time to plant fall veggies.
Anyhow, that's my favorite way to cook okra. It's delicious to throw on the grill too. Yum yum.
How do you like to cook your okra? Do you roast a lot of veggies too? It's so hard to mess them up that way!
xxoo,
Decorchick!
Let's Connect!