So my October Stitch Fix box arrived a few days ago and I want to show you all what came in this one, just like I did last month! It's seriously SO fun and I anxiously await for the package to be delivered. I mean, you are getting a box of clothes delivered to your doorstep, and you have no idea what it will be. How fun is that?!
Here it is after I opened the box…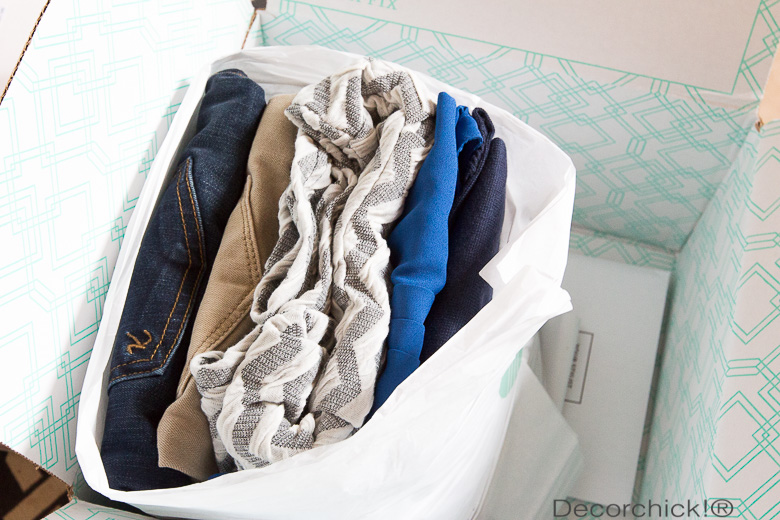 And I already liked what I saw!
So here is everything all laid out on the floor. Sorry about that but I just can't help but ripping it apart right away and laying everything out on the first cleared surface nearby.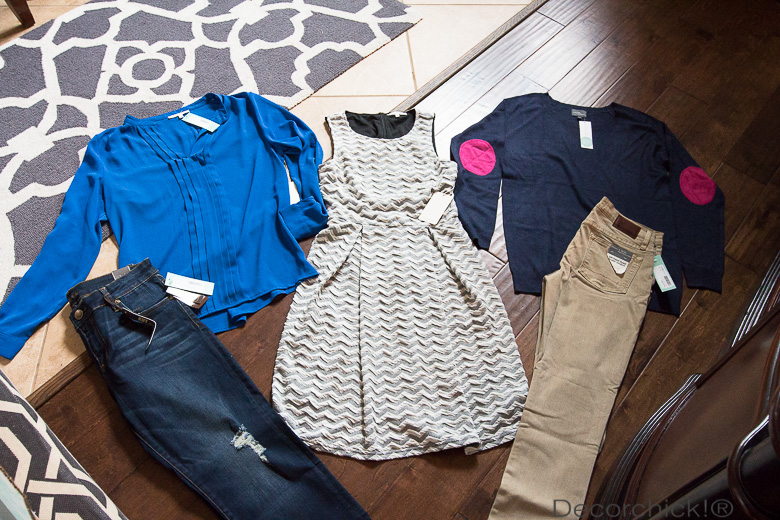 So yes, I immediately loved everything. Of course right? Isn't that how it works? But let me break this down a bit, because I was going to keep everything, but then I didn't.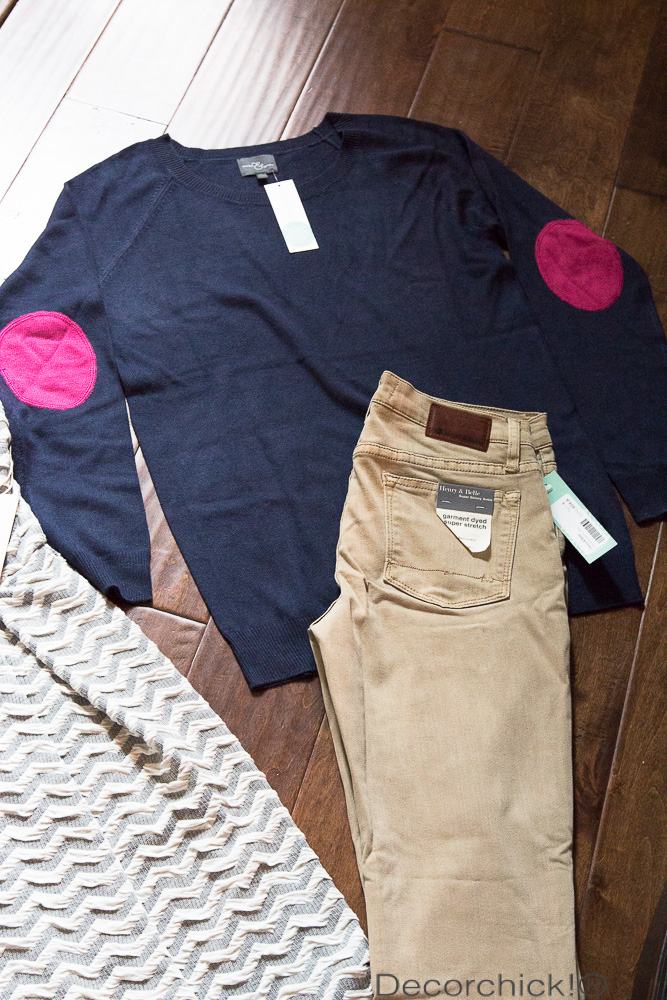 So that navy sweater I did keep that has the hot pink elbow patches. That is something I never would have bought, and I think it's cute. Plus I have the perfect scarf already to wear with it.
Those tan skinnies they sent me because they knew I loved the black ones so much from last month, and while they are nice, I chose to return them. They are on the higher end and I wouldn't pay that much for tan pants. Plus, I had asked for denim (which they did also send) so that's what I had my heart set on. At least for this month. :)
And that adorable chevron dress…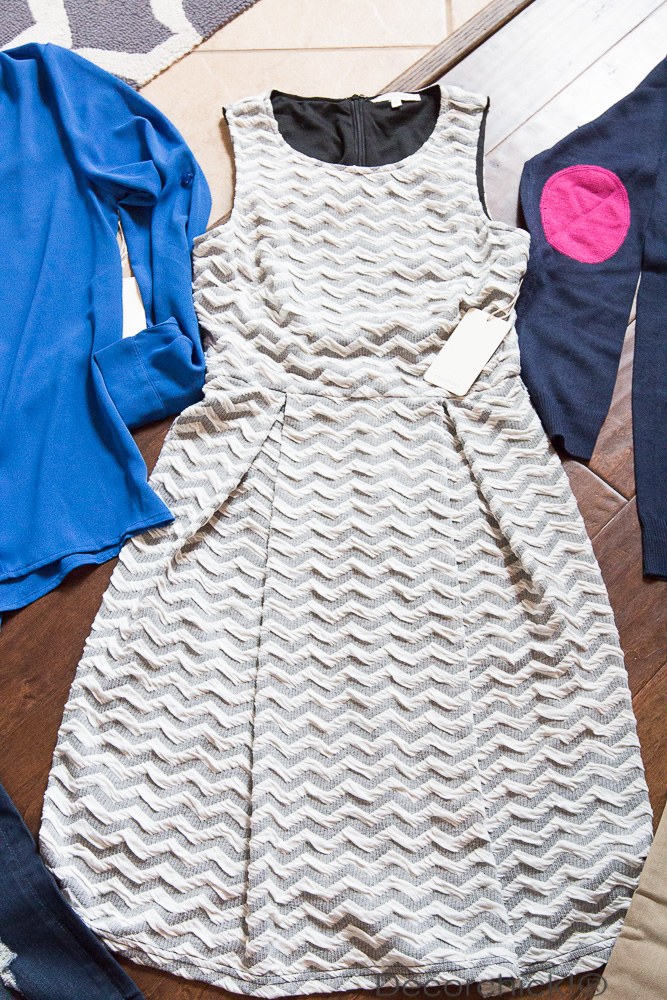 It is SO cute, but something in the back near the zipper just poufed out kind of funny, so ultimately I decided to return it as well because it would bother me in the long run and probably just sit in my closet. But the style of it I loved.
Now these next two things I kept.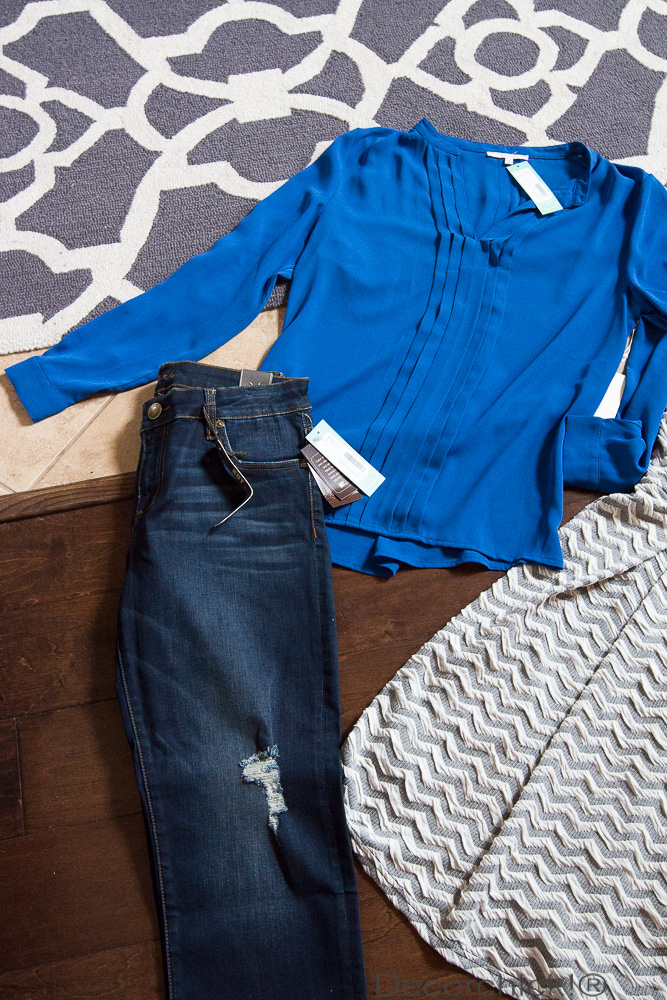 That blue top is gorgeous and the denim jeans I actually really like also. They are SO comfy. I will have to wear them rolled up like a capri which is fine because these are more casual denim anyway, and not a skinny jean. They are straight leg. So they will be great for some upcoming trips we have, and just for regular every day wear.
Now here's a few tips and things I want to add and some things I have changed in regards to my style profile and what I want to receive….
I changed everything in my style profile to be "the cheaper the better." So that is what I will receive in my next box. If I kept it like it is, with the price ranges I had it set to, I would be spending more than I wanted to each month on clothes.
I asked a few friends what their price ranges were set at, and they said they have it set to the cheaper the better also, and I've seen their boxes and the clothes they get are adorable! So don't be afraid to choose that category thinking you will get something of crappy quality.
One thing to mention is this: The clothes that Stitch Fix sends you won't be Ross or Marshall's prices. These are actually quality pieces of clothing that you can have in your closet and be staples for a long time! I think on average shirts and tops will be around $30-something if you have the cheaper the better box checked. I have found the clothes thus far to be of something you would find at Nordstrom. And that's like my favorite store!!
Like I mentioned before, I don't mind spending money on a good pair of jeans that I'll have a long time and will be staples. But I don't need high end jeans every month. So that's why I lowered my price range. I'm telling you…a good pair of denim is worth the investment!
Be VERY specific in the notes to your stylist about what you want or are looking for. They really do want to do their best and send you items that reflect what you are requesting.
Create your style pinboard and put the link to that board under your style profile. They LOVE to look at that and see what you are loving. I just created one this month, so that next month they will see my style in pictures, vs. guessing on what they think I may love. Here is the board I created if you want to follow along and see what styles I'm loving.
And I think that's it for now. I'm once again, anxiously awaiting my next box in November! Bring on the cozy sweaters! :)
Let me know if you have tried it and what you think! It could take a box or 2 at first for them to really nail down your style, so don't give up if you didn't like the first one. I've been super happy so far, and I think being very specific is key. And it sure beats getting out of the house to go shopping! You can sign up here with Stitch Fix if you want to try them out!
And yes, it's still addicting. And yes, they have petites! (for my mom if you're reading) :)
xxoo,
Decorchick!®