Oh, well hey there! I've had a lot going on these past 3 weeks. I was in Utah for a few days, celebrated our 9 year anniversary with hubby, ordered some NEW curriculum because part of ours wasn't working, and have just been doing life! I will get into all of the homeschool adventures in a different post, but for now, let's talk about my newest obsession, which is Stitch Fix! Oh my goodness why haven't I done this sooner??
I actually have had an account for a long time. Just never ordered anything. But I finally told them to send me a "fix" and now I'm hooked. Seriously. It's like getting groceries delivered to your door or something, without getting out of the house. I think I need everything delivered from now on.
This is how it came packaged up.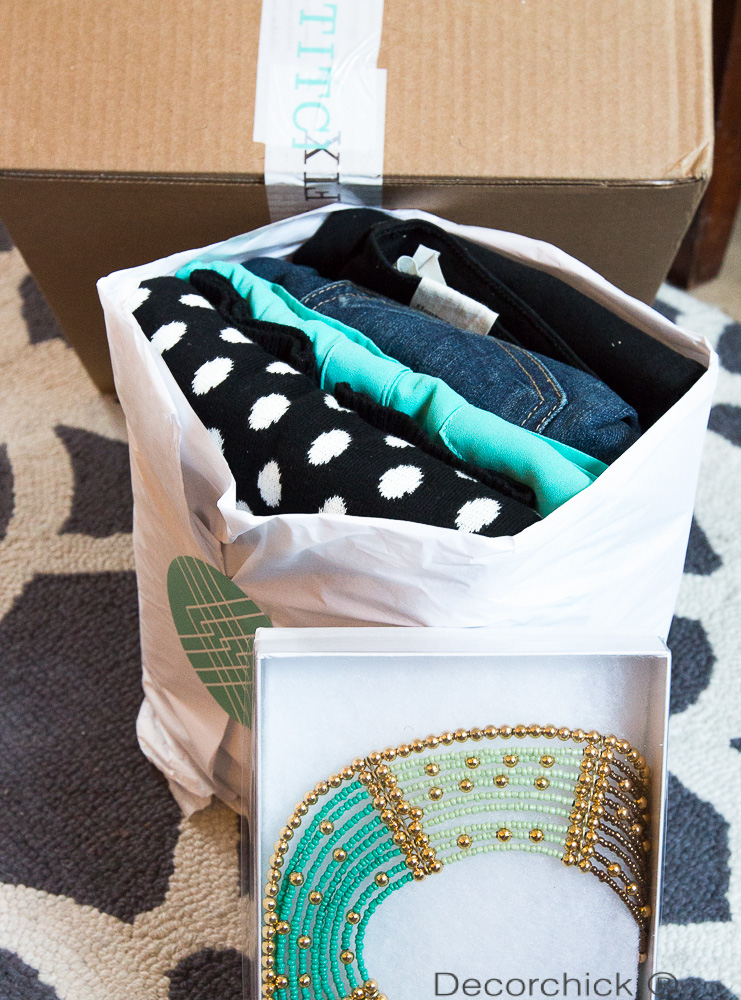 And immediately I was already excited.
I quickly unwrapped it and laid it all very unorganized-like on our floor.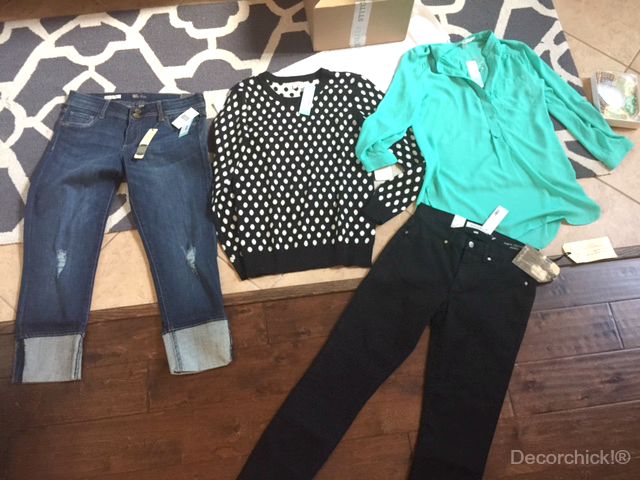 (sorry some of these will be iPhone pics)
Okay, so I was super excited to try everything on. I loved the turquoise long shirt, the polka dot sweater, and the 2 pants before I tried them on. I specifically requested some black skinnies, and also some casual distressed jeans.
I don't have any "real" pics of me wearing each item, but the black skinnies fit great and I loved them! I do have a pic of me wearing them…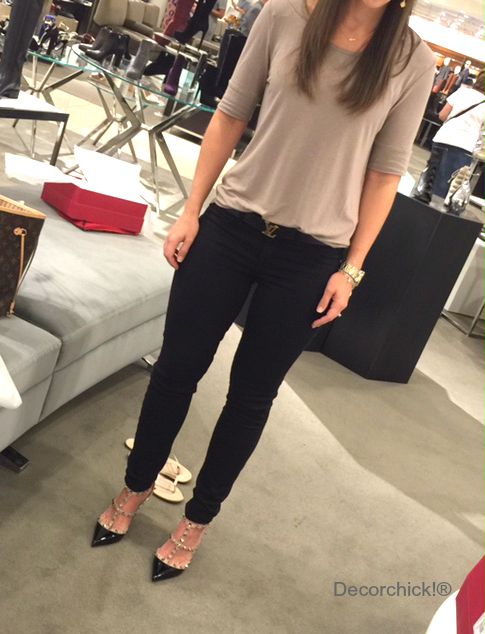 And in that pic I just happen to be wearing a $1,000 pair of Valentino shoes that I tried on! I was out shopping with a friend and she was trying on shoes, and the sales associate *made* me try some of these on while I was just waiting around. And of course I loved them, but I wasn't in the market for shoes that day. ;) One day though, because they were amazing!!
The blue denim jeans they sent, I didn't love. The thick cuff was sewn rolled up, and they just didn't look right. Plus, I want the option to make them a capri or a jean myself, and not have it permanently sewn.
The turquoise shirt I did really like, but my friend just ended up buying it from me. I could have gone either way it it so I just opted to let her have it.
The polka dot sweater I for sure kept!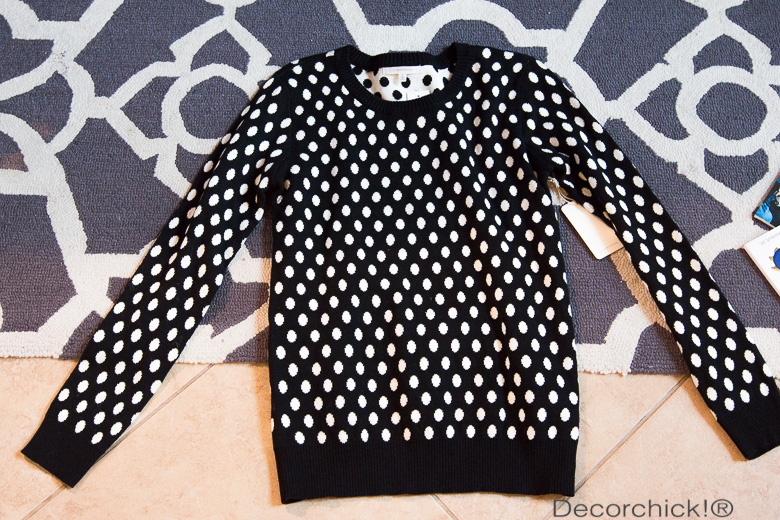 It looks super cute on and I can't wait to wear it.
This necklace, it wasn't my favorite, but it was pretty and good colors.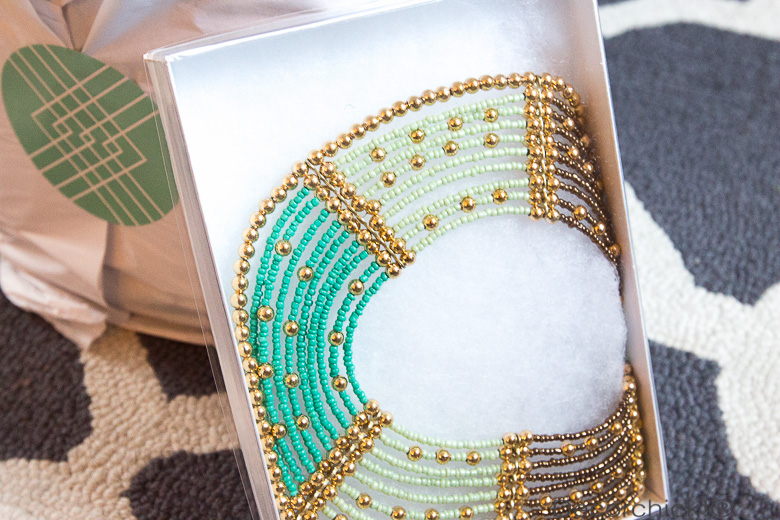 What I love is that they send this stylesheet card with the items they send you, and gives you suggestions on how to wear everything.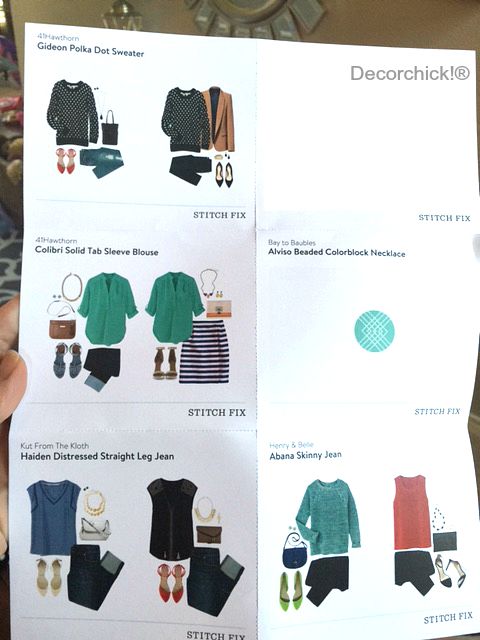 So if you are fashion challenged, they make it super easy on how to create outfits with what they send you.
So what did I keep? I kept the black skinnies, the polka dot sweater, and the turquoise shirt (although my friend bought from me). I sent back the denim capris and the necklace.
Overall I was super happy with my first box! And the price points. It's great because you can choose your minimum and maximum dollar amount on each category that they offer. So if you don't want to pay much for accessories, that's totally fine. Or if you don't want accessories at all you can choose not to have any sent to you. If you have a special event coming up, you just tell them what you need and they will do their best! It's really super fun.  Also, they send you the pre-paid envelope to mail anything back that you don't want. And there is no obligation to keep anything at all. If you hate it all, send it back! And if you like just a few of the pieces, you pay for those and send the rest back.
What I was most impressed with I think is that every single item fit me perfectly. I was very specific in my style profile, telling them my body type, the sizes I usually wear in certain items, and things like that. And they nailed it! To have 2 pair of jeans fit me on the first shot was pretty epic I thought.
Right now I am having my fix's sent to me once a month. I'd love to have it more frequently, but I have to control myself a little. :) It's really super addicting having someone shop for you and having it delivered to your house!! :)
This isn't a sponsored post for them or anything. I'm just writing about it because I am sure many of you might like their service too. Just trust me though. It's addicting. But totally worth it.
If you'd like to try it out, You can sign up here! I would just suggest to be vey specific in your notes section, and just tell them what you want! I have a formal event coming up next month, so for my October fix, I told them I needed maybe a cocktail dress. And I told them I would like more tops, since that's what I need more of right now. Just basic tops, sweaters, light jackets etc. I can't wait to see what they send me this month. It's like Christmas!!
xxoo,
Decorchick!®