I'm so excited to introduce you all to an awesome new site called My Colortopia, from the makers of Glidden.

You may have seen them around blogland the past few weeks because they have a great new panel of bloggers (that you all will recognize) that will be contributing their expertise on colors and how they gain their inspiration.
Now, we all know I've had my fair (or unfair?) share of painting mishaps around our house.  I would do things backwards and try and choose a color in my head that I knew I wanted, and then tried to match it to the walls. Not a good idea. But now I know and understand that I need to be inspired first by something, whether it be a photo, a place I like to visit, books, etc.  Hence the reason several rooms are still untouched in our house. Still waiting on that inspiration to hit. :)  But another problem is that I love all kinds of colors and combinations too.  I like all neutral, yet I like bold colors as well.  Nothing is ever easy is it?
Well things could be a little easier now because the My Colortopia team has created a fun new personality test asking you certain questions, and then it will come up with a color palette for you based on your answers!  I took the quiz and here are my results: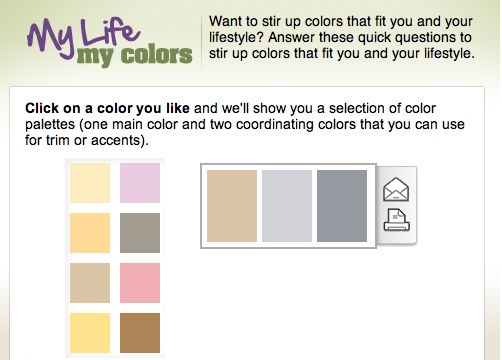 I'm not too sure about the pink colors that came up, but I do like the palette of the 3 colors it chose for me. And it turns out I already have the greige everywhere in the house, and then the other 2 are grey!  We all know I love grey too. :)
And I know you all are chomping at the bit to take the quiz yourself too because we all love personality tests, so go ahead and take it below!  I hope it helps you out with any painting decisions you have coming up so you can be confident in your color choice. And I think you will have to get out of reader to view the test too. :)

Do you wish this test was around before you had any painting disasters? I sure do.
xxoo,
Decorchick!
Disclosure: I have partnered with Glidden/Akzo Nobel Paints to write this post but the thoughts and opinions expressed are my own.