Hi everyone, hope you had a great weekend! July around here is a crazy busy month, but actually the whole summer has been. :) But, I am so thrilled with how this latest project I finished up last week turned out. Like, it may be one of my favorite projects to date.
Remember when I had my Molding Link Party back in March?  Well there was one particular project that was linked up by Dianne from The Inspired Housewife and it has been in the back of my mind to do ever since.  Check out what she did to her doors here it's gorgeous!
So here is our door before…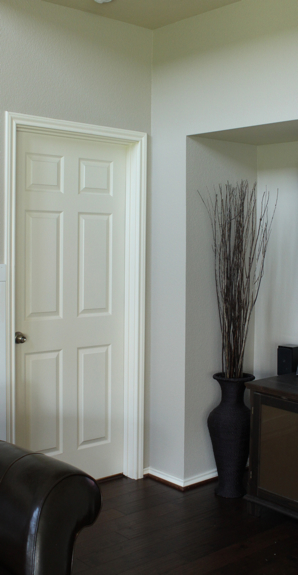 And after.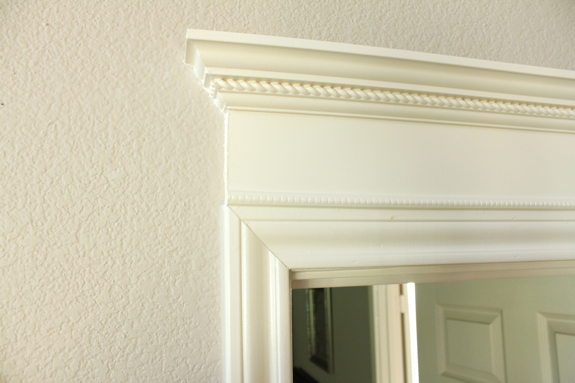 I just love it.  It added several inches of height to our plain builder door casing trim and added tons of character. High five for architectural detail!
Now let me tell you something. I was pretty darn proud of myself after this. Yes, yes I was. Why? Because I've never really cut crown molding and have kind of been scared to because everyone says it's so hard yada yada.  But I'm here today to show you how you can do this too, and NO, it's not that hard.  All it takes is a few moments of your brain working to think about a few things, that's it. And once you do it and get it right, it'll be like a piece of cake the next time you need to cut some crown.
5 very important things to know about crown molding:
Always cut your crown upside down on your saw. Usually when you have crown molding up on the ceiling, the most decorative part is on the bottom part.  So, when you are ready to cut, face the decorative part up top (you'll see a photo of this later on)
Always (most of time) cut your crown

standing up

, at an angle against the fence of the saw (you'll see a pic later).
All of my cuts for this project were 45 degrees.
Take your time and think before you cut.  Crown molding is expensive :)
Get a compound miter saw if you can. I have a Ryobi and it was very affordable.
Now for the tutorial on making your doors charming and pretty!
I used a piece of MDF that was 4 inches wide I had on hand leftover from the paneled wall, cut it the length of the door and nailed it up.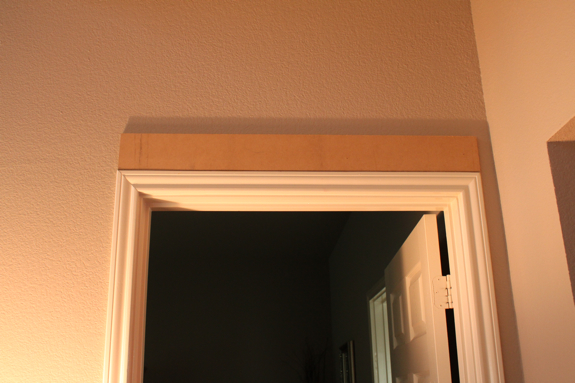 Then I measured what length my crown needed to be and cut.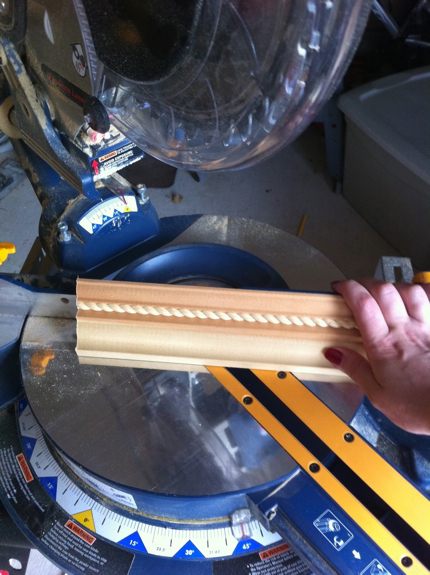 (You will set your saw at 45 degrees for both ends of the crown, just flip the direction of the 45 degree angle for each end. Make sense?)  Also notice how I'm standing up the crown against the fence of the saw and holding tightly before I cut.
Here's the piece of crown after I finished cutting, and I got this right the very first try!  Yay for YouTube videos and a few calls to my Dad to make sure I was understanding what to do.
Next you need to figure out your side pieces.  These did take a little bit of practice to get it right so just be patient. And buy extra crown. :)
Your side pieces will have a 45 degree angles as well, and also one straight angle (the side that touches the wall). So just cut your side pieces the same way you cut your big piece. It will fit together like this.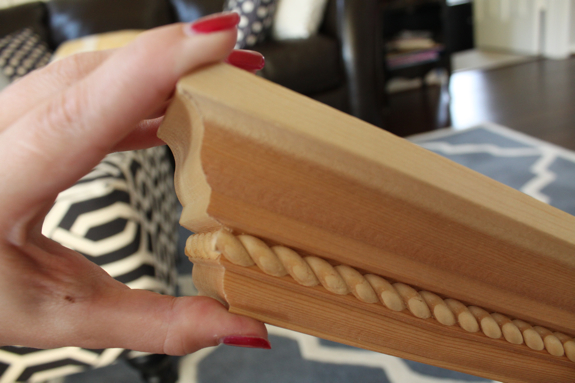 Please note: When you cut your side or end piece, you will also cut the crown upside down, BUT, for this cut you can just lay it flat on the saw since you need a simple straight cut.  Like this: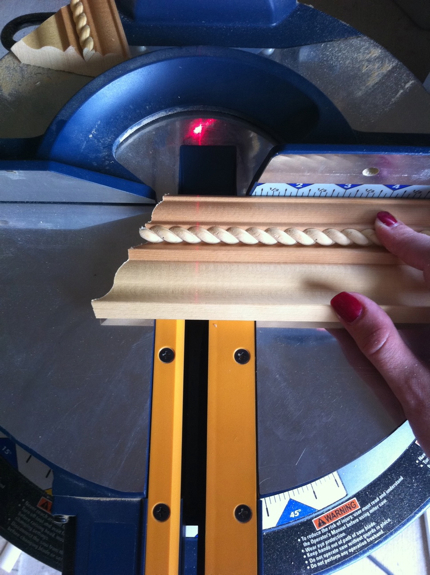 See how little of a piece you need to cut, where that red laser line is?  Just measure to the back of the wall and to cover up your piece of wood above the door to get your measurement. It will be pretty small if you are going to do this project.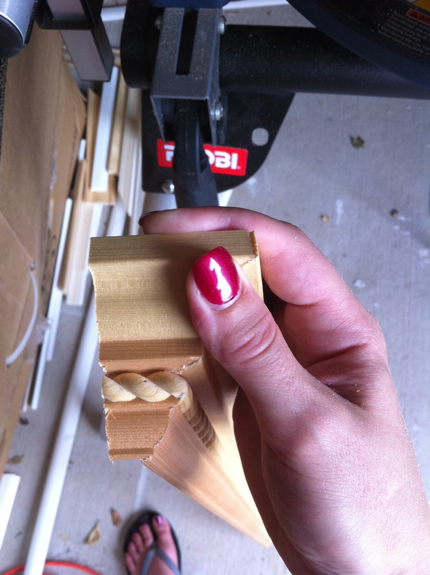 See the straight cut? That side will be up against the wall.
Goodness, I know this is a long post and tutorial, but I couldn't think of any other way to tell you all. This is detailed stuff and I kind of had to wing it myself since I couldn't find a thorough tutorial anywhere online, so I'm trying to save you the trouble. :)
Ok, so once you have the 3 pieces cut, you are ready to assemble.  The first thing I did was use some wood glue and attach the big piece to my piece of MDF, and then secured with a few finishing nails. Then I also used wood glue for my side pieces, but do not use your nail gun on the small side pieces because they are too fragile.  Don't ask me how I know. :)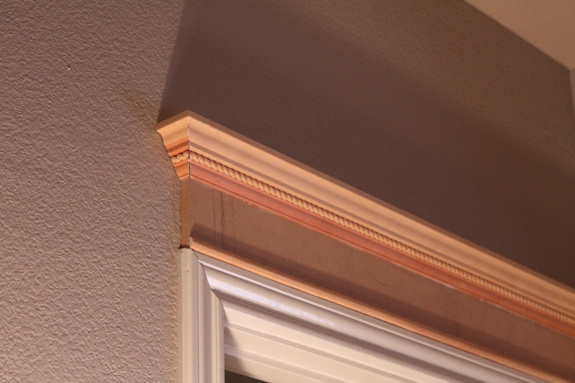 I used a small thin piece of flat decorate trim to cover the seam between the door casing and mdf.
Then just caulk everything, spackle the nail holes…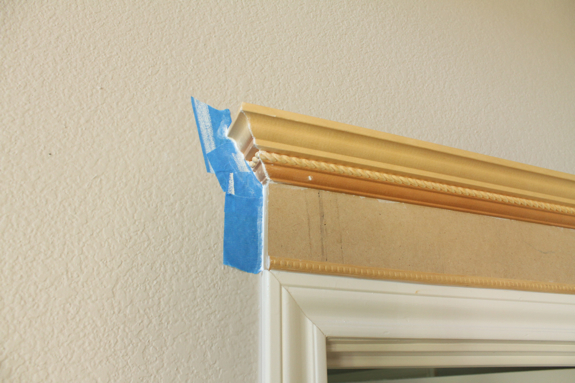 And you're ready to paint!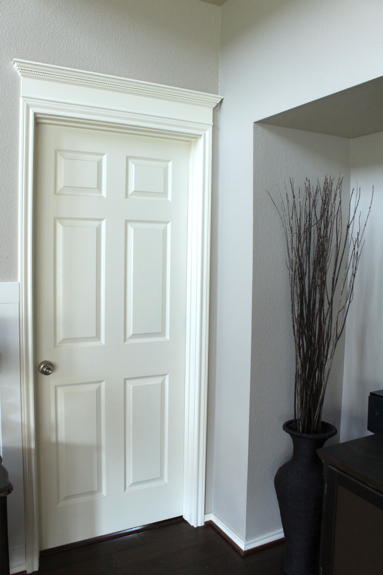 So what do you think?  We love it so much!  I can't wait to show you the new living room wall either. Oh my. :)
And a side by side of the before and after…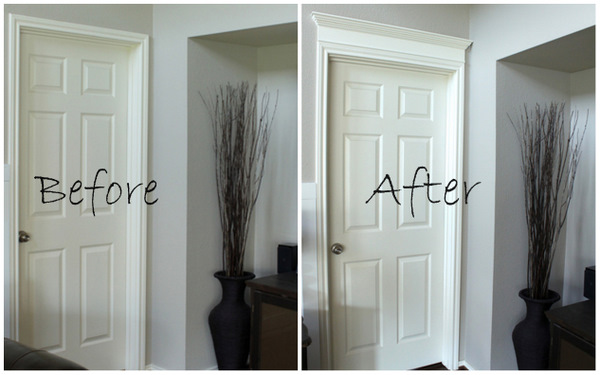 Love. :)
And also, you could do this project with just your miter box and saw. You will just need to find a way to clamp it into place and stand it up.  I tried it out but didn't have the patience, so that's why I was determined to make it work on the big saw. And it did!  :)
You can also choose any style of crown molding too.  Mine was about 4 inches wide and I chose a more decorative one, but any style is fine.  I paid around $15 for my piece of 8ft crown. Yikes.  But it was well worth it. :)
If you have any other questions leave them in the comments and I'll get back to you. And if I missed something I'll be sure and update the post.
Happy crown molding cutting!
P.S.-my nails that you see in the pics is the same shellac manicure I posted about a few weeks ago. Crazy huh?? It's been 3 weeks to the date and I still have it on, but it's time for a new one. :)
I'll be sharing this post at Sarah's Before and After Party, Tip Junkie, Tatertots and Jello, Between Naps on the Porch and Beth's Tutorials and Tips Party.
xxoo,
Decorchick!