Some Annie Sloan Chalk Paint.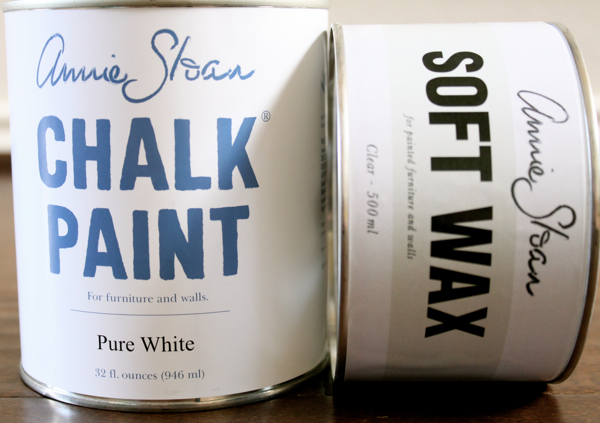 Not to be confused with chalk board paint, because they are both very different things. :) I've never used it before, but decided to buy some from a local distributor the other day and try it out.  Hey, if what it claims is true about no priming necessary, no sanding, and sticks to basically any surface, then sign me up!  I'm all about no prep work that's for sure.
But I do have to say that I am definitely more of a spray paint gal instead of the paint with a brush method.  Spray paint is fast, doesn't leave brush strokes, and doesn't hurt my hand.  And holding a paintbrush hurts me.  See, I'm already complaining.  But the main reason I'm giving this a go is because the furniture I need to paint is upstairs, and it's too heavy (and I'm too lazy) to move it down into the garage to spray. Heck, who am I kidding?  We don't even have room in the garage to paint right now.
So before I continue to complain more that I have to paint some furniture the real way (like, with a brush), have you tried any of the chalk paint yet?  How do you like it and was your experience good I hope?  I know a lot of people who just rave about this stuff, so here's hoping I have something awesome to show you next week!  Or maybe the week after that because I'm a slow painter when I use a brush. :)
P.S.-I loooooved all of y'alls comments on the housekeeper post too–y'all are so awesome and encouraging that I decided to have the housekeeper just come and live with us for a while. Hardy har har–kidding. But seriously, thank you!!
xxoo,
Decorchick!