I have some BIG news today friends!! Over the past several weeks my husband and I have been working like crazy people giving our garage a makeover and complete overhaul! More so my husband, since I still went to bed at usual time while he stayed up late in the garage. Bless him.
Remember three years ago I wrote a post on our horrific garage? Well fast forward 3 years and it only got worse. Much worse. But I'm happy to report it is amazing now!!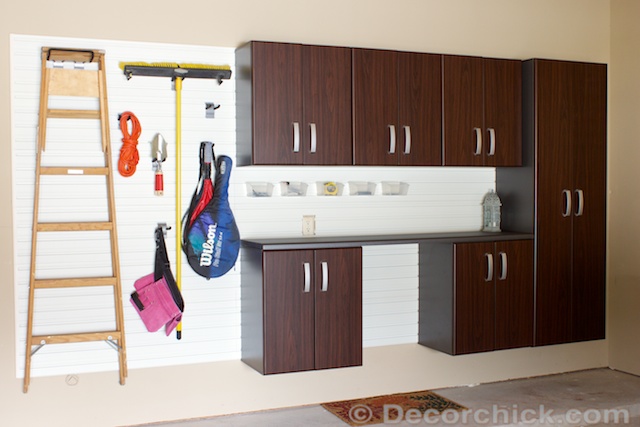 Eeek!! Really a dream come true. And a work table too? Super dream come true.
You ready for the before pictures? Brace yourselves. Grab a gag bag, or two. And promise me you won't disown me.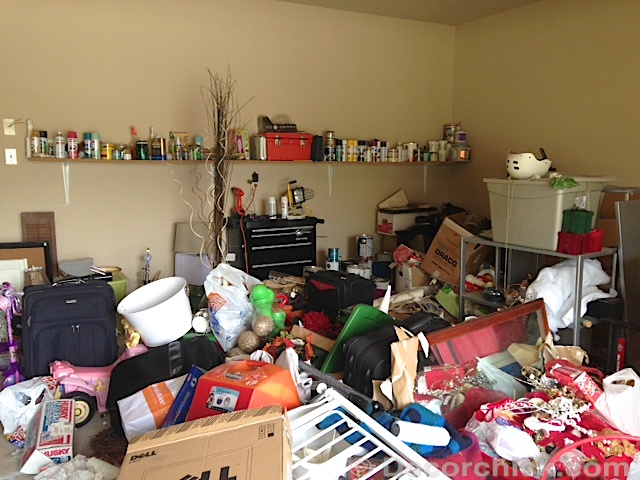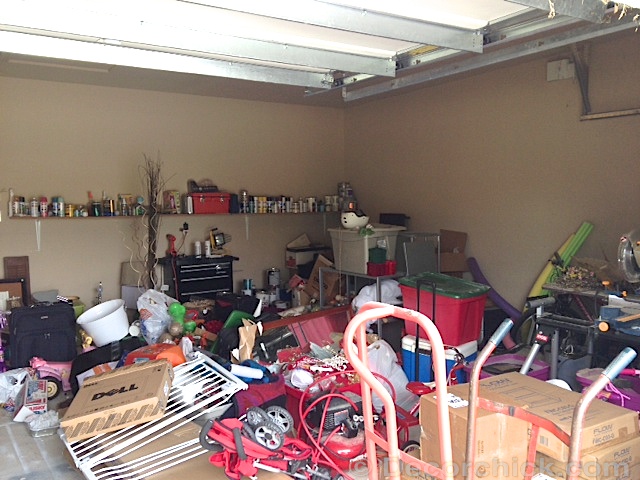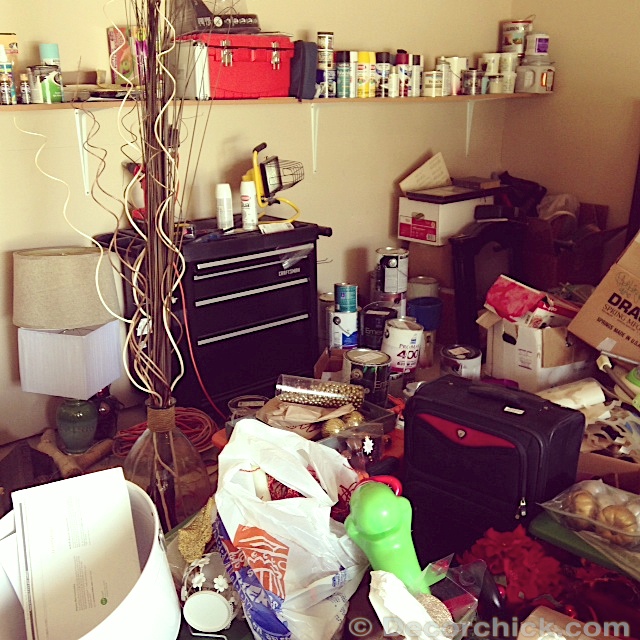 I know. I. KNOW. You couldn't even walk in the garage and as you can see it was a major hazard.
Luckily, we went through all of that CRAP and lots was trashed, donated, and the good stuff stored up in our garage attic that my husband just finished! The attic has always been in the garage, but no floors up there so hubs put down some boards so we have lots of storage up there now. It's great.
I've been working with FlowWall and they had pity on me and our garage and wanted to bless us with their 7-piece garage system in espresso.
I am not going to do a tutorial in this post on building out the system, but I will follow up with a 2nd post on that because it really is fascinating how it works. Randy put it all together and built the system so he's going to be writing some.
I will say though that FlowWall is super cool because their systems are modular, and you can move your cabinets, bins, hooks, whatever around at any time. There are many ways to configure the sets which is nice since not everyone has the same spaces. You hang up the FlowWall panels first, and then the cabinets and such just securely "click" in until you are ready to move them.
Okay so more after pics. Here is a wider shot of the garage showing how clean it is and there is a floor we can actually walk on.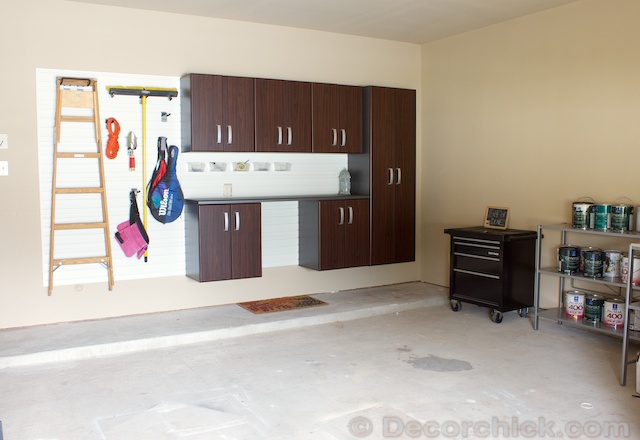 I KNOW!!!
Goodness.
We aren't hoarders any longer.
I know you want to see what's in these beautiful espresso finished cabinets now right?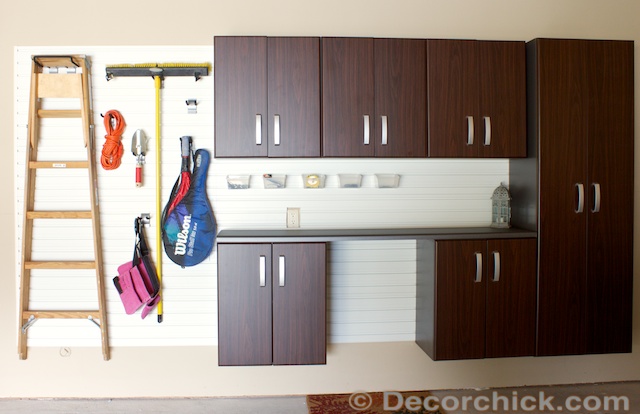 Here ya go.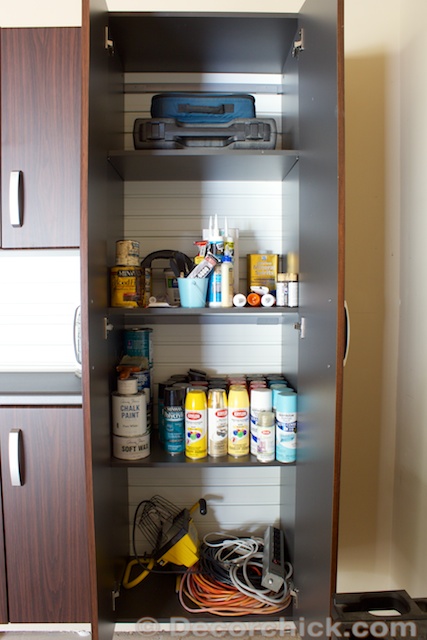 And a close up of the spray paint because I know you are nosy like me.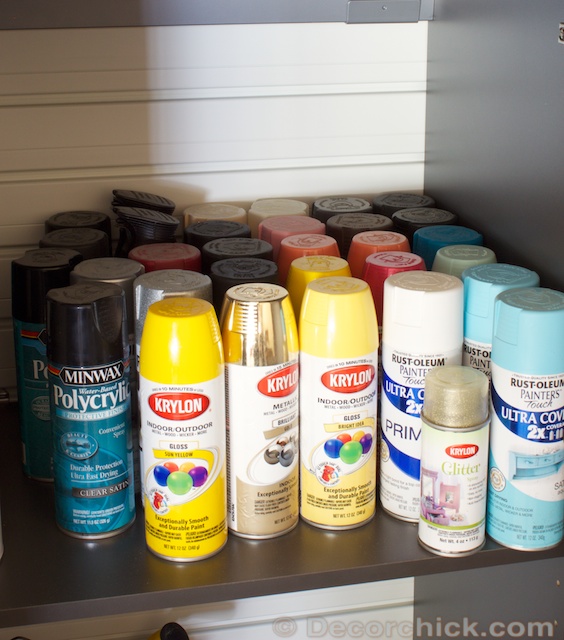 And all of them with plenty of room to spare…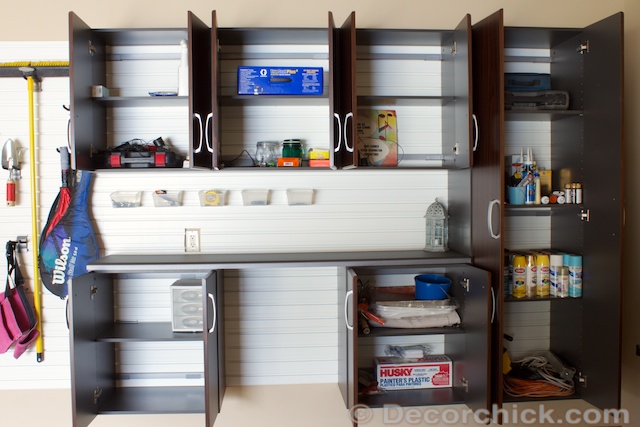 I love their hooks and how we can have stuff hanging nicely.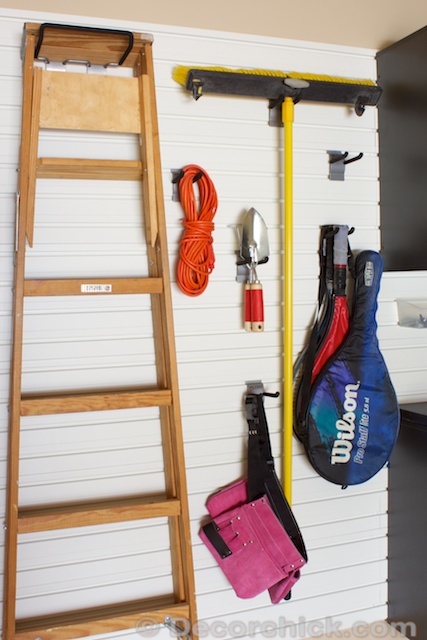 Here is my paint stash (which was about 3 or 4x's more before I paired it down).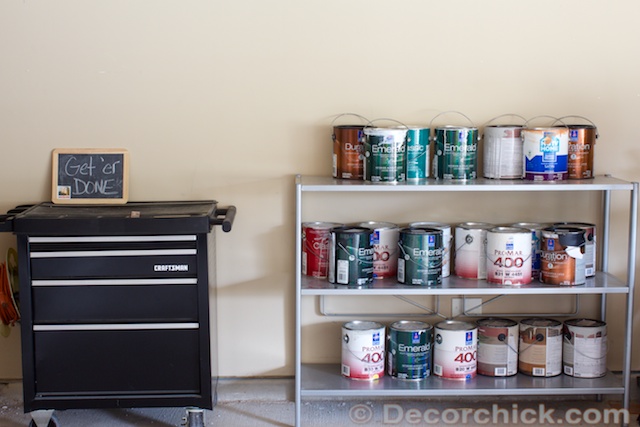 It's so nice to have them all organized! It was a nightmare before to try and find the right paint can I needed, as I am sure you can imagine.
And here is one last before and after.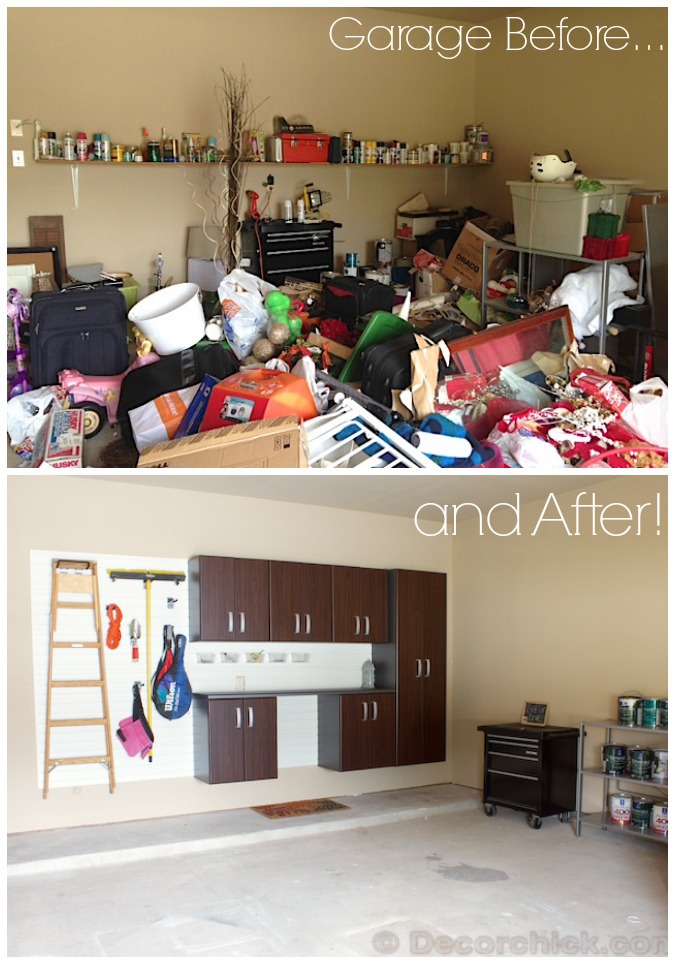 We can breathe now.
Just so you know behind the area you can't see in the garage, is where our table saw and miter saw are, along with about 5 little kid bikes and a radio flyer wagon. And a stroller. So we are still normal and have to have some things in the garage.
FlowWall has many great sets and configurations, or you can buy pieces just individually. Love them!
Whatcha think? Pretty epic, yes? It only took us 3+ years…
xxoo,
Decorchick!