I've been soooo excited to share this project with you all! It was SO easy, a quick project, and only $20 bucks! I love easy beadboard ideas, so let me introduce you to our new beadboard bar!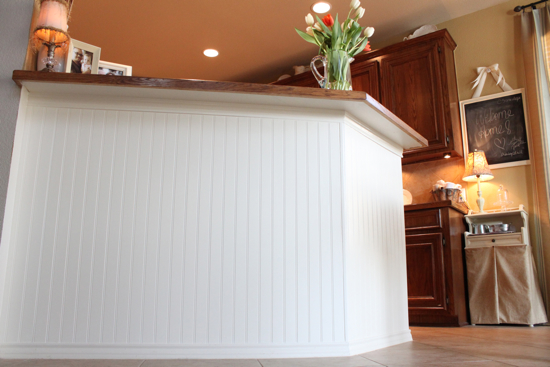 I have been wanting to put up beadboard under our kitchen bar for quite a while.  Originally I was just going to use the beadboard wallpaper, but we do sit at the bar, and little kids' feet hit the wall, so the wallpaper wouldn't have lasted long in a high traffic area like that.  So on a whim last week, I went to Home Depot and bought a big sheet of beadboard for $20.  Yes, of course I should be painting the whole house, but I still don't know what I'm doing about that, so please don't mind all the funky paint on the walls still. :)
Here is our kitchen bar before.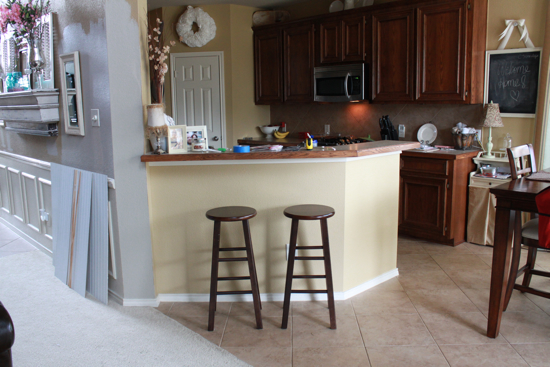 We have an electrical outlet there, and we don't need one since there are 20 others within 2 feet, so I had my husband take it off and disconnect and cap the wires so we could just cover it up completely with the beadboard.
I had the sheet of beadboard cut at Home Depot to fit my measurements (you can see in the above picture the pieces cut on the side of the wall).  But that was really not necessary since we had to trim it when I got home since it didn't fit exactly. :)  My husband used the table saw to trim a little off for me.
For the angled corner on bar, I bought these.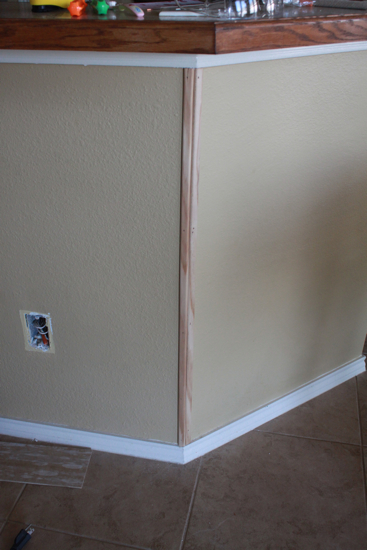 They were the thinnest pieces of wood I could find that would butt right up to each other at an angle, and would sit right on top of the baseboards without sticking out.  I nailed those up first.
Then I just nailed up the 2 beadboard panels (I did not apply any liquid nails in addition to that because I'm always worried about what that stuff does to your walls, if you ever want to remove)…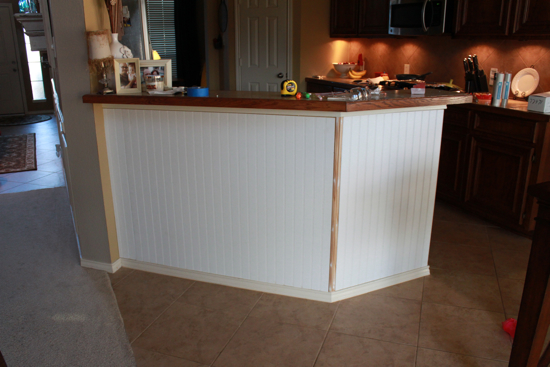 Then I caulked all of the gaps, and spackled the nail holes.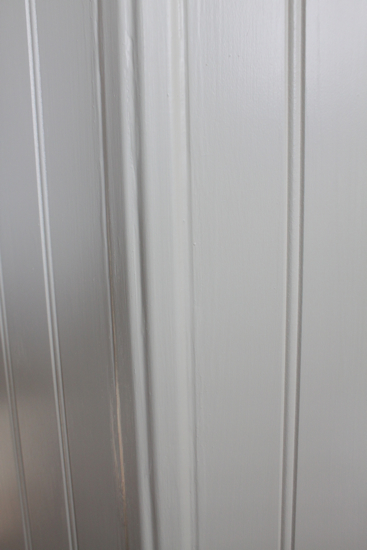 I think my 2 little pieces of wood on that angle worked out well!
And lastly, I painted everything a semi-gloss white (I always use our trim color which is Sherwin Williams Navajo White), and I was done!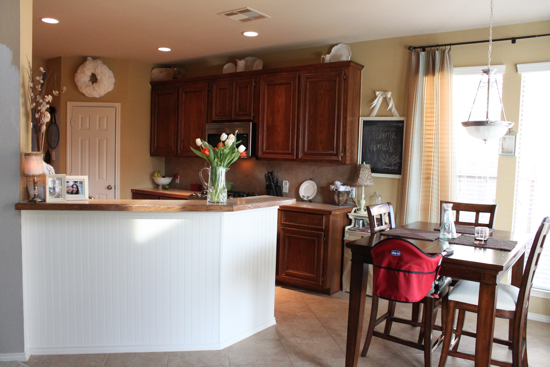 Isn't it great?? I just LOVE it!! Now for more pictures of the same thing because that's just how we do it. :)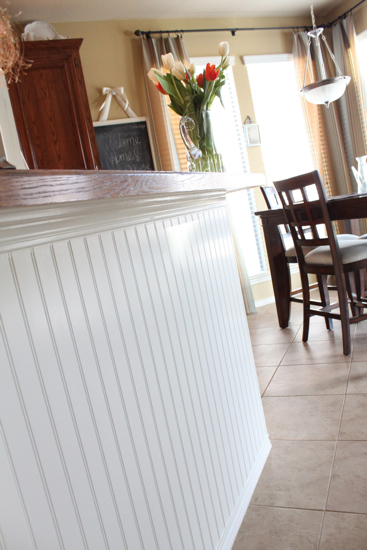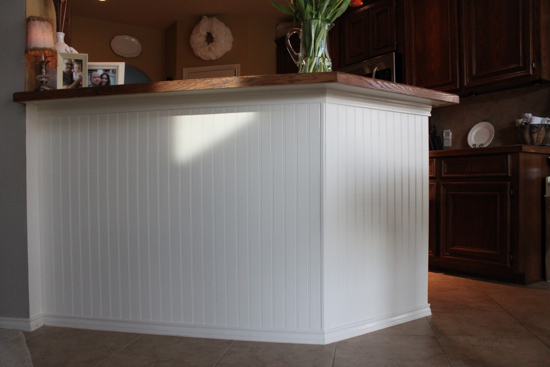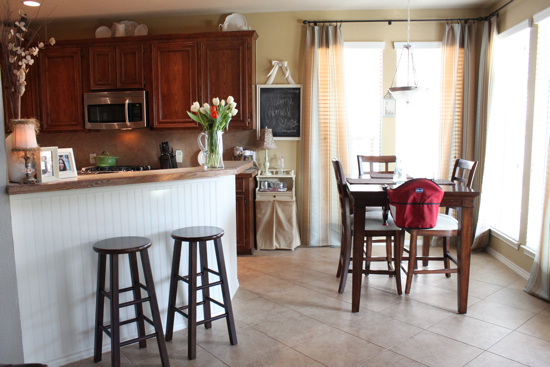 I did not add the beadboard to the side yet, but I think I will. For now I just painted it white to match.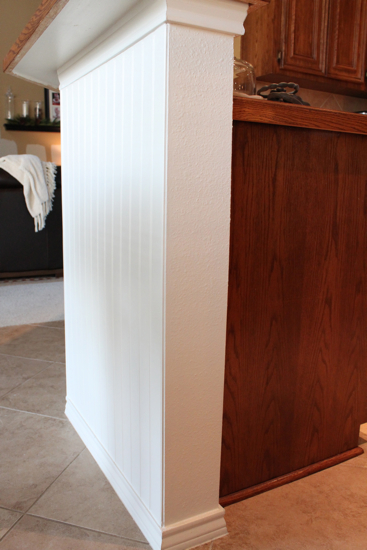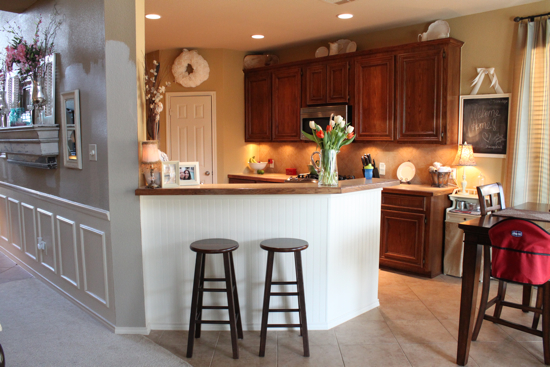 So whatcha think? It totally changed our kitchen area and I LOOOOOOVE it!!  :)  When my stepson came over this past weekend, it was the first thing he noticed and said "Wow….that's niiiice."  Something about kids and them recognizing the little updates is priceless. :)
For a more finished look, I know that people remove their baseboards and trim before putting up beadboard, but that would have been a total pain and I like to cut corners.  Plus, caulking hides everything so I think it looks just fine with the BB sitting on top of the baseboards!  And I'd do it again just like this somewhere else in the house in a heartbeat. :)
This really was easy to do and I find beadboard very easy to work with.  So go and find a bare spot in your home and show it a little BB love. :)
Sharing this post at Thrifty Decor Chick, Shanty 2 Chic, Beth's Tutorials and Tips Party, My Romantic Home, The Shabby Nest, Between Naps on the Porch, The DIY Showoff and The Shabby Chic Cottage.
xxoo,
Decorchick!
Let's Connect!