Nothing gets me more excited than pretty new goodies for your desk. Whether it be in your home office, your workplace, school room etc., because why? Because that's where inspiration happens. I may not know what I'm going to write about from one day to the next, but by golly, if I have items that are nearby that are pretty and are begging for a pen to write on them, then it's going to happen. I have a doodling problem and have ever since I was in school. #truestory
So this month for Tiny Prints, I got a little creative and ordered items that are pretty and functional for the school room desk. I sit there with Emma during school time, so if I was to get a brilliant idea during that time, I need somewhere to write it on right?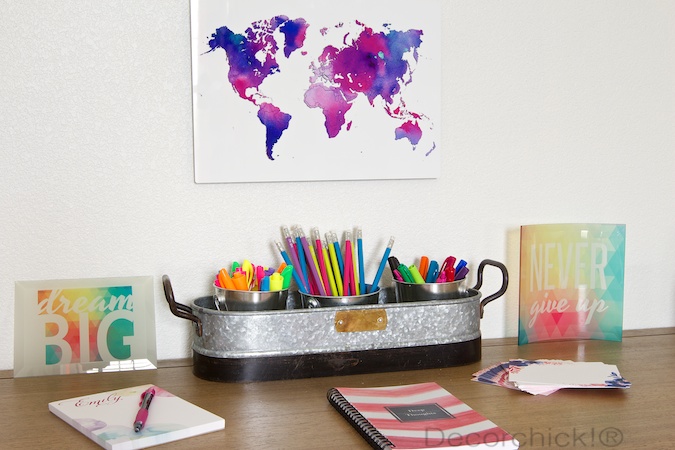 Plus, while homeschooling, you always need to be inspired. You always need things around you to keep you motivated. At least I do.
That's why I ordered these Dream Big and Never Give Up signs on their flat and curved glass prints.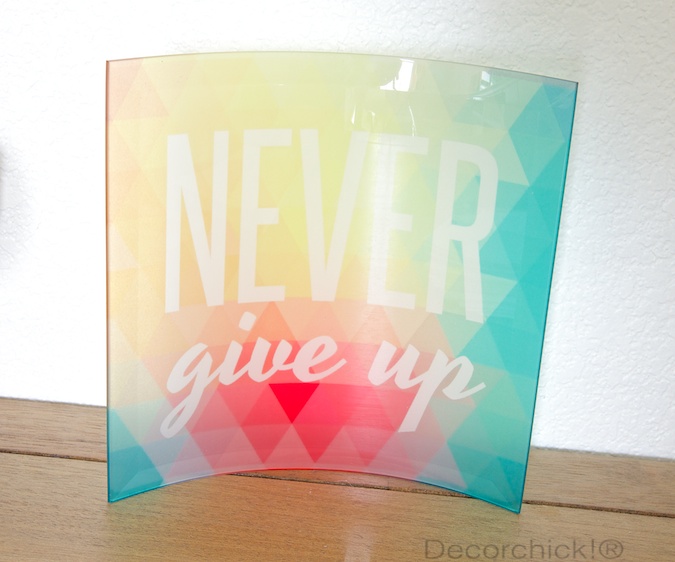 I actually  bought those prints from Etsy and downloaded them, then uploaded the graphic to Tiny Prints to print on their glass frames. I love them! And love the reminders every day that we all need.
Just remember you don't always have to print photos when you order at Tiny Prints. You can do something like I did and print fun graphics, quotes, you name it. The sky's the limit.
I also ordered some really pretty stationary for my doodling and deep thoughts that I always have.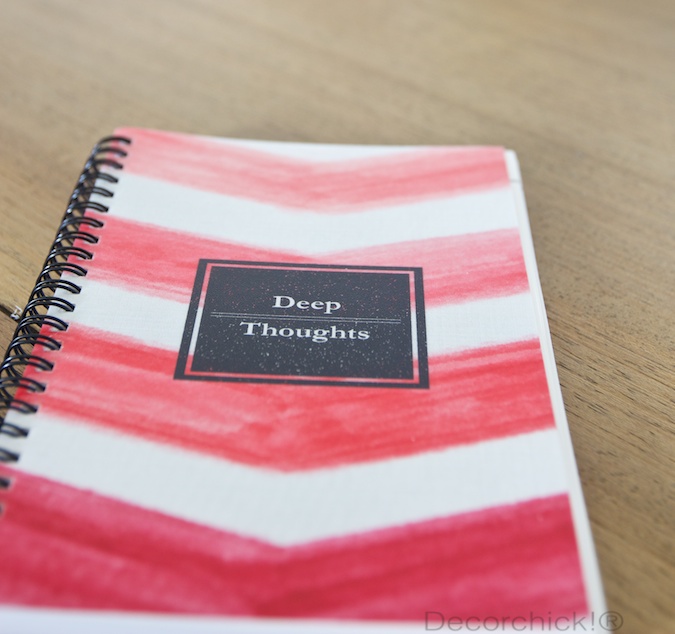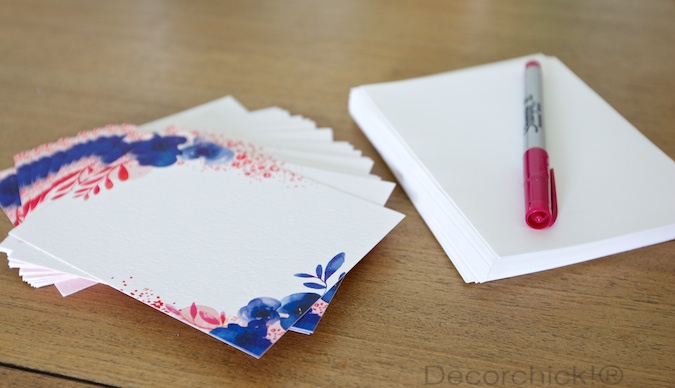 Yes I do actually send out snail mail, so maybe some of you will be the lucky recipients. :)
Then of course this monogrammed watercolor notepad that I HAD to have.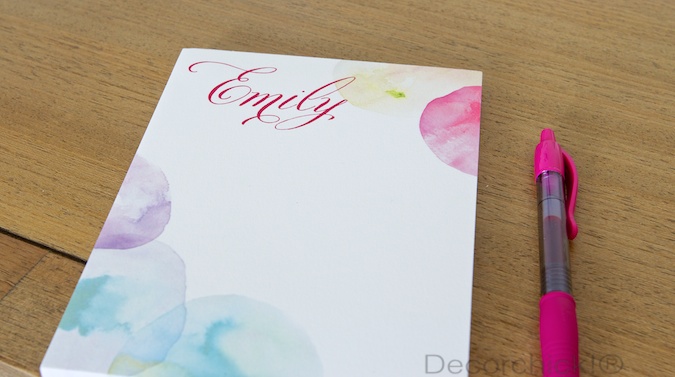 I love anything in watercolors!
Speaking of watercolors….
How awesome is this world map in a watercolor print?!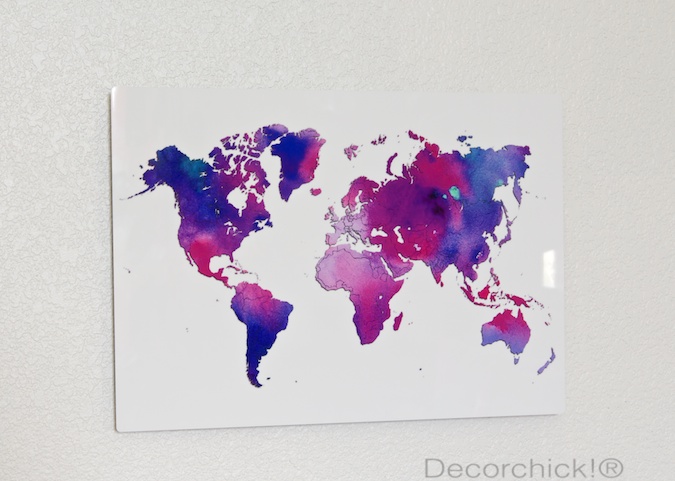 I ordered that in one of their metal prints because I love them so much (as seen here). Because what homeschool room is complete without a watercolor map?? Again, I downloaded that from Etsy and just uploaded it to Tiny Prints. So easy!
I also ordered a pretty personalized self-inking stamp, that I can't show the full thing of because duh, then you'd all have our address, but trust me when I tell you it's beautiful.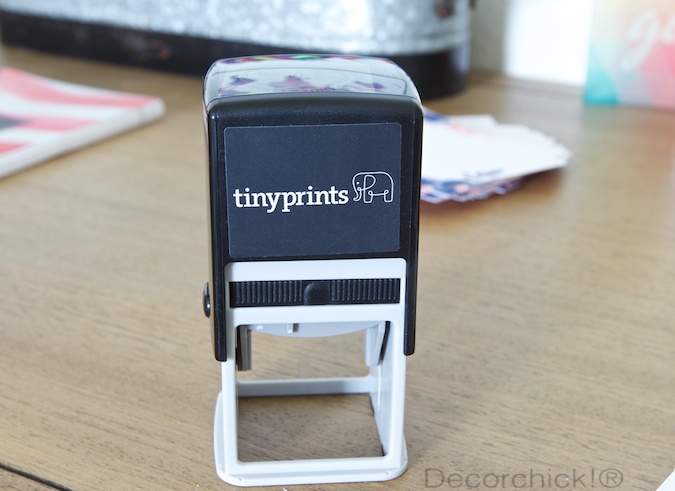 This is the one I got–highly recommend.
And here's just a few more of the updated school area and desk pretties!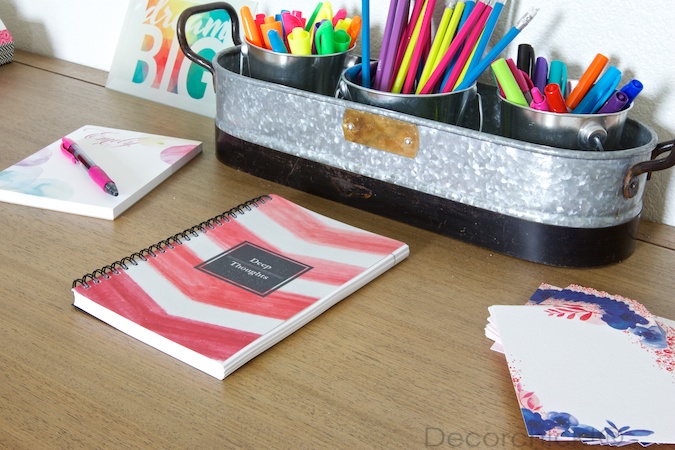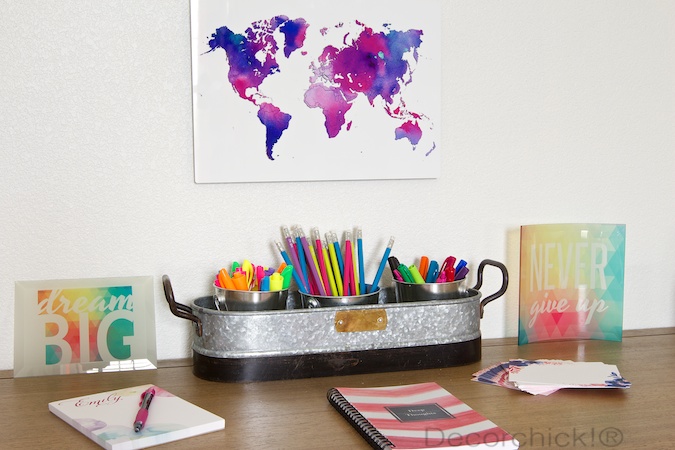 It's colorful, fun, inspirational, and functional. A winning combination.
Want a chance to win your own credit to Tiny Prints? 
Enter Below to win a $100 credit to Tiny Prints!
Leave a comment and tell us what your favorite curved or flat glass style is from Tiny Prints.
Optional extra entry: Share this giveaway on social media, i.e. Facebook, Pinterest, Twitter, and include a link back to this post and leave a 2nd comment with where you shared.
Easy peasy! Giveaway will end on Wednesday, September 24, and winner will be chosen via random.org. Good luck everyone!
xxoo,
Decorchick!®