Remember our gameroom/multipurpose room?  It's a room that I haven't done anything to except paint and add board and batten to. And I haven't blogged about this room in over a year. Sad, I know.  What's even more sad is that nothing has changed in this room since then!  I hope to change that soon though, but first I need y'alls advice.
Besides not being sure how to go forward with decorating this room (just waiting to find some furniture), my dilemma is this open wall.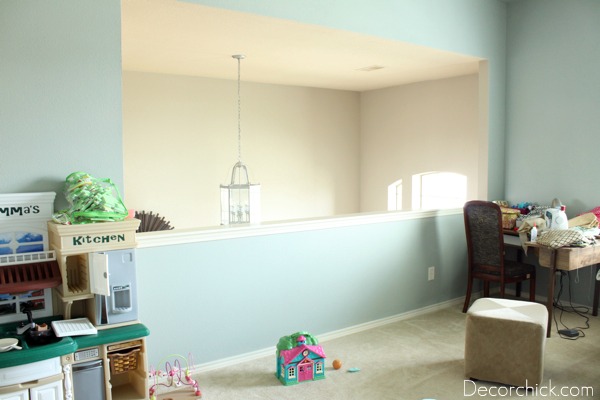 I hate it. It terrifies me. It's not very high and I have a fear of small children being curious as to what's below. And what's below is the tiled entryway. Not good.
Here is a view from standing at the top of the stairs.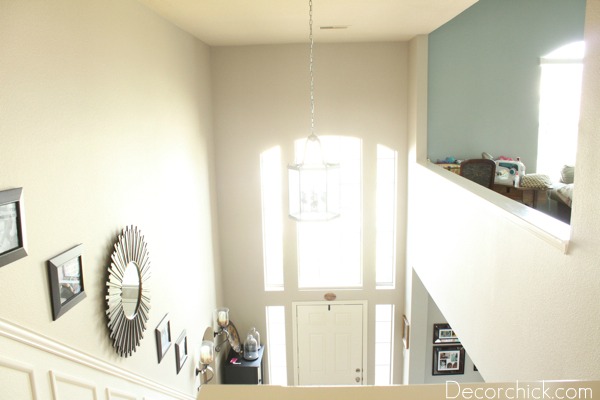 See all of the openness?
I eventually want to be able to tell my daughter to go on upstairs and play (without me going right then).  But I just can't do that right now because I'd be panicking.  And now with another little one on the way, this room will be used even more and they will eventually play together in here.
And my point is, yes, I want to close in this wall.  I think aesthetically it would even look better to have that wall closed in, and it would help with sound.  But this obviously wouldn't be a DIY project for me.  I'm not that good folks. :)
So my questions are, is this something that can be done by someone pretty easily and inexpensively? I haven't even started to get a quote or anything but I'd like to get the ball rolling.  Will a permit be needed?  I'd love to finish decorating this room, and if we are able to close it off, I will definitely be adding more board and batten to the entire room instead of just the 1 wall like I had done. I think I know what I want to do in here, but I feel like this stupid wall is hindering me!  Or, if you have any other creative suggestions other than closing this wall off with drywall, let me know!
Help!!
xxoo,
Decorchick!
_______________________________________________________
Also find me on Facebook, Twitter, Pinterest, Google+, and RSS.