Hi everyone, it's time to announce the winner from the Black & Decker Steam Mop Giveaway, and I SO wish there was more than one winner because there were lots of entries! But there's just one lucky person, so here it goes.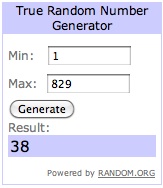 Mr. Random liked an early entry, #38, so that is Christina at Christina's Adventures! She has a great blog too so pop over and say hi! Shoot me an email Christina and we'll get you set up.  :)
Thanks again for entering everyone, and maybe we can talk Black & Decker into another giveaway soon. *wink wink*
xxoo,
Decorchick!