Hi everyone hope you all had a great weekend. Today I'm going to give you a recap of my antique shopping trip last week, and also fill you in on a little ghost story about one of the antique stores we went to. Because everyone's Monday morning should start out with a good ghost story right?
First of all I met up with Tracy from Southern Sister Designs, by myself. Like, with no kids. It was awesome. I have never met her before but she was a doll.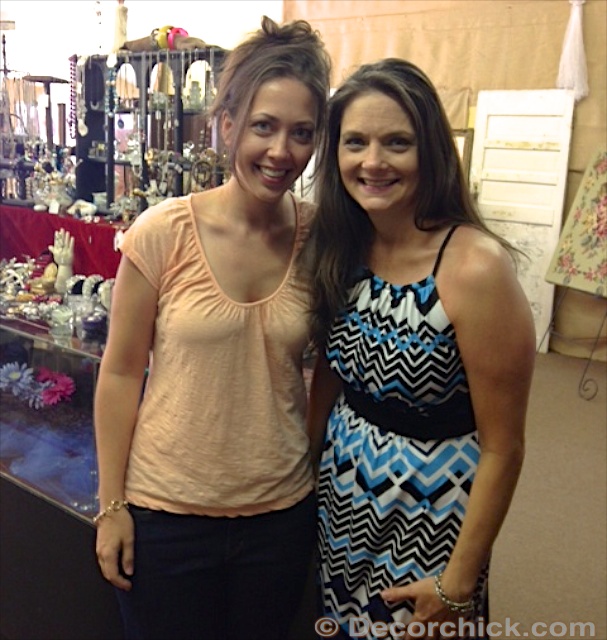 I went to her shop located in downtown Rosenberg, and we then went antiquing at a bunch of the local shops in the historic district down there. They have great antique shops! We were looking for items for my WoCave that I told you about last week, and I had a little play money to spend so we were on a mission.
If you've never been to Red Queen's Attic, you must go. It's a 2-story antique mecca. It's also the antique store with the haunted room. But I'll get to that in a minute.
Like I said the place is ginormous and has a bunch of little individual rooms. This building used to be an old office building. I won't give you a rundown of the entire history or anything don't worry. I'm just saying it's a good place to shop. Milk glass galore for starters.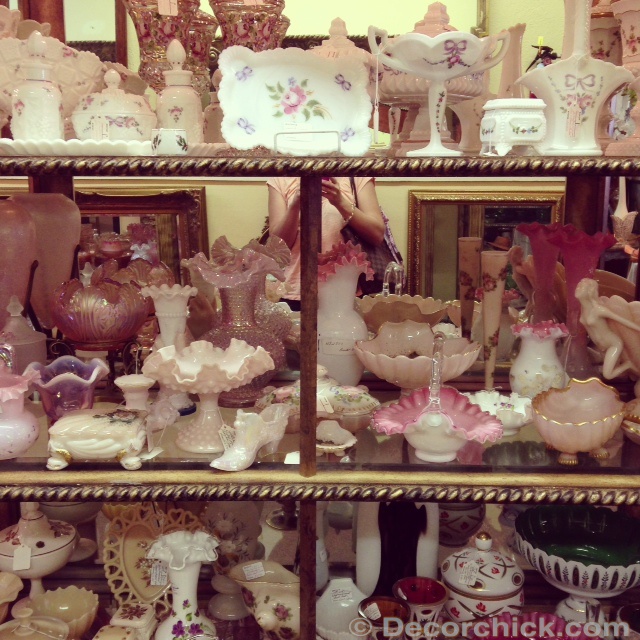 There is a long hallway filled with this stuff and other pretty glass it just takes my breath away sometimes.
Most of the rooms are filled to the rim with treasures to dig through.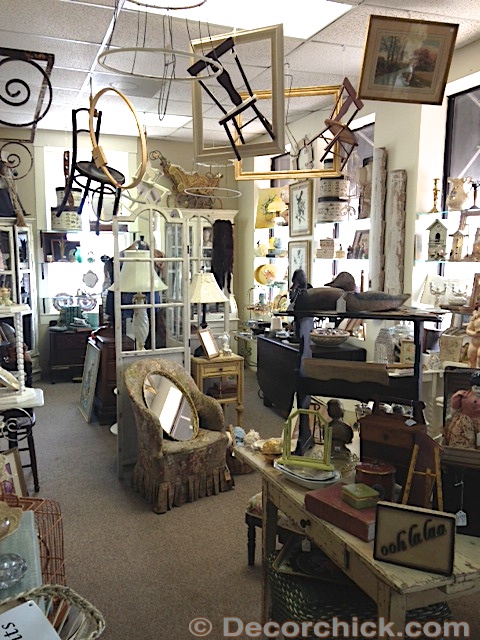 That room I really loved and I loved how all of the accessories are hanging from the ceiling too. So cute and clever.
Then in that same room there was a little area with lots of brassy things I of course loved.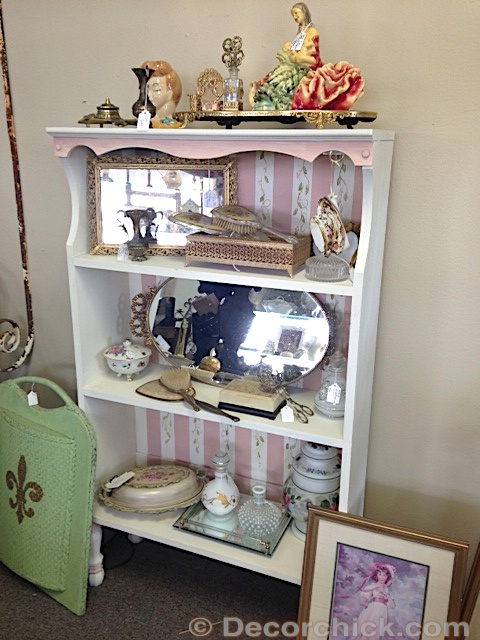 I used a lot of those same items in Ellie's Vintage nursery too. Love!
This was a neat idea to use a metal tray for a magnet board.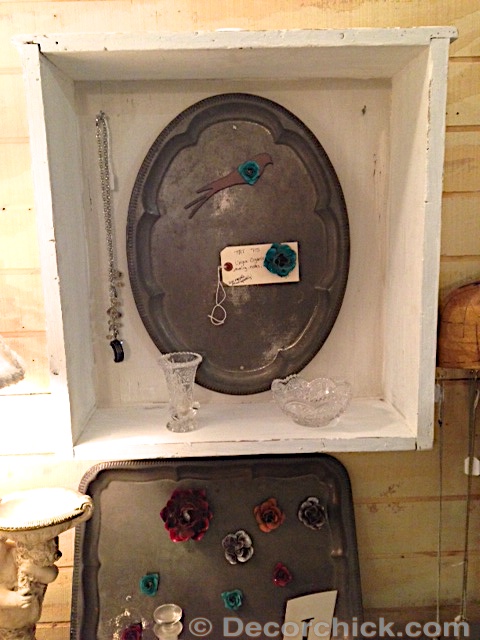 Then of course you know I love me some old winders.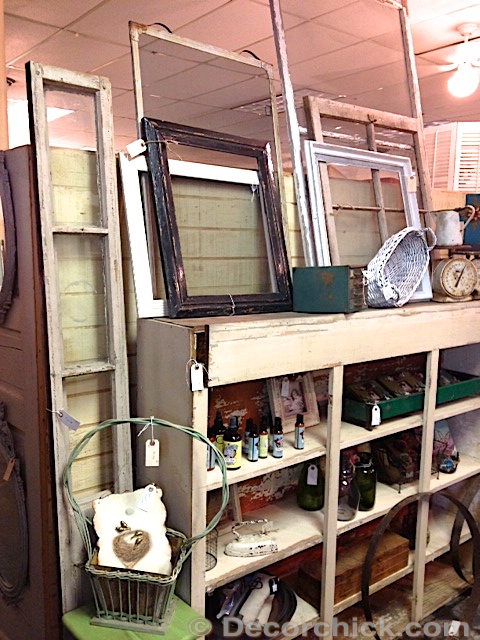 Okay so for the haunted room….
Tracey knows like EVERYONE at all of the shops so we were walking around with one of the owners at Red Queen's Attic. We went upstairs and then just casually he said "oh yea, this room was on Ghost Hunters." And I'm all "WHAT THE WHAT??" Then he tells the story that when they were filming for it looking for the ghosts, it was pitch black of course, and then from across the room he could see all of the orbs and stuff. FREAKY. There is also a little radio tucked away in the corner in that room, kind of hidden. He said it kept turning off and on that night while they were in there. FREAKY, again.
This is the room.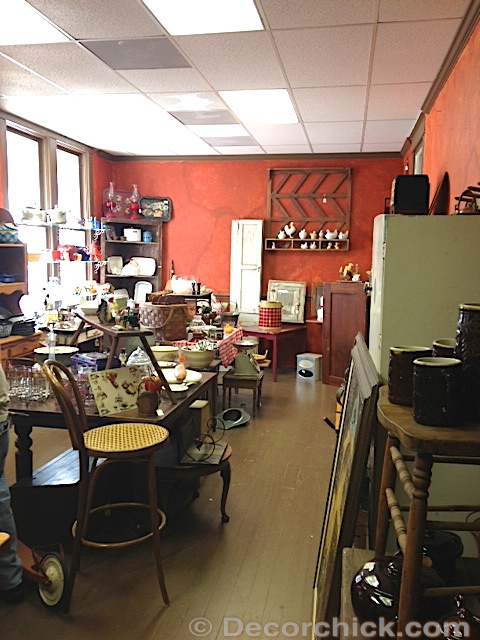 I think they call it the "Primitive" room? But I can be totally wrong. I thought it's something with a P. Needless to say, I did not buy anything that came out of this room. I also heard this room was used to store coffins back in the day. Someone made them that was a few blocks away and just stored them here. Ummm, yea. So be sure and ask about this room if you ever go. :)
So what did I find for my little WoCave?  This cute little curvy leg desk…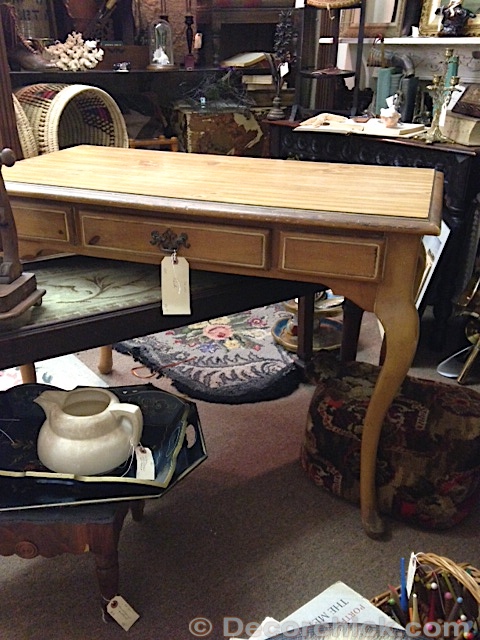 And this great shabby chic ledge.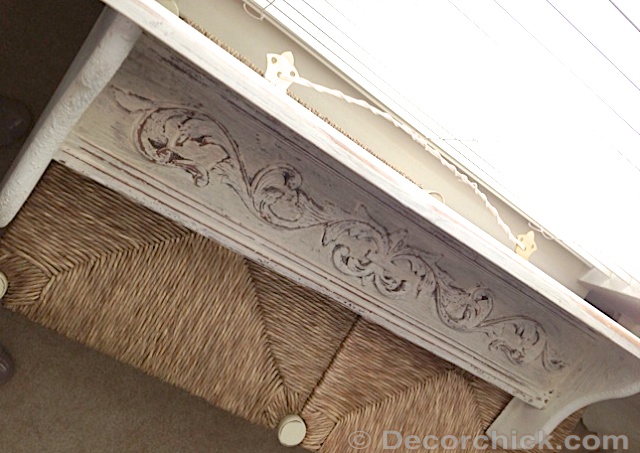 It has great detailing on it.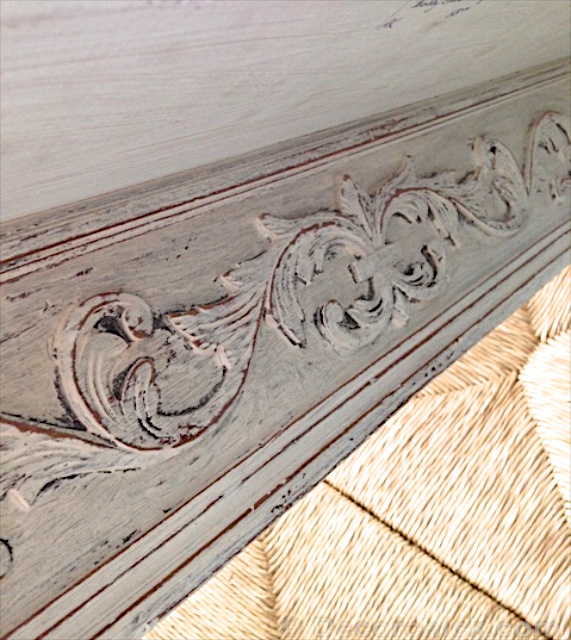 You might be wondering where I'm going to put these items, yes? Well I'm going to create a nice little writing nook in our bedroom. There is a corner in there that's the perfect spot, and you can never have too many work areas in your home right? Right. I'm pretty excited about it. I think my husband is just as excited about it but I guess he hasn't caught on yet that is is for the WoCave. Not Mancave. We'll see who wins.
Paint decisions for both items have not been made yet, as I want to live with them a little while first. I actually don't mind the wood desk as is to be honest. It's super heavy and a solid desk too so I'm pretty happy I found it. Even if it was found in a haunted building.
For my next mission with the Skinny Cow WoCave campaign, I'm really excited about it too and received an amazing surprise box.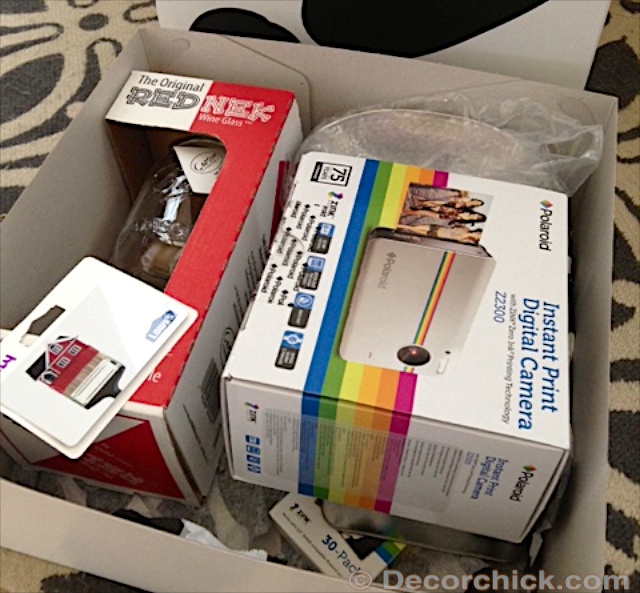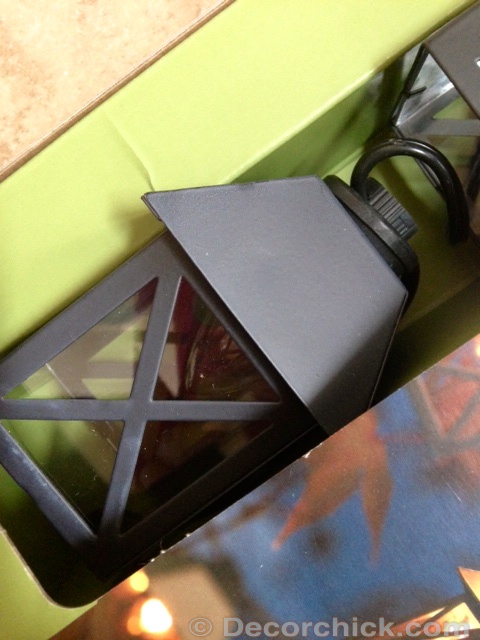 Any guesses what I'll be doing? And sorry about all of the bad iphone pics! Looks like I need to clean my lens.
So have you found any treasures lately? Any cool ghost stories? I'd love to hear! By the way, have you tried the Skinny Cow Snickerdoodle ice cream sandwiches? Oh my heavens–delightful! It's limited edition so hurry and get some. You'll thank me later.
xxoo,
Decorchick!
*Thanks to Skinny Cow for sponsoring this post and including me for this campaign. All thoughts and opinions are always my own.*
Let's Connect!