I'm going to add the wainscoting like I did on this wall, and in the office, to the living room.  There are really only 2 connecting walls in this room, and one of them is full of windows.
So, I plan on doing it to this wall on the right…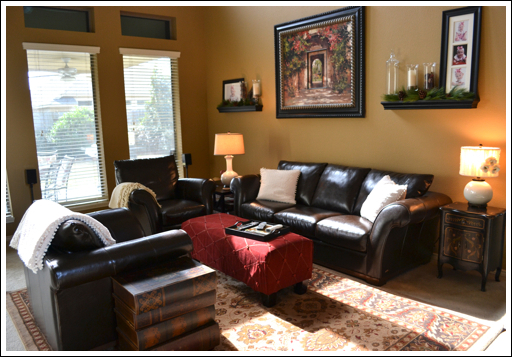 But my question is, would you also do it on the wall to the left with the windows? I know you can't see all of the windows in this photo, but just imagine a wall of windows.  I didn't think it would be necessary because the chair rail would be really choppy (which is ok in some circumstances), and the boxes would be much narrower because there isn't a lot of space in between the windows (which also is ok sometimes).  And there will be curtains eventually.  So basically the wainscoting would just make an L shape, which is why I'm thinking to just do the 1 big wall behind the sofa kind of as an accent.
What say you?  Thanks for your input!
xxoo,
Decorchick!