Oh boy, what a treat this will be for y'all!  I am so thrilled to introduce you to Knitty Bitties!!  How cute is that name anyway??  Do you like beautiful fabric, cute ruffles, and high quality items that are very affordable?  Great, I thought so!
It is such an honor to have Knitty Bitties as a sponsor.  Andrea is a total sweetheart, and the quality of work that she displays is so outstanding.  I still cannot get over how perfect all of her stitches are!!  She has some mad sewing skillz!  I really wish I was as talented as she was, but hey, thank God she has an Etsy store where we can all buy her pretties!
Let me show you a little of Andrea's creativity that she has in her shop, then I will show you all what I OWN and LOVE. :)
This is an adorable Gathered Ruffle Cover for your Kindle.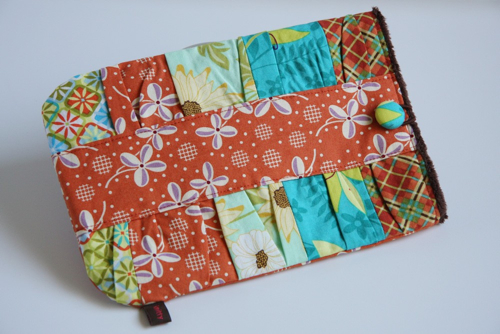 Now, I don't own a Kindle, but I'm sure I could find something to put in here. :)
Here is the Ruffled Happy Little List Taker which is next on my list to get…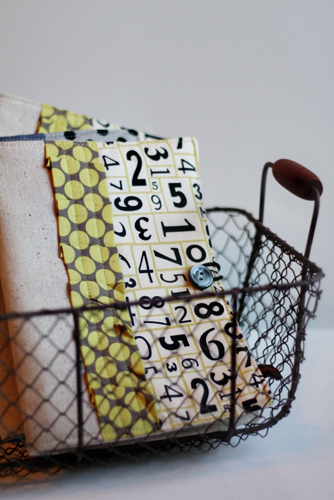 How adorable is that???  Are you paying attention to all of her amazing detail work?  It's exceptional!  And as much as I love technology and gadgets, I am old school and still write my grocery list on paper.  Plus, I like to doodle flowers so this would be perfect!
And Andrea even makes camera straps!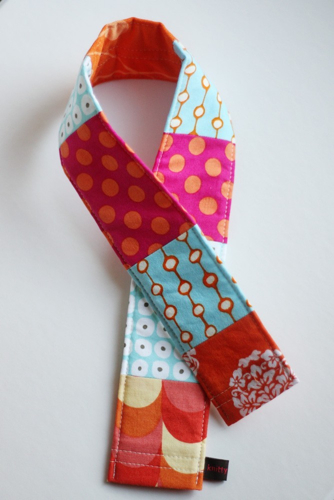 Gosh, I need one of these too.  Love all of the colors!
Now, here are some of the things I actually have and I can't brag about them enough.  Seriously.
This is the Gathered Ruffle Clutch that I have.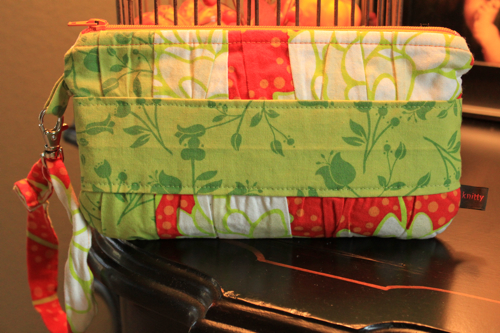 This is by far the handiest thing I have ever owned, especially since having a baby.  I keep my phone, debit card, cash, and checkbook in here.  I LOVE this thing.  Whenever I just need to run to the store this is all I take.  It really comes in handy while I'm out thrifting and carrying the baby (because strollers aren't allowed in the thrift stores), so I can just keep this on my wrist and all is good.  This is a MUST for all you moms out there. :)
I also have an Everyday Ruffle Pouch (that link isn't the exact one, different fabric)…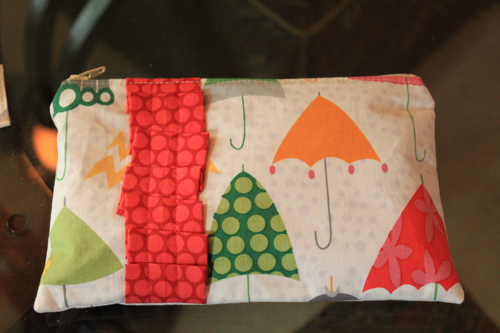 Isn't that fabric the cutest?!!  I keep all of my lipgloss in there and it's perfect!
OKAY…and this is my newest love that arrived in my little hands this week…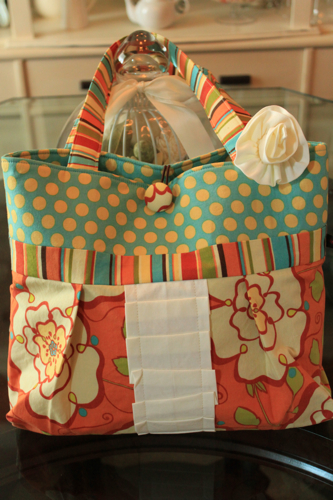 Oh.My.Gosh!  Do you love it??  I ordered a custom tote bag from Andrea (she takes 4 custom orders a month), where I was able to choose the fabric and all.  It was so fun looking at fabric online, and overwhelming (because I'm indecisive), but I am SO glad  I went with these 3 fabrics.  Andrea helped me make the final decision too, by giving me the assurance I needed. :)  And don't think because it was a custom order it broke the bank, because it didn't.  She has excellent prices.
Here is a picture of the inside of the bag.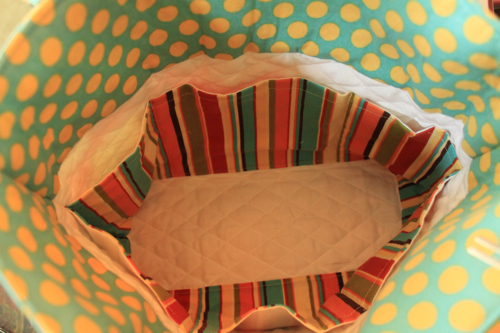 See all of those pockets?  See how the bag stands up on its own?  See all of the perfect lines??  She's awesome I tell ya!
Here are a few more pictures just because I'm in love.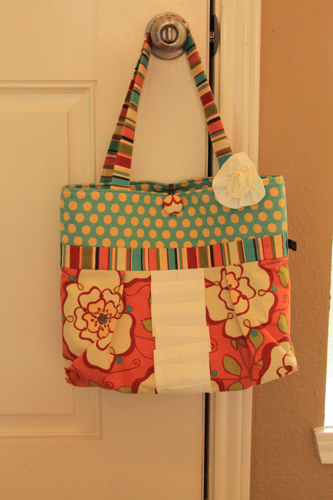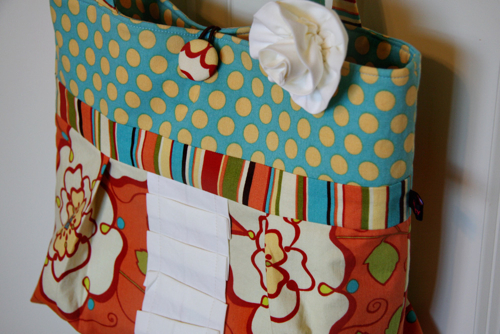 Isn't it just perfect?  I love the little detachable flower too.  I think I might just have the cutest bag around, and the cutest contents inside. :)  Andrea, if you make a Knitty Bitties shirt I'll wear it!
But get this…She made another one of these bags!!  AND, she named it after me!!  What what??  It is called the "Everyday Decorchick Tote."  Oh my, I have a bag named after me.  I have arrived now.  Don't worry, I won't get all arrogant or anything on you, but I do think it was super sweet of Andrea to do that. :)
The second bag she made is almost identical to mine, but it has a pretty blue ruffle and blue flower instead.  It also has a magnetic closure which is oh so convenient.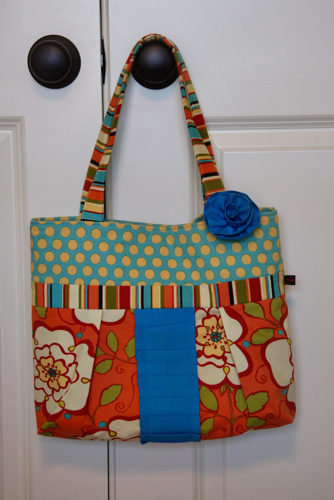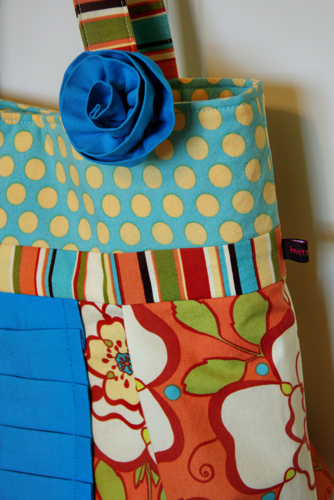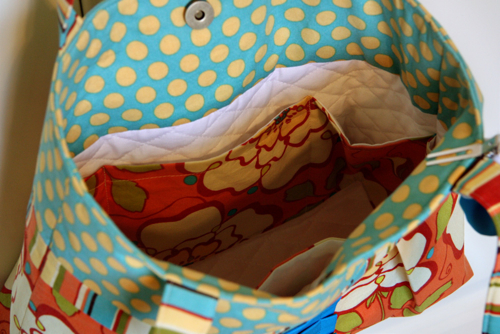 I just adore the blue one also.
Do you want it?  She has it listed for sale today on her blog, and there is only 1, so head on over there and snag it up!  You will be the coolest gal around I promise. :)  And while you are visiting her blog, you should just go ahead and follow her to stay in the know about new products, promotions, and giveaways!  She has some awesome new items coming up. :)  You can also follow Knitty Bitties on Twitter too!
Don't forget to visit Knitty Bitties Etsy shop and take a look around.  She has tons of other cuteness on there that I didn't even get to mention!
Thank you Andrea for being so talented and sharing it with all of us!
xxoo,
Decorchick!