As the little one grows, so do the toys.  Sometimes we can't resist buying that gigantic stuffed animal at Cracker Barrel for her, you know, since she's already claimed it and is hugging it oh so tightly with her little paws carrying it around the store. Yea, we are those parents…sometimes.
But this little basket I was using for all of her toys wasn't getting the job done any longer.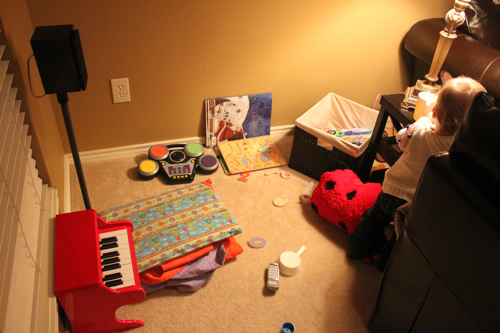 And don't let that picture fool you. She has a plethora of more toys usually scattered about like this…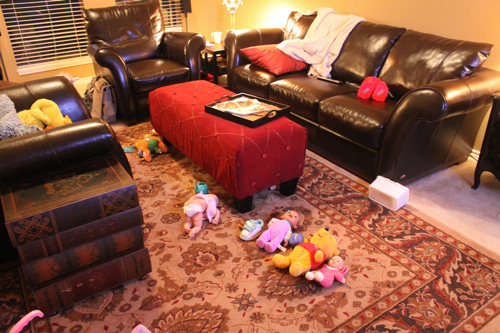 And no, I didn't line up those animals/babies and shoe on the floor like that. Maybe she is type A personality?  Oh, and I've made a few minor changes to the living room which I'll show you soon.
So I invested in a storage trunk from Hobby Lobby for $40 that houses all of the toys.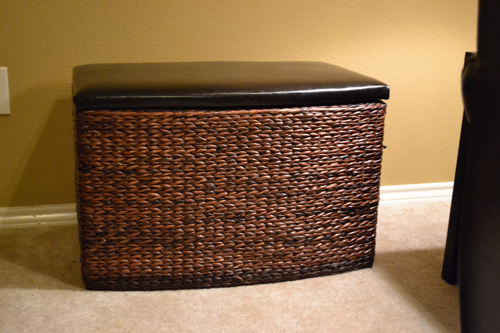 I love that it conceals them all rather than the exposed basket, and that it's stylish!
And once it gets too full…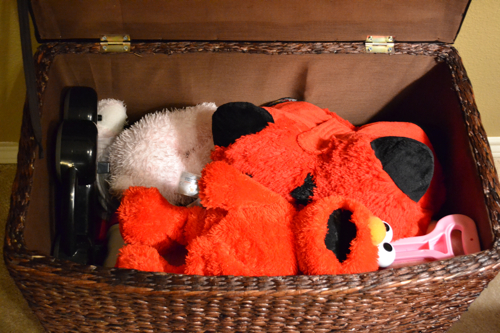 it doesn't mean we need to buy another trunk to store more toys.  It means we need to rotate them out and hide a few in the closet. Then that Elmo that is a few months old will seem like a brand new toy to your little one. Works like a charm. :)  But I don't think I could do that with Elmo. She loves her "Mo-Mo's."  I'm a sucker, I know.
So at the end of the day we do a quick clean up and put all of the toys back in the trunk, to get them ready for the next day to be scattered abroad.  It's the little things that keep me sane.
What are your storage solutions for toys?  If you are using regular baskets like I was I'd highly recommend something like this.  It really made a big difference to me, I guess because they are all hidden and looks good.  And Hobby Lobby even has a smaller and larger size of the same trunk I got.  They have some cute storage things right now!  This would also be great to store pillows and blankets too. :)
Sharing this post at Sarah's Organize It Party.
xxoo,
Decorchick!