Well the stairwell wall is finally complete!  Hip hip hooray!
Let's take a look at the before photos shall we?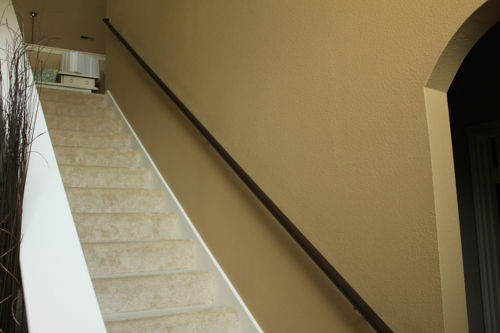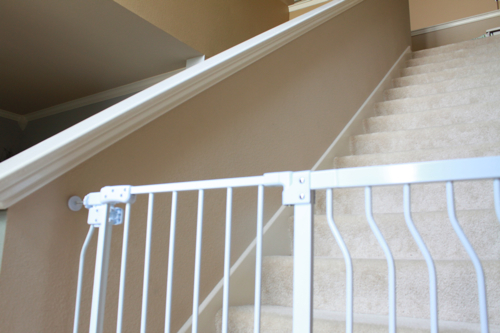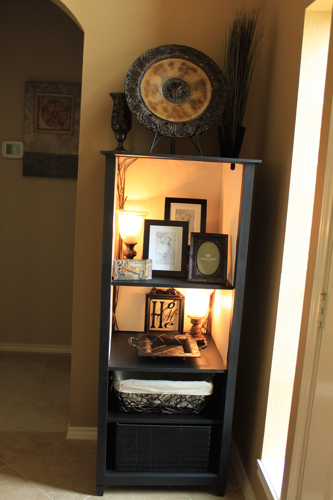 The above picture is the wall to the right of the staircase, but still the same wall.
And now….the after!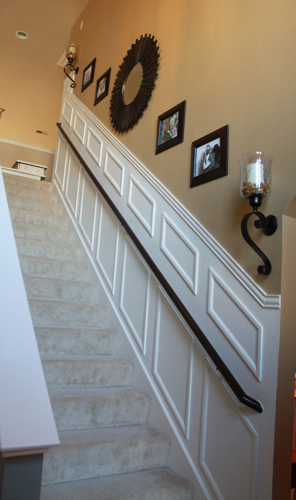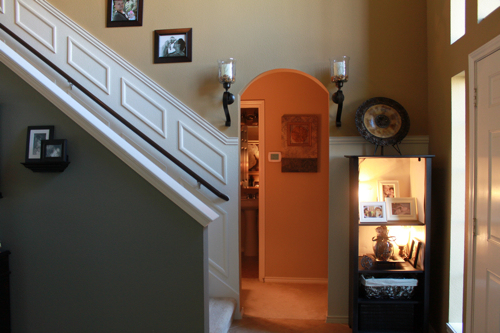 Ahhh, don't you love moulding??
We continued the rail to that little wall behind the cabinet and I painted it out in a semi-gloss white as well.  We will eventually add a few boxes on that wall also.
I was actually smart for once and painted the wall white before we added any boxes.  I know, can you believe it? I actually followed my own advice. :)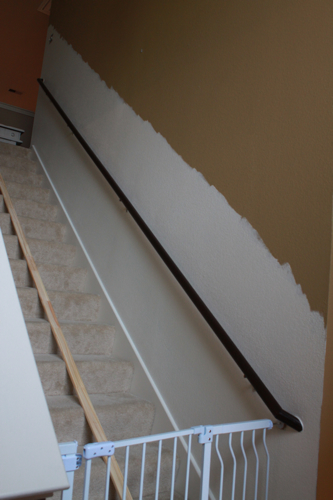 Then we put up the frames temporarily with double-sided tape to get the spacing correct, nailed them in with a nail gun, and added the chair rail.  The rail is not an actual "chair rail" but is window casing trim.  It is decorative like a chair rail and has a nice ledge to it.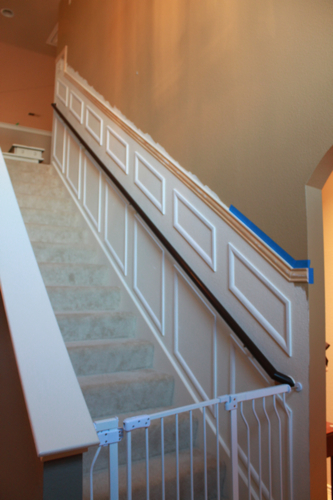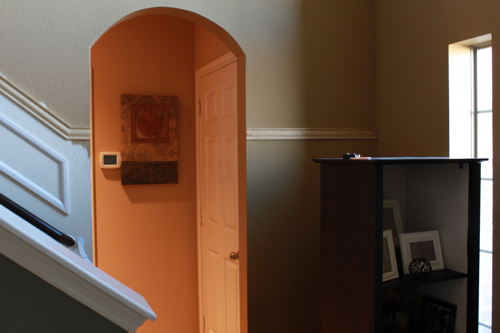 Then came a LOT of caulking and spackling of all of the boxes and chair rail, more painting, and then done!  And please, if you need to cover nail holes, use spackle and not caulking.  I already knew this but for some dumb reason I used caulk and ended up redoing it with spackle.  Caulk does not sand well and it gets rubbery.  With spackle, it sands down nicely and you can't even see the holes.  Just my little tip!
I'll just show you all more after photos because I know that's what you really care about. :)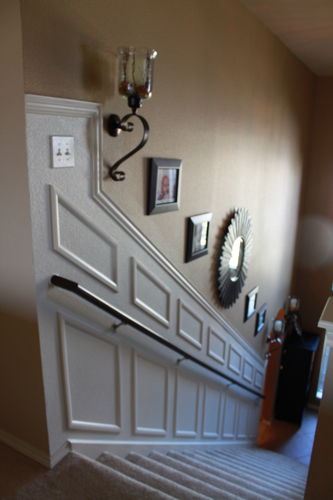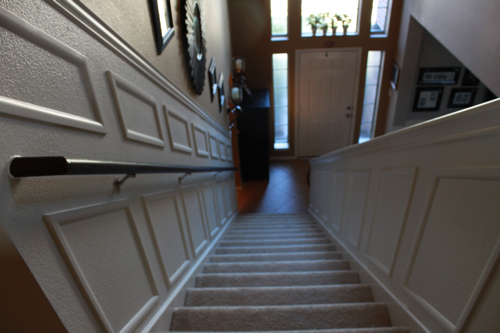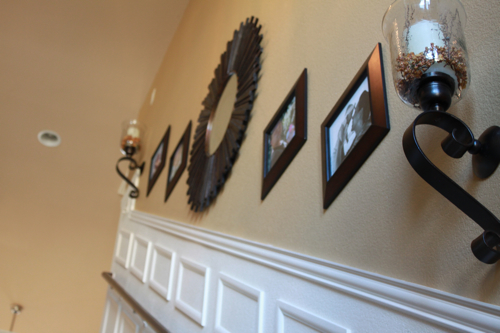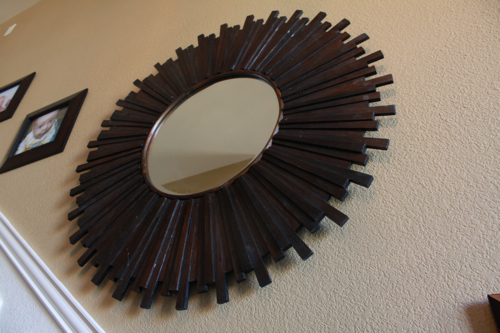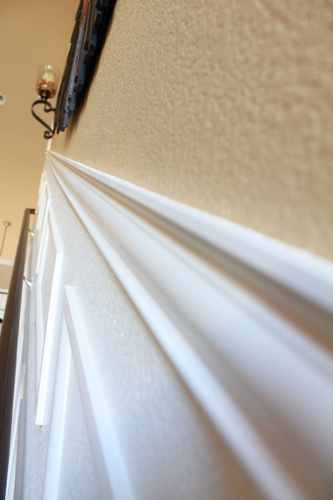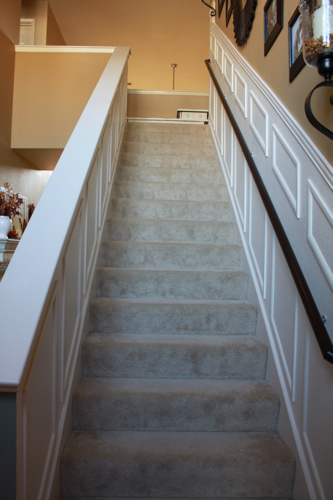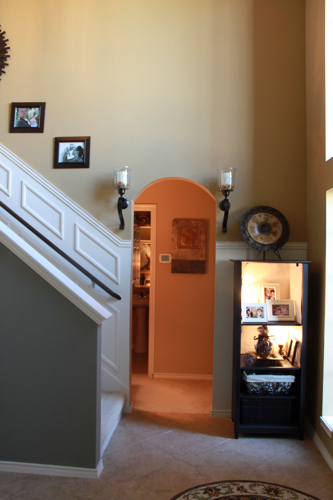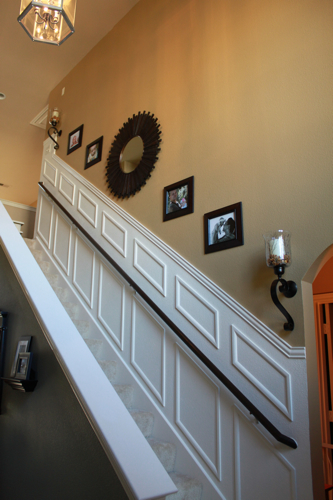 And here are a couple of night shots.  P.S.- the sconces have flameless candles in them and they are on a timer, so they come on at the same time every day and stay on for 5 hours and turn off.  Sweeeeet!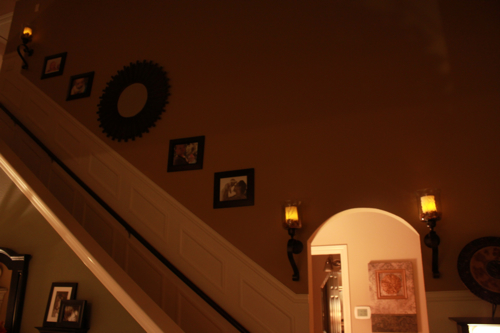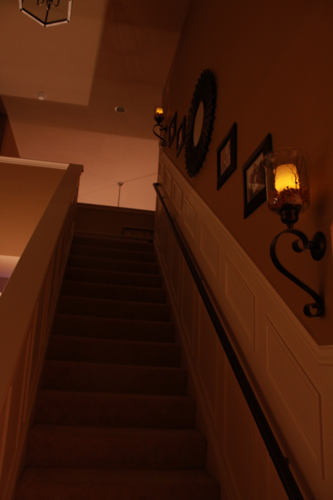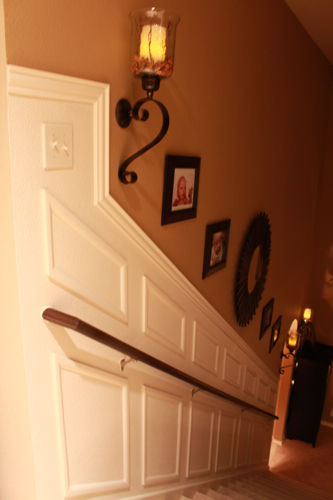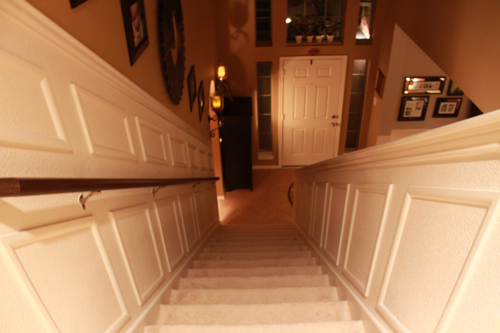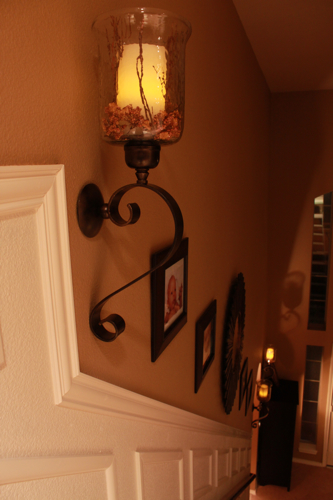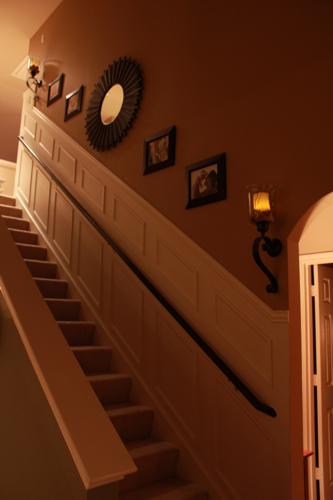 So what do you think?  I think this is one of, if not, my favorite transformation so far!  I think I always say that though. :)  This wall was always a challenge to decorate, so that's why it's been empty for 2 years now.  I think having the wall more as an architectural feature was the way to go for sure.
Now, so how about them steps Dad? :)
To see how the design of the staircase came about, you can read about that here.  To see the how-to of the moulding boxes you can read that here.
Source list:
Starburst Mirror – Pier 1 for $69 (was on sale over half off! The original price was $149)
Candle Sconces – Hobby Lobby $30 each (with half off)
Flameless candles – Pier 1.  I already had these candles but had to buy one more for about $14.  Pier 1 flameless candles are my favorite because they glow from the bottom up, instead of just the top like a lot of others do.
Materials – $64.26 for moulding boxes, and approximately $20 for the chair rail.
Wall color – Baguette from Sherwin Williams
Don't forget to enter the giveaway from Purdy here to win an awesome paint kit!
Thank you to my sponsors:
Altar'd – How to paint furniture guide
xxoo,
Decorchick!
Linking this post to Layla's Few of my Favorite Things Party. Go and visit Layla and all of the other links for awesome inspiration!