Remember last week when I posted about my cute little foot stool and the other new additions?  Well, that day my when post went up, that same evening I was out shopping with my soon to be sis-in-law for wedding stuff.  And we stopped into T.J. Maxx because she needed something.  Me of course wandered on over to the home section, and I immediately saw this.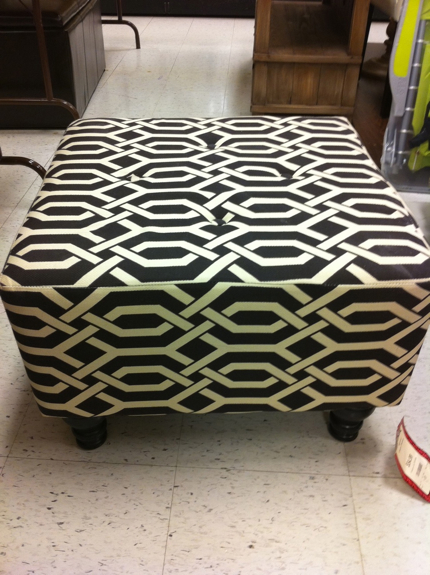 I thought it was too good to be true.  Then I looked at the price and it was $54!!  Then I text a photo of it to my husband and he LOVED it and said to get it.  Again, too good to be true.
After that I couldn't have picked it up fast enough to claim it was mine and carried it around the store until I found a shopping cart.  When I checked out I asked for a discount because the feet were just a little nicked (nothing a marker won't fix), and so I got a 10% off discount and paid $49 for it!  Always ask for a discount, especially at these types of stores. But I pretty much ask for a discount at any store I go to. :)
I was worried the ottoman might be a little too much graphic print going on in the living room with our geometric rugs, but, we both love it in here and it's SO squishy and comfy!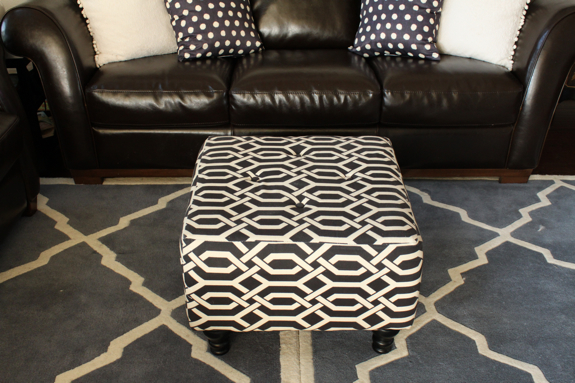 I know it's not a round one like I had been envisioning, but I love it, and the price couldn't be beat.  I'm still keeping the little mini colorful one in here for now and am using it with my chair.  Never can have too many places to prop up your feet!
And if you are wondering why I'm not showing shots of the full room, that's because I've been working hard the past few days on a few other projects in our living room.  I thought this room was done??  But the changes are pretty awesome, and can't wait to show you!  A couple of wall treatments may have happened.  Ohhhh yea. :)
Did you all have a good 4th?  What do you think of our newest graphic addition? :)
xxoo,
Decorchick!