I've never posted a recipe on here before.  Never really thought I would either.  When I heard there was a pumpkin shortage I slightly panicked and went out and bought plenty of cans.  What is this world coming to anyway??  But anyway, when I made my Mom's pumpkin bread the other day, it's just too good to not share with y'all.  Nobody's pumpkin bread is as good as Mama's right? :)  She got the recipe from my grandma, and I don't know where she got it, so I am just pretending that it's an old ancient family recipe.  I've been making it for several years now and I really think it's the best.
So here is what you need.
3 C sugar
1 C vegetable oil
4 eggs
3 1/3 C flour
2 tsp baking soda
1 1/2 tsp salt
1 tsp cinnamon
1 tsp nutmeg
2/3 C water
1 15oz can of pumpkin (not pumpkin pie filling)
Beat sugar, oil, and eggs together.  Beat in flour (a cup at a time), baking soda, salt, cinnamon and nutmeg.  Stir in water and pumpkin (don't use mixer for this part, it will splatter).  Mixture looks kind of watery when you're finished.
Bake in 3 greased loaf pans, 350 degrees for one hour, or until toothpick inserted comes out clean. Let stand in pans for 10-15 minutes then remove and transfer to wire racks to cool.  Let them cool completely before you wrap them up or whatever. They freeze well too.
The part about the mixture being watery after you add the pumpkin and the water, here is a picture so you can see what I mean…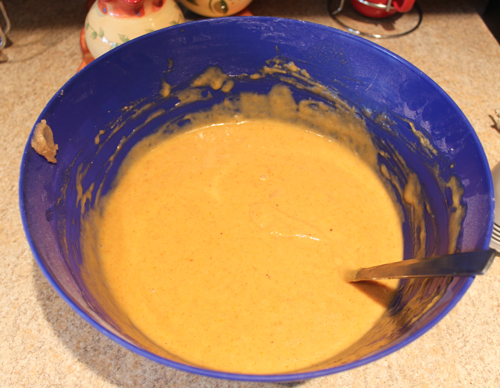 Even though that may not look too appealing, after an hour you'll end up with this.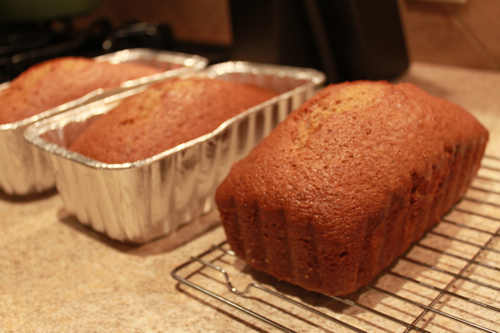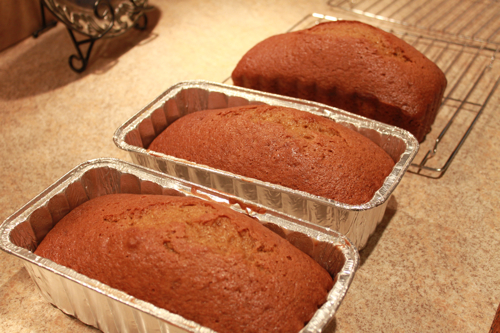 Then put on a pretty plate for display…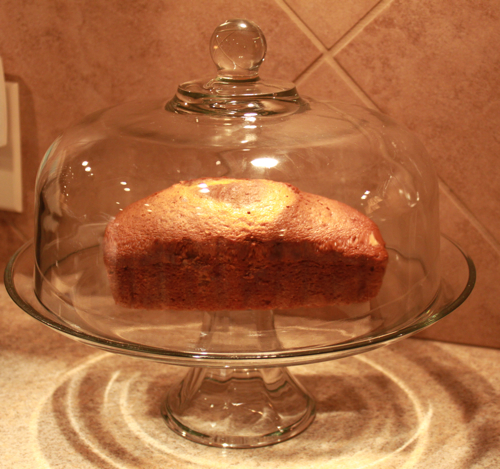 And cut you a slice of pumpkin heaven and enjoy!  I like mine with cream cheese. :)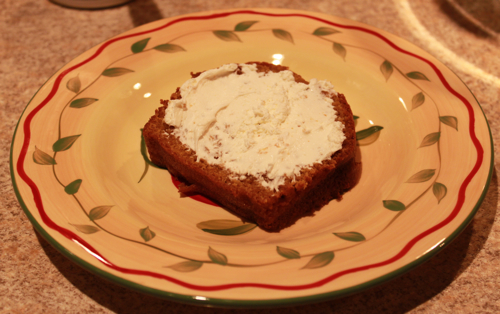 We went through 2 loaves in 2 days.  My thighs are thanking me.
Linking this post to Just a Girl, Tatertots and Jello, Funky Junk Interiors and Under The Table and Dreaming.
xxoo,
Decorchick!