Time for another Stitch Fix reveal!! Gosh they have made my life so much easier. For real. I just don't have the time to get out and shop these days, so having a fix delivered once a month is such a blessing for me! And, this fix was another winner. I haven't had many that weren't!
So before I get into what all came, here's a little bit about Stitch Fix and how it works, in case you don't know. You should though since I've been talking about it for 7 months now! ;)
1. Start by filling out your style profile – you will complete all sorts of questions on sizing, pricing, preferences, colors, etc. You can also write notes about like and dislikes. Be VERY specific here! Make sure to link your fashion board on pinterest so your stylist can see what you like!
2. Order your first fix! Your card will be charged a $20 styling fee, however, if you keep any item (one or more) you will be credited back the $20. Because of this I always recommend keeping at least one item or you are basically giving away $20. You will receive 5 items (clothing, jewelry, and handbags, shoes, etc). I tell my stylist I only want clothing, and maybe surprise me with a shoe every now and then. I've seen lots of cute ones out lately that others are receiving!
3. Decide what you want to keep and what you want to send back, in the postage paid envelope that's provided. You have 3 business days to do this, so use this time to try everything on, see what you have in your closet that pairs well with it and don't be afraid to try things you normally wouldn't! That's what makes Stitch Fix so fun! If you keep all 5 items you will receive 25% off your entire fix! That is what makes this service even better in my opinion.
You don't have to receive fixes each month like I do. You can request them whenever you want. Like every other month, every 6 months, every 5 years, doesn't really matter. You aren't tied down to anything at all. It's not a subscription-based service.
So are you ready for this month's fashion show? Let's get to it! And if you see anything you like, don't forget to pin it, or ask your stylist for a particular piece. I do it all the time! And it REALLY helps if they see your pinterest board, so they have something visually to go off of, rather than just words you have written. Not mandatory, but beneficial. :)
1. Collective Concepts Katelynn Printed Dress – Verdict: Kept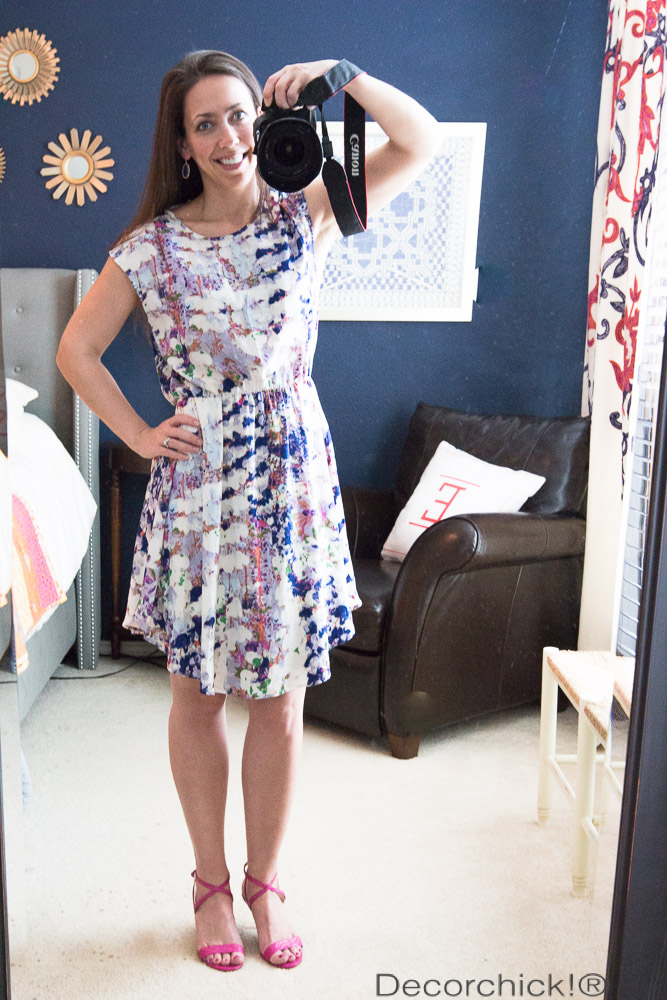 I seriously loovvvve this dress. I tried it with a small belt and wasn't crazy about it, but maybe with a cardigan? Honestly I'll just wear it as shown above and it will likely be my Easter dress!
I love the sides of it also. You can't tell in the description online, but they do go up a little which makes it fun and flirty.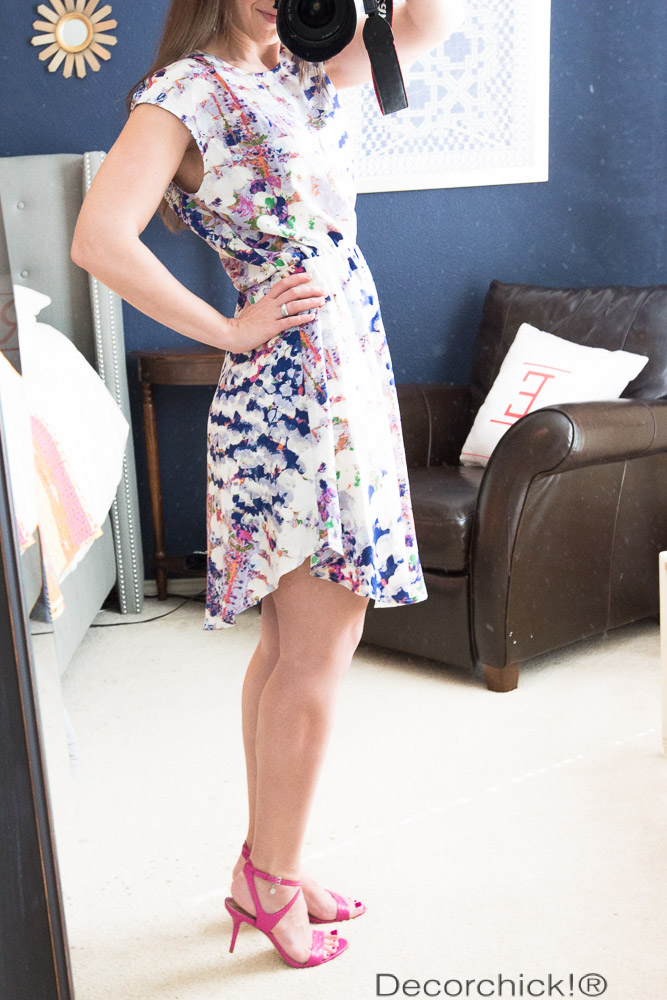 Oh yea, and remember that time you did a whole fashion show in your bedroom with the full length mirror, and later discovered when you went to edit photos your mirror is filled with fingerprints? Yea….Sorry about that!
Moving on.
2. Paradigma Gwenifer Kimono – Verdict: Kept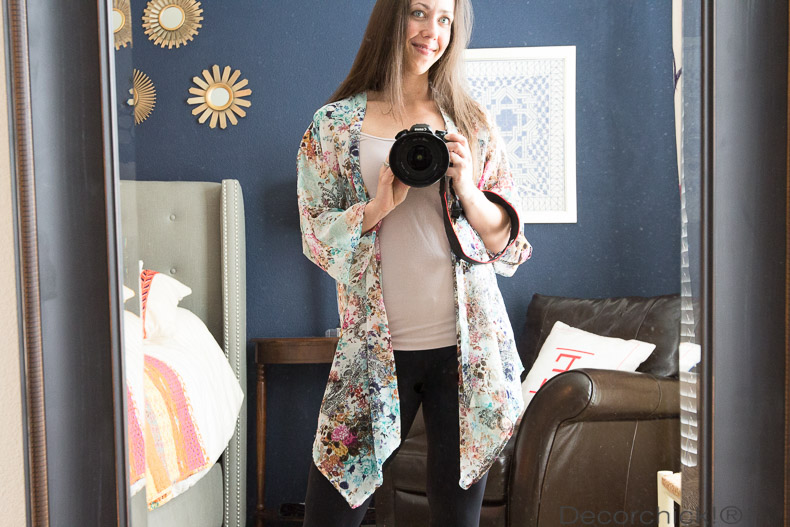 Now, while out of my comfort zone, I really wanted this. And requested it. But since after trying it on again for this post, I am unsure. I may sell it. It doesn't do anything to flatter your body, but it is a different piece so I am trying to be open-minded. I think it would look better with lighter color pants maybe?
The colors are very pretty though.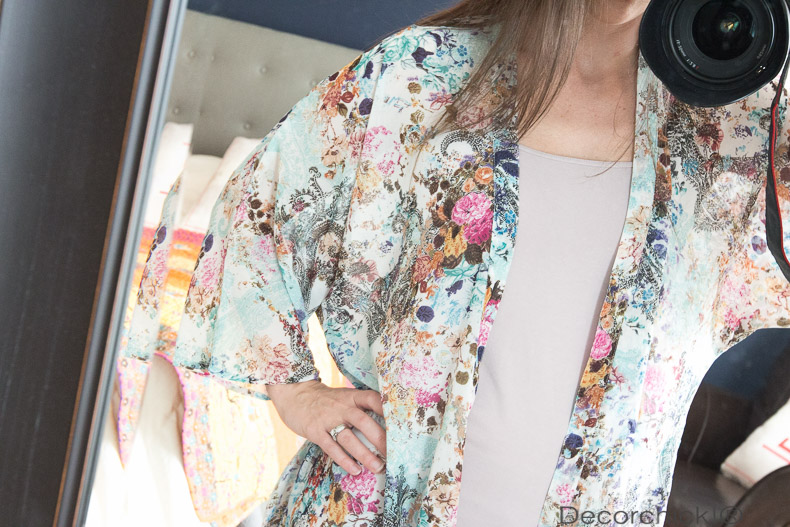 So let me know what y'all think about that one…
3. Rune Porter Legging – Verdict: Kept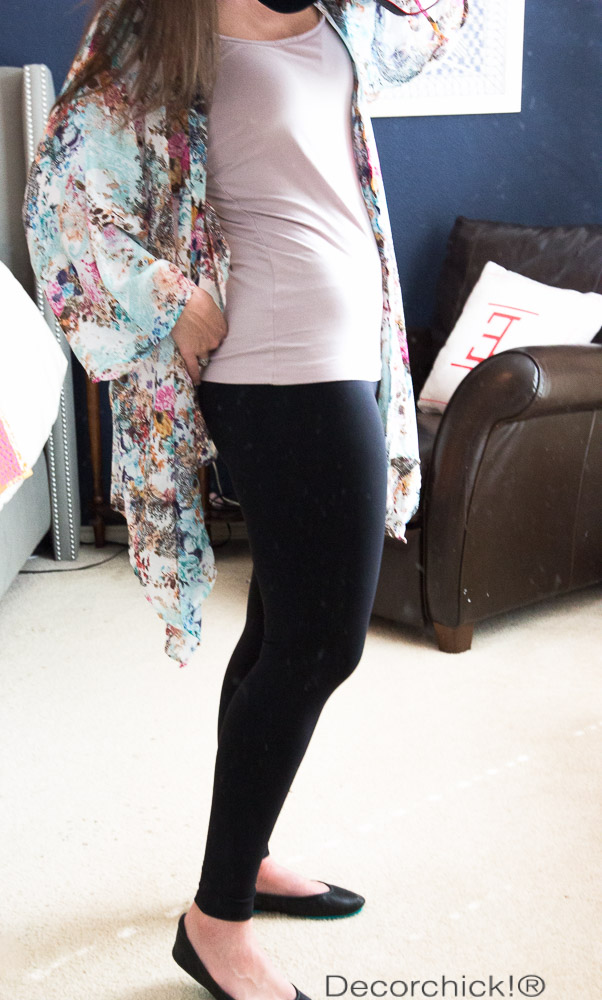 These leggings are LIFE!! And super affordable. Not see through, just the perfect legging, which is always hard for me to find. If you're like me and have a hard time with leggings, request these!
4. Skies are Blue Xylona Lace Detail Top – Verdict: Kept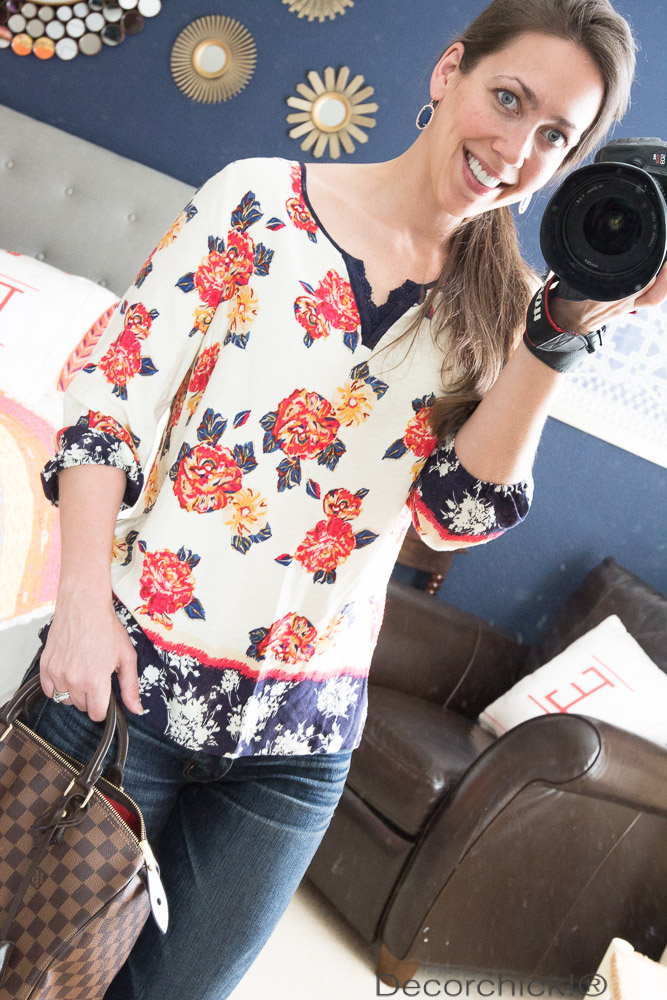 One of my most favorite shirts ever!! I love everything about it. Plus, it matches our bedroom! Clearly I have a thing for navy and coral. :)
5. 41Hawthorn Tulip Print Sleeveless Blouse – Verdict: Kept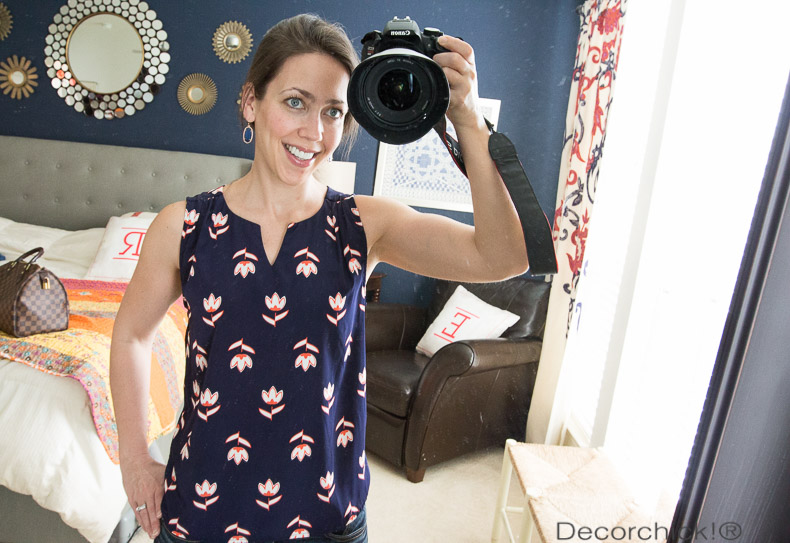 Ummm, again, matches our room! Haha. I do love this top, but just think it would be even better with some white pants. Need those!
So again, this fix was a 5/5 for ALL THE THINGS! :) While I'm still a bit unsure on the kimono, I think it will grow on me. I also probably did not have the correct clothes to wear it with. I just threw on a cami and the black leggings and called it good. I also think I might need to wear heels when I have it on.
That's it for my 7th fix!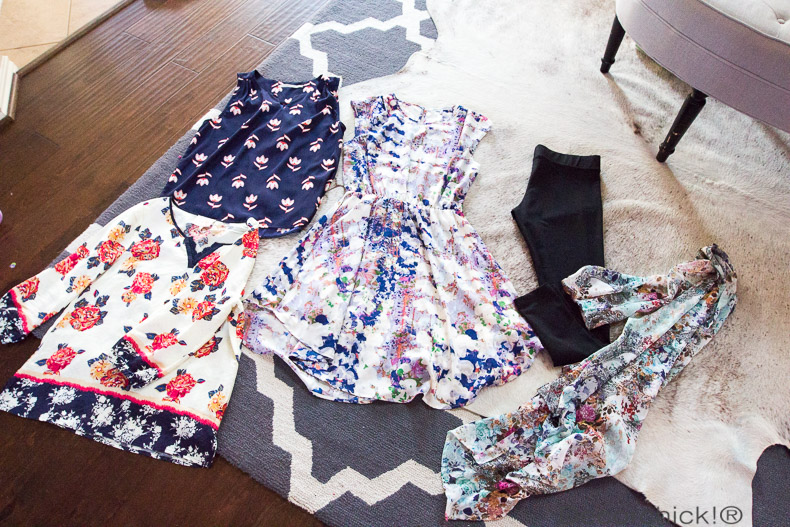 I'm so super happy with it, and can't wait for this months!! I have an event at the end of the month, so I have requested a few things for that. Of course I'll keep you posted with how it all turns out. :)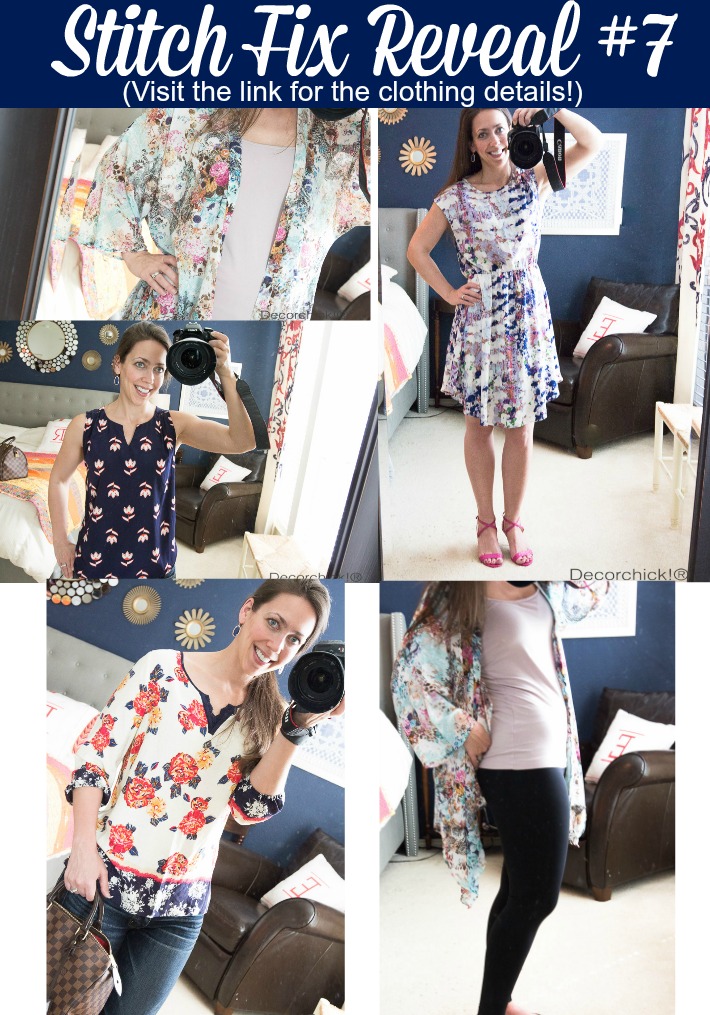 If you still need *the* stylist, Sherri R. is still mine and she's awesome. Request her in your notes if you need a good one!
So if you are ready to try it out and have a stylist send you clothes each month too, you can do it here. Remember getting it monthly is completely optional! So if you don't need new clothes that often, set your account settings accordingly. You can also request just an all dress or all top fix, all pants, etc! I think that's super fun. I will request an all dress fix during the summer! They really do their best to listen to your needs and requests.
Let me know how your fixes have been lately!
xxoo,
Decorchick!®