My sweet, rambunctious Ellie turned 2 yesterday! Can you believe it?! I really loved doing 1 month updates up until she was 1 year old, so obviously I stopped when she turned 1 last July. So you don't see much of her these days on the blog. I guess it's time to have another baby. Although I don't know if my mom could handle watching THREE kids at once, even though she had FOUR, but we will just have to put her to the test I guess. Ha!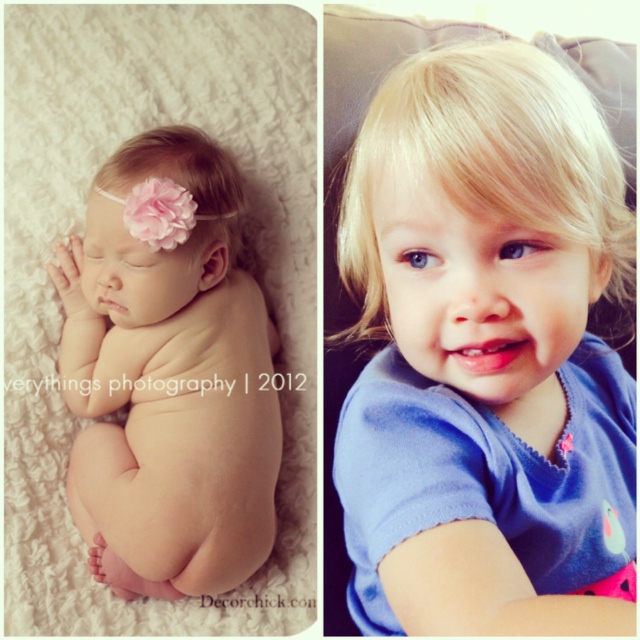 She was such a beautiful baby, and even more beautiful little toddler. She always looked mad when she slept because of her asian eyes (my husband is half Filipino), and I think it's so cute.
I still remember the day she was born like yesterday, when I didn't know what was happening. I thought I was "leaking." But yea, that was actually my water that broke. How's that for oblivious mama instinct?  Still cracks me up.
She had the most beautiful blonde highlights when she was born, and now she is just blonde. Still not sure how that happened!
She is my wild one, my climber, my daredevil, my screamer, and the one who throws her food. Very different than her big sister that's for sure. So she really throws me for a loop some days. But she's a perfect angel at Grandma's house, go figure. ;)
This year, since both of my girls' birthdays are just 2 weeks apart, we are having 1 combined birthday party. Something I thought I'd never do. But with crazy schedules, and other family birthday parties happening in July, it is just what worked this year. So we will have 1 big Veggie Tales party for the both of them. :)
I did make her a cake yesterday and we had a quiet dinner at home to celebrate on the actual day.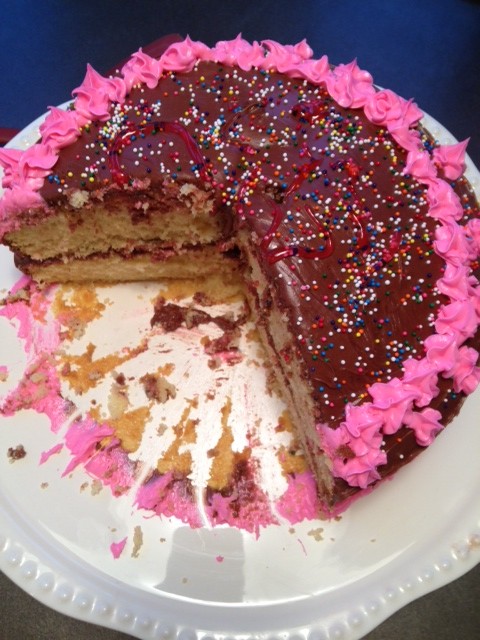 It was yummy I have to say!
Even though we are having 1 combined party later in the month this year for the whole family, I still think it's important to celebrate their actual birthday. My mom has always made that a big deal, so it's stuck with me. She still cooks a birthday dinner and cake for us 4 kids each year, so it's really special.
What do you all do about birthday parties? Are you a fan of combined parties or no?
xxoo,
Decorchick!