You know it's rare when I share a recipe on here, so you know it MUST be amazing if I am. Well today's is definitely amazing and will be your new go-to crock pot meal I promise. It makes a lot too so it's great if you're having people over. So here's the recipe for the best slow cooker pork carnitas ever.
My mom gave me the recipe and she got it from my Aunt who also loves to cook. I get my mad cooking skills from them.

Easy and Delicious Slow-Cooker Pork Carnitas (The Best Crock Pot Recipe Ever!)
This delicious crock pot meal will be your new favorite!
Ingredients
1 boneless pork shoulder butt roast (3-4 lbs) [I have used a 5 lb bone-in instead and 2 pork tenderloins and it works just as good]
3 cloves garlic, chopped
2 tsp olive oil
½ tsp salt
½ tsp pepper
1 bunch green onion, chopped
1½ cups cilantro, chopped
1 cup salsa
½ cup chicken broth
½ cup tequila OR ½ cup additional chicken broth. I've only used chicken broth when making this. My mom likes it with ¼ cup tequila, and ¾ cup chicken broth if you have tequila on hand.
2x4 oz cans chopped green chiles
Warm tortillas (we use corn and flour)
Fresh cilantro, avocado, chopped tomatoes, sour cream for serving.
Instructions
Place roast in slow cooker. Sprinkle with oil, garlic, salt and pepper (turn it over and coat it all - probably used a little more salt than recipe calls for). Add remaining ingredients. Cover and cook on low 6-8 hours or until tender. Remove meat, cool slightly. Shred with 2 forks. Return meat to cooker to heat if necessary. Spoon meat mixture onto tortillas, serve with toppings.
I like to serve spanish rice with this and some sort of veggie. It's SOOOOO good. It's even good as leftovers too because it makes a lot, so you can even pan fry some of the leftovers and get it crispy and place on top of salads etc. Very yummy.  And I love the way our house smells when I make this. All of that cilantro is just delicious. It's actually a very healthful and low calorie dish too.
You'll shred it up like this with 2 forks…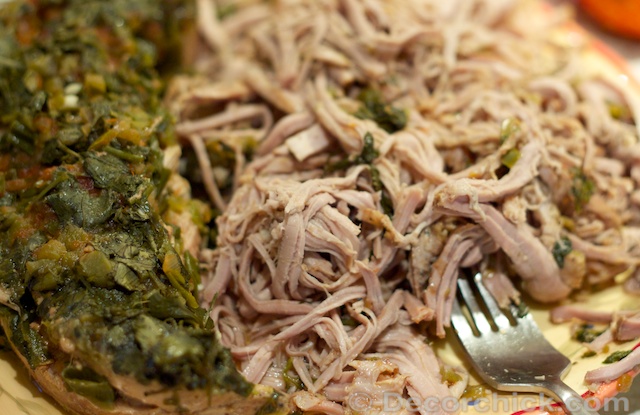 Then throw it in a tortilla and be in heaven.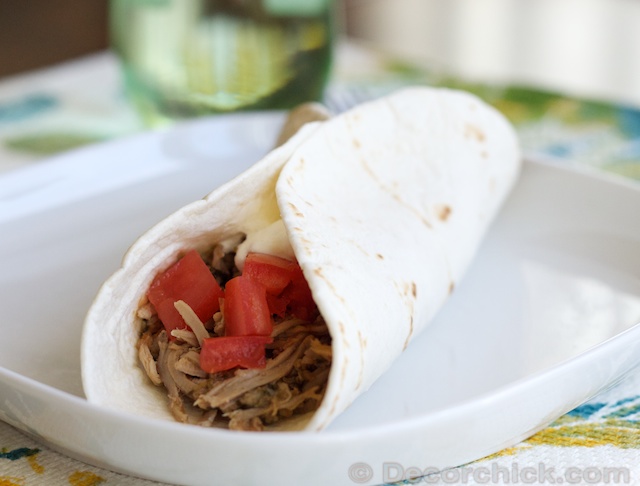 I'd love to know if you try it! I know you won't be disappointed and I know this will be your new favorite slow-cooker meal. :)
xxoo,
Decorchick!
Let's Connect!