*This giveaway is now closed*
Yes, yes, it's that time of week again!  Giveaway time!  And this week I am so excited because one of you fabulous readers will win your own Custom Simple Fit Shade from Redi Shade!
Aren't those purty?? :)
I showed you all in this post my highlight and review of our Simple Fit Custom Shade.  And, I LOVE IT!!!  When I said that it installed in less than 10 seconds, I wasn't lying.  The Simple Fit challenge is 1 minute or less, and my install time was way under that.
They also look fabulous too.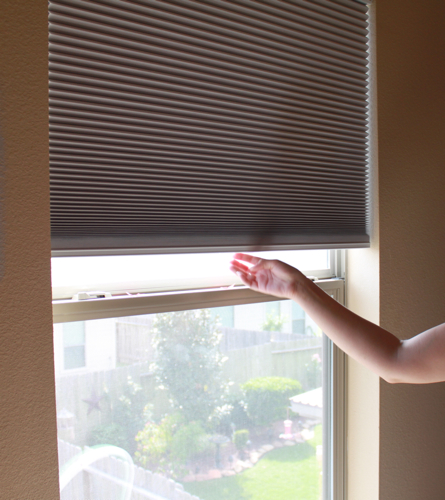 Just to let you know, I did have blinds in my stepdaughter's room already, so I just took them down and removed the old hardware. That took about 2 minutes.
Now if you watched their video and were skeptical or thought it was quirky, that's why I am here…to let you all know that what they say on the video is true!  It really does install as easy as they say.  I know because I have done it.  You all know that I wouldn't promote something if I didn't believe in it or if I didn't think my readers would love it as well.  So trust me! :)
So now for the good stuff!  One of you will win your own Custom Simple Fit shade…A value of $99-$253!!!  That's HUGE folks! And you will get to choose if you want the light filtering or blackout shade. Awesome!  Simple Fit Custom Shades install only inside a window frame with a minimum depth of 2 inches. The window you choose also needs to meet these requirements: Minimum width of 19 inches, Maximum width of 64 inches, Maximum length of 72 inches.  So basically, most windows will work. :)
To enter to win your own shade, just do the following:
1. Leave a comment and tell us what shade you would like from Simple Fit;
2. As an additional entry you can become a "liker" on Redi Shade's Facebook page, just come back here and leave a 2nd comment that you did.
3. For a 3rd entry, you can blog, tweet, or put this on your Facebook page and let all of your friends know. Just come back here and leave another comment that you did.
*Giveaway open to U.S. residents only*
I will run this giveaway through Saturday, October 30 and will announce the winner using Random.org.
Good luck!!
*This giveaway is now closed*
xxoo,
Decorchick!