Well 2013 is in full swing and Scentsy has announced their fragrance note of the year and it is….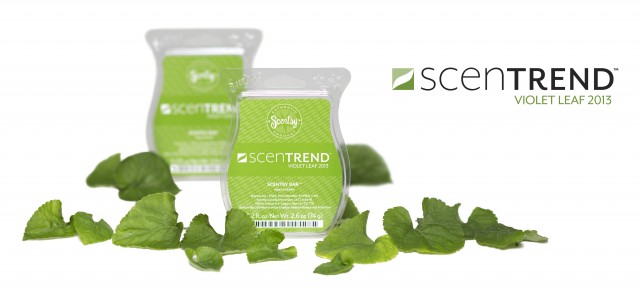 "The earthy and herbaceous Violet Leaf fragrance note is extracted from the heart-shaped leaves of the violet plant.  Unlike the fragrance of a violet flower which is sweet and powdery, Violet Leaf exudes an organic, green fragrance with a subtle floral undertone and watery accents of melon and cucumber. This fragrance is gentle on the senses, providing tranquil moments of respite and calm."
"In our fast-paced society, people yearn for simple, disconnected moments," said Heidi Thompson, President of Scentsy, Inc. "Violet Leaf's pure expression of nature is the perfect backdrop to unwind and decompress in today's increasingly connected, digital world."
Y'all know I love Scentsy and just good fragrances in general. I love our home to smell good and I've always been a BIG perfume junkie. When I tested out Violet Leaf I really liked it. It's a little woodsy, fruity, and very little floral which creates a very nice scent. It's definitely not overpowering.  I like strong scents, so I would even like this to be a little stronger.  But it does mix very well with these scents:
Posy Peach
Route 66
Quiver
Apple Press
Rio Beach
Lotus Cove
My Home
Posy Peach is my favorite with the Violet Leaf. I love anything peach in general so I've been mixing the 2 together and really like it. Lotus Cove paired with the Violet Leaf would be my next favorite when I'm looking for a more clean scent. I think it would be a good idea to unwind from the day with your Violet Leaf scent going as it's meant to be used in moments of tranquility and relaxation (even though those can be tough to find!). I've yet to do it myself because it's just been crazy here at the house with the kitchen work happening, but once that slows down, you bet I'll be relaxing! :)
And guess what? Scentsy wants to give one of you a new warmer of your choice, AND a Violet Leaf bar and Posy Peach bar. Woohoo!! I just got their owl warmer and it's SOOOOO cute.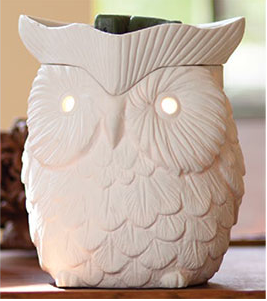 It glows when lit up too. :)
To enter the giveaway follow the instructions on the Rafflecopter box below.  Giveaway will be open until Sunday, January 13, 2013. Good luck everyone!
Let's Connect!