Part of the master bedroom redo involved updating these nightstands.  These are actually living room end tables, but we use them as our nightstands.  They serve their purpose, they are pretty (now they are), and they were free!  I've actually had them many years. They came with my furniture set my mom bought for me when I moved out into my first apartment. *tear*
I must have gotten too excited about painting them and forgot to take a good before picture.  But here is a picture where you can see what they used to look like before the black paint.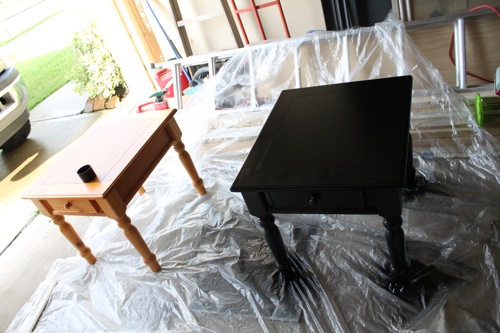 It was kind of that orangish color of wood.  Really looked terrible with our bedroom furniture.
Here they both are with a new face lift.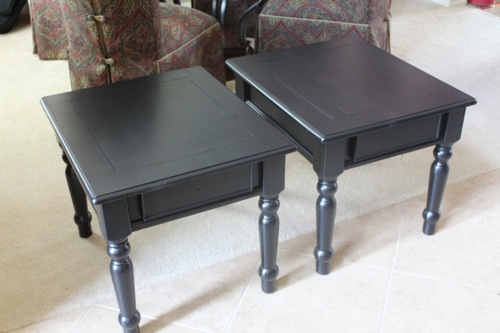 Ahhhh, love it!!  Gosh, I love spray paint.  Can I say that anymore to annoy y'all?  I'm really trying.  ;)  I also got some cute new knobs from Hobby Lobby to go with the new room, but I'll have to show them another day.  I'm sure you are all on pins and needles just waiting to see my knobs.  Yep, I'm sure of it.
First I sprayed both tables with Minwax Water-based Polycrylic, satin finish.  That stuff is awesome and doesn't smell.  I sprayed it with that first to seal in the finish that was already on the table, so I wouldn't get peeling paint when I applied the new paint.  When you aren't going to really prep furniture such as sanding and whatnot, which I don't, this step I have found is pretty necessary.
After about 30 minutes of drying I used Rustoleum black spray paint in a satin finish.  Highly recommend the black satin.  I am in love with how our tables look now, and it went on very evenly.
After they were both painted black, I sprayed 2 more coats of the Polycrylic as the protective finish.  It will prevent scratches and dings and the paint won't chip.
Here they are again.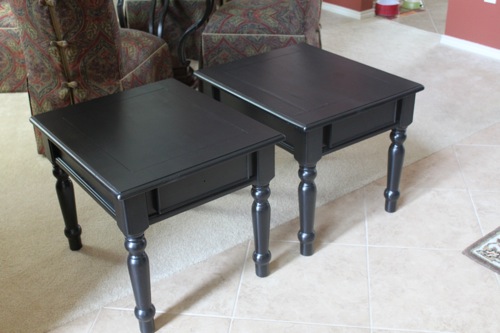 I can't stress enough how much spray paint will change your life, and your furniture's life.  So if you have any outdated furniture that could stand to be more chic, paint it!!  Paint is the remedy for everything.
These tables do live in our master now and I'm sure you'd much rather see them in there, but I'll show you soon I promise! :)
xxoo,
Decorchick!