*This Giveaway is now closed and winner announced at bottom of post*
Hello hello! Man we've had some great giveaways lately right? And today's is definitely AWESOME because you will get the chance to win Oreck's new VersaVac which is their first ever vacuum cleaner and steam mop in one!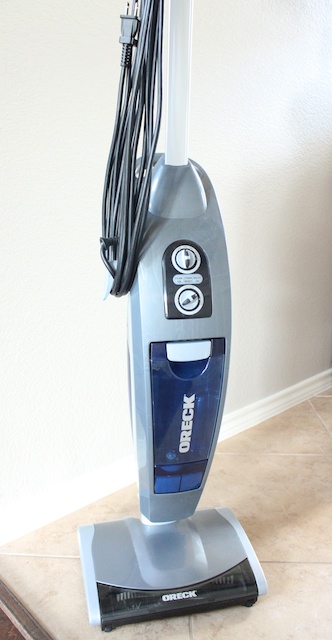 It's a full-powered bagless vacuum and steam mop that is portable, lightweight, and incredibly easy to use. It is also safe for all floor surfaces including wood floors. I've never had an Oreck vacuum cleaner before but have always heard amazing things about them. I am a slight geek about new cleaning products so I was pretty giddy to review this.  And the VersaVac did not disappoint!
When I say this is easy to use, because you might be thinking a vacuum AND a steam mop could be tedious, it is not. Not at all! Here is a close up of all of the dials, and you'll see for yourself.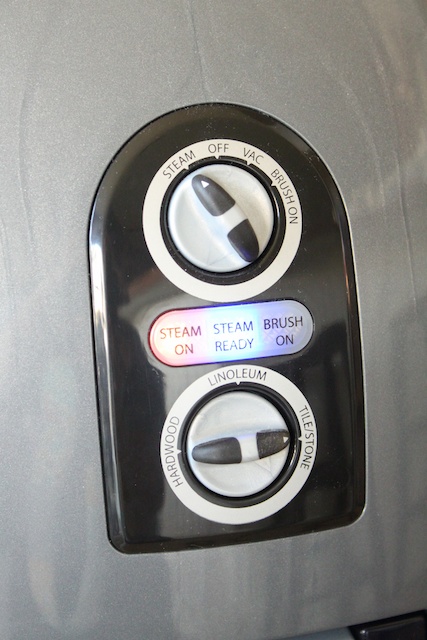 That really couldn't be any simpler could it? And this picture was taken when I was testing out the steam mop function of the vacuum and it worked great!  It's very easy to transition from vacuum to steam mop too. You just attach this on the bottom along with your pad (included) and get to work.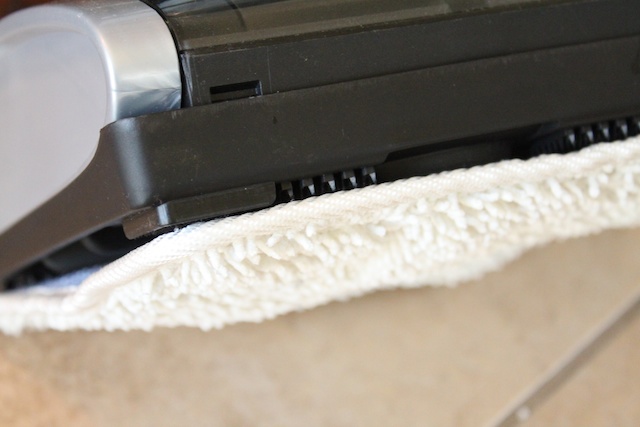 It's also easy to fill the tank up and take off the pad with the release button.

Here is a side view of the vacuum/steam mop.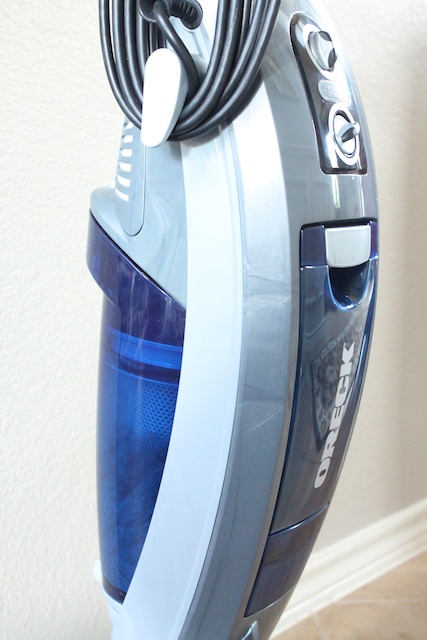 The water tank is the one in the front, and the bagless canister is the one in the back. Because I am honest with you all, if I had one negative thing to say about the VersaVac, it would be that the bagless canister is a bit small.  You can see in my picture all of the junk in there, and that is from a brief cleaning of our wool rugs.  So that's the only downside is that I would have to empty this more than I am used to, but I'm sure I could get used it it. :) But the flipside to that is that we know this is a powerful little vacuum picking up all of the fibers from our rugs.  :) When I cleaned all of our tile floors though with the steam mop function, I had more than enough water for that in the tank and even some left over by the time I was done. That did make me happy that I didn't have to fill up the tank mid-way through. And the tank is heated up and ready for steam cleaning in less than 60 seconds!
So overall I do love Oreck's new VersaVac and the power that it does pack. It's also great that it's not bulky at all and will easily fit in a small closet. Plus the fact that it's a 2 in 1 machine so it eliminates the need for a separate steam mop so it saves more room.  I LOVE steam cleaning our floors with 2 little ones in the house instead of using chemicals too.  It's just kind of a no-brainer for us that that's the way to go now.
So are you ready for a chance to win the new VersaVac?
To enter the giveaway to win an Oreck VersaVac please do the following:
Visit Oreck and tell us one thing you learned about the VersaVac;
Bonus entry: Like Oreck on Facebook
Bonus entry: Follow @Oreck on Twitter
Bonus entry: Facebook or Tweet about this giveaway including a link back to this post. Please mention @decor_chick and @oreck in your tweet.
And that's it! Please leave separate comments for each thing you do. Giveaway will be open until Thursday, October 4, 2012 and winner will be chosen via Random.org. The giveaway winner must be a resident of the U.S. 48 contiguous states.
Good luck!
*The winner is #212 and that is Jammie. Congrats! An email has been sent.*
xxoo,
Decorchick!
________________________________________________________________________
Also find me on Facebook, Twitter, Pinterest, Google+, RSS and Instagram
Disclosure:
Oreck Corporation provided the prize for the sweepstakes but is not the sponsor of the sweepstakes. I received the product for free from Oreck to review, but rest assured, all opinions are 100% mine.