It's that time again!! Oh my goodness how the months FLY by! And it's almost Christmas! Eeek! I've had my tree up for weeks, but it's still undecorated. Better get on that. :) I've loved showing you all what I've been receiving monthly from Stitch Fix, and as I've mentioned before, I'm really into fashion things lately. Even more than decor! I know. What is wrong with me??
But anyway, I'm a tell it like it is kind of person, and not everything will be rainbows and lollipops. So that's the deal with my latest "fix." I liked it, but didn't love it. And I'll get into everything in detail.
Here is everything I received.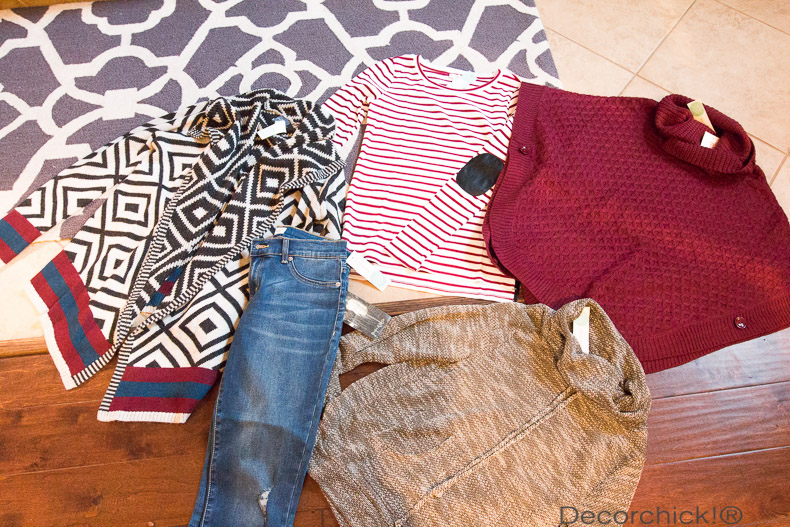 Ok so first thing is first. I specifically asked for no skinny jeans. And I received skinny jeans.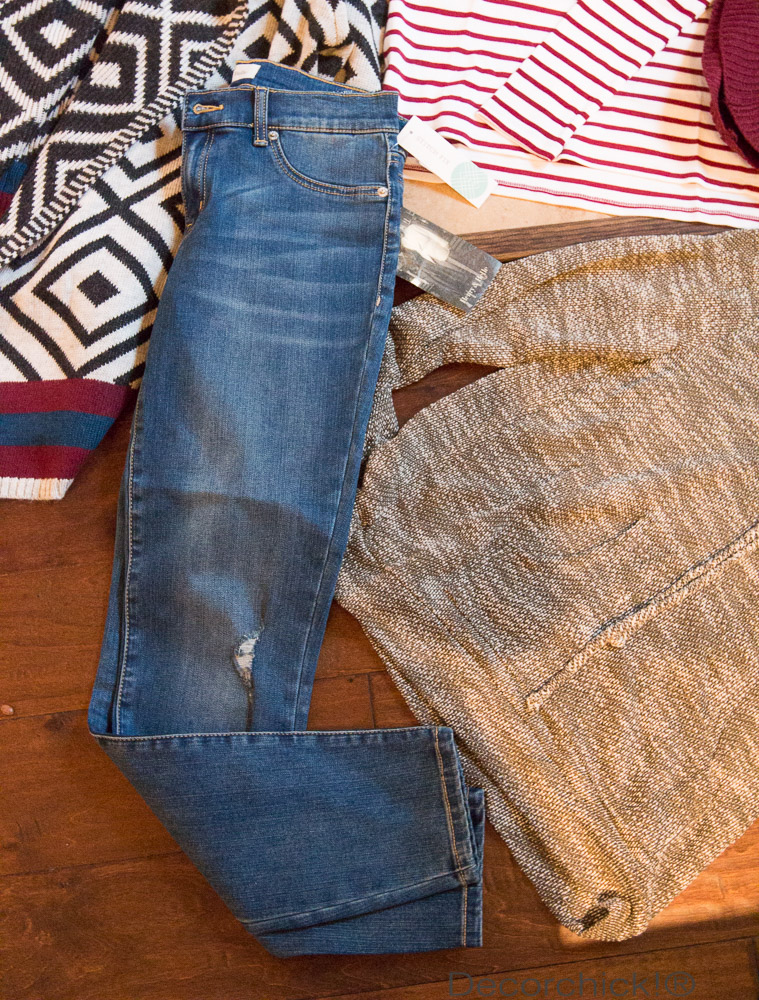 That is probably because they didn't have the ones I requested in stock. Now I will say these fit perfectly and I loved them, and particularly loved the wash of the denim, because I don't have this shade. But, it wasn't what I was looking for because I have plenty of skinny jeans. I wanted a pair of boyfriend distressed jeans.
This red and white top…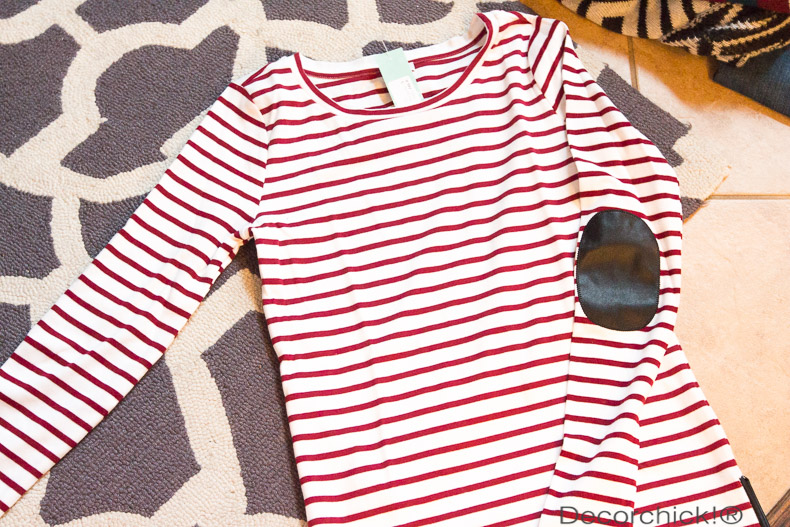 I would have kept it, but it had these side slits…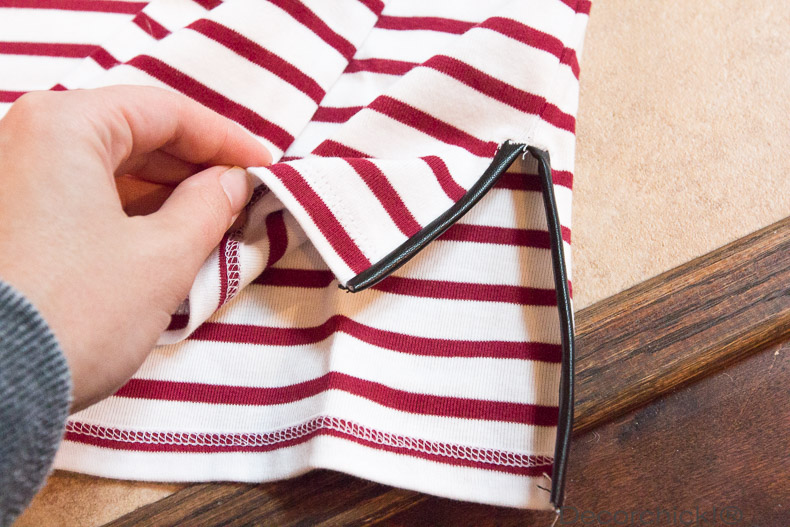 And it's a pretty deep slit, so when I would have it on and lifted my arm up, part of my midriff would show. And that just really annoys me. I don't want to have to wear something underneath, especially with a top like this. I do have a really long torso though, so that could be the problem. But back it went. Cute though!
This hoodie, I specifically requested because I saw another friend get it and loved it…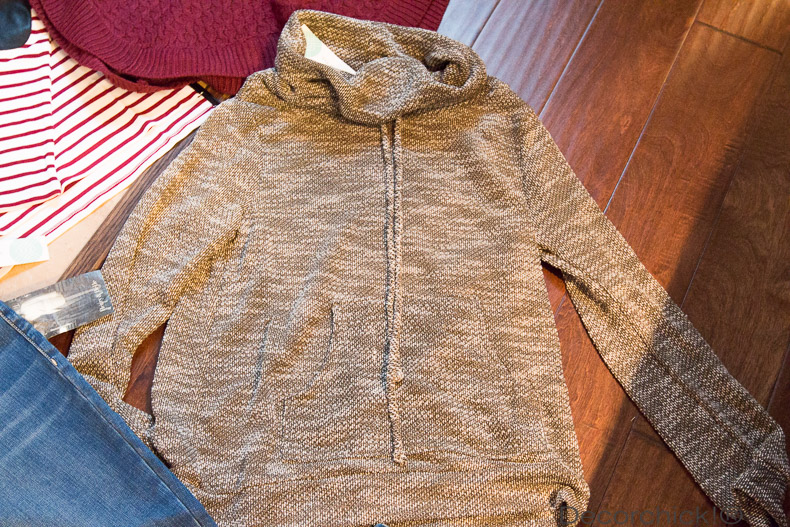 But the looks are deceiving because it's practically see through and again, you'd have to wear something underneath it. :( That kind of defeats the purpose of a simple pull-on hoodie in my opinion.
And now for this waterfall cardigan…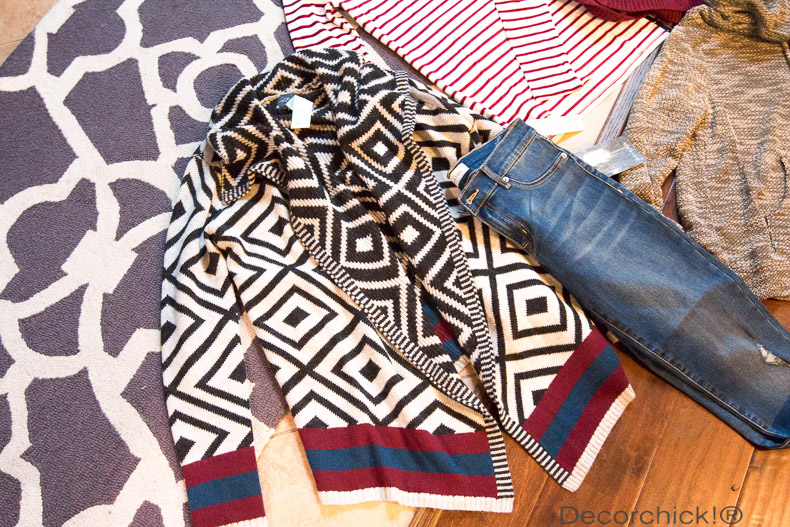 This is something I asked for in my notes, and while they did listen to the waterfall cardigan part, they didn't get the part that I wanted a light cardigan for an upcoming trip. This one was very thick and would have been way too warm for where we are going. Plus, I just don't think I love the burgundy and navy combo.
The only thing I kept was this burgundy poncho/cape.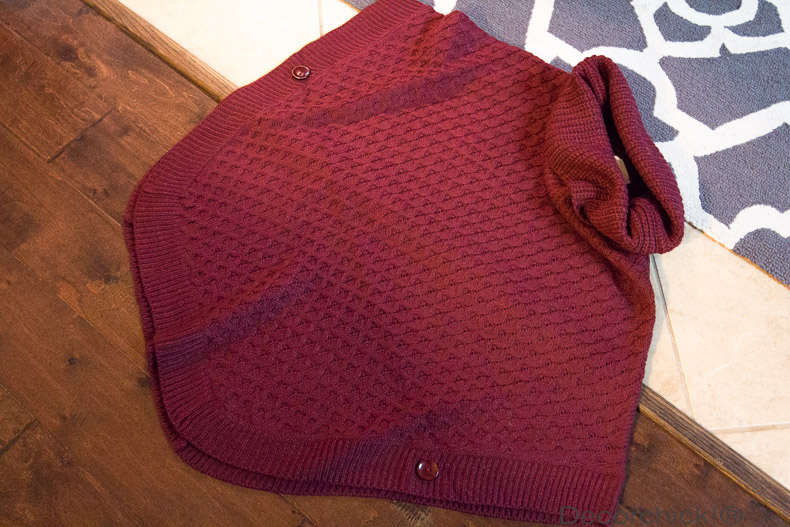 I don't have anything like that, and it's really cute on. So that was the keeper of the box this month. I was kind of bummed, but they are sending me another box for December before the next trip, so hopefully it's a keeper. :)
I know I mentioned before to keep your notes and style profile VERY specific, so that's what I would still recommend. I've also heard it can take a few fixes for them to really nail down your style. And I get that. I mean, a complete stranger is sending you clothes that they hope you like! And I've had very good luck in the past so far, so I haven't lost faith with this box. And again, everything has still fit me perfectly, which baffles me! But that's a good thing.
I'm hoping for some boyfriend jeans and cozy sweaters in my next fix!!
Have you tried them out yet? You can try it out here if you haven't already, and just search "stitch fix" on my sidebar to see my previous months' fixes. It's sure is fun to have clothes delivered to your door!
xxoo,
Decorchick!®