Warning, this is kind of a long post, but y'all like pictures and how-to's right?  Okay, good. :)
Our breakfast room used to look like this…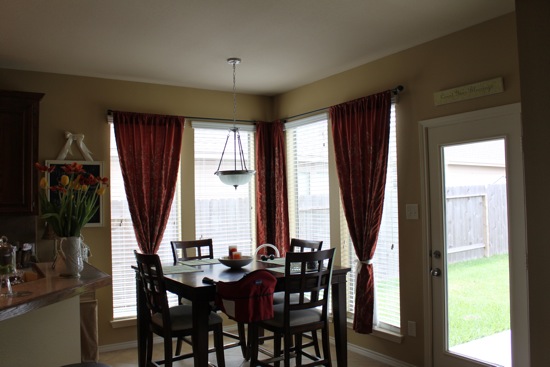 Please take note of the extremely low curtain rod, high water drapes, and the breakfast table too big for the breakfast room. Geesh, this is almost embarrassing showing.  But, I'm just keepin' it real.  It actually excites me to see how my taste changes and the new looks I come up with.
Now the breakfast room looks like this…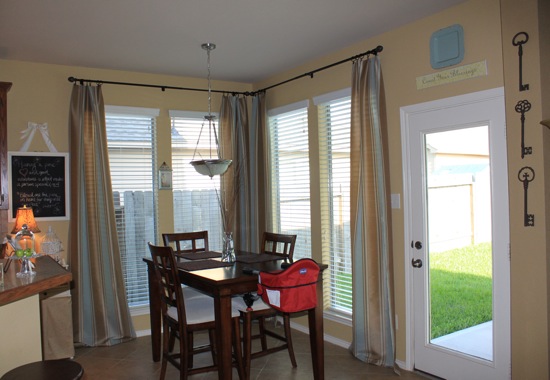 Goodness, isn't that better?   Isn't that fabric yummy?  Mmmmm mmmm.  Choosing this fabric was really out of the ordinary for me since I always tend to buy reds, golds, and greens.  But I am so glad I thought out of my boxy brain and went with this one.
Okay, let me tell you how I made these drapes and made changes to this room.
First, I bought the fabric at Hobby Lobby.  I spent $45 for 6 yards of it and that was with my 40% off coupon.  So that is much cheaper than buying pre-made drapes with the length that we need for our big and tall windows.  I had the nice lady cut the fabric in 2, 3yd sections.  Does that make sense?  I did this so I could cut the length of the fabric in half and get 2 panels from 3 yards of fabric, making a total of 4 panels.  Here's a picture in case you are confused, because I sure am just writing it.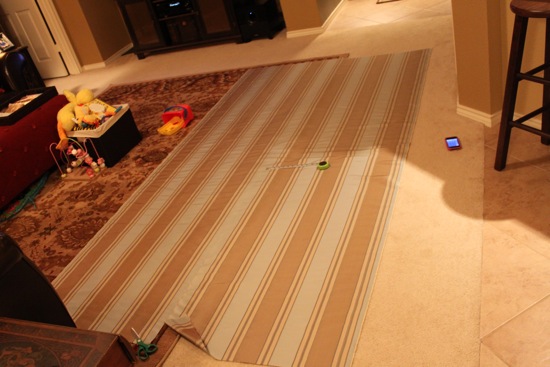 After it's cut, you end up with this…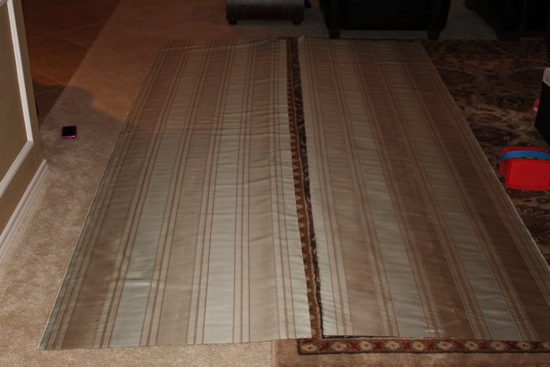 Sorry for the bad picture.  I had to use a flash because I had to work on this at night.
Then I just used hemming tape to make a hem on both ends of each panel…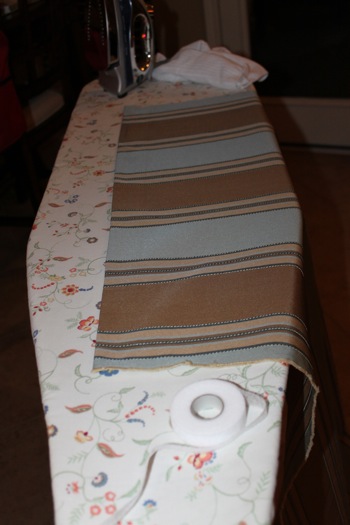 I did this to all 4 panels, then they were ready to hang!  Easy peasy.  And nope, they aren't lined.  I don't care though because they make me smile, and I MADE them!   :)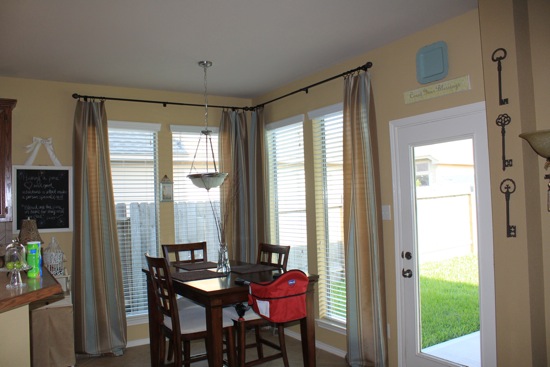 Have I mentioned I love them yet?  My nice Daddy came and raised the rod for me.  I hate hanging curtain rods.  He thought I was nuts for wanting the rod so high, but I wonder if he still thinks I'm nutty now?  Probably so.  Raising the rod high makes it appear your windows are even higher, and it just looks pretty.  It's also pretty when the drapes puddle the floor instead of having high water ones.  I hung the fabric with ring clips and made my "pleats" by clipping whenever it looked right to me.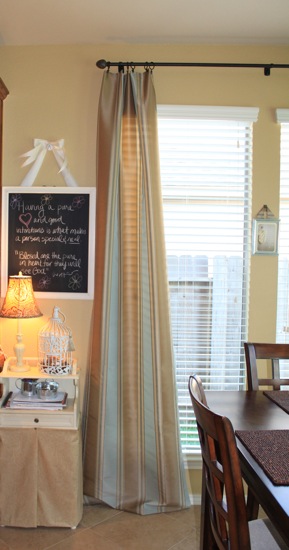 Look, I also have lovely raw edges, and they also make me smile.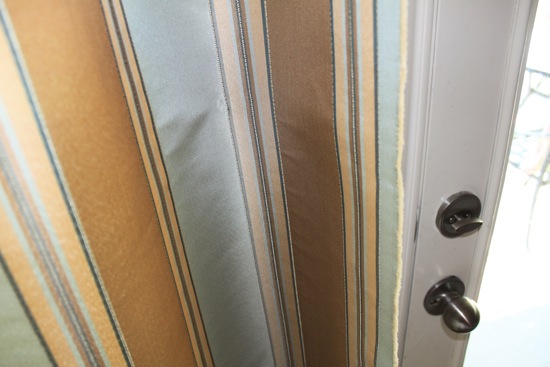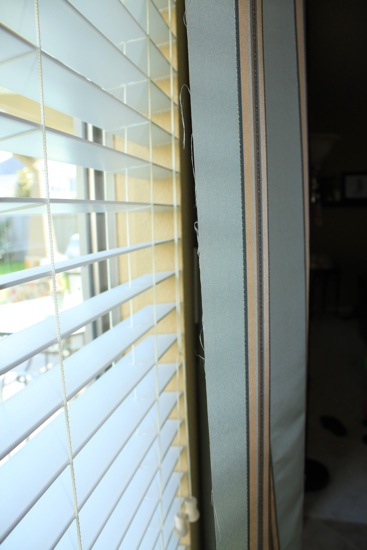 Maybe one day I'll dress them up like Nester does to her mistreaments by gluing on some fringe or those little ball things, but for now, I am content.  Well, at least until tomorrow.  If you haven't read about her "mistreatments" please do so now!  You'll never think of window treatments the same way.  She's my hero.
Another thing I did to this room was remove the leaf in the table.  Well, actually my husband did that.  But that made a huge difference in opening up this area and now there is plenty of room to walk around the table, unlike before.
Got some new place mats at Hobby Lobby on clearance for $4, and this glass pitcher was also on clearance for $4 or $5, then I just threw in some sticks that I had left over in the garage.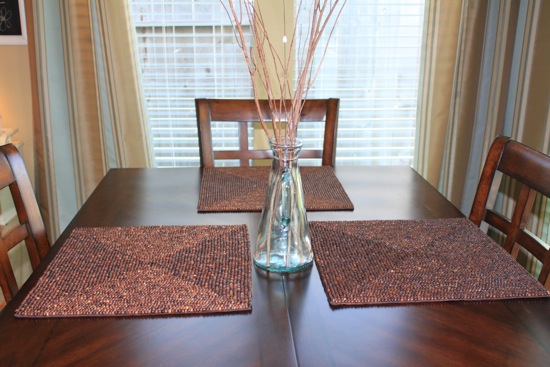 Gave the room a final sweet touch by framing my first mother's day card.  This thrift store frame has been sitting in my garage for months.  I knew there would be a purpose for it one day. Then hung it up with some of the extra fabric.
One more picture of the new breakfast room…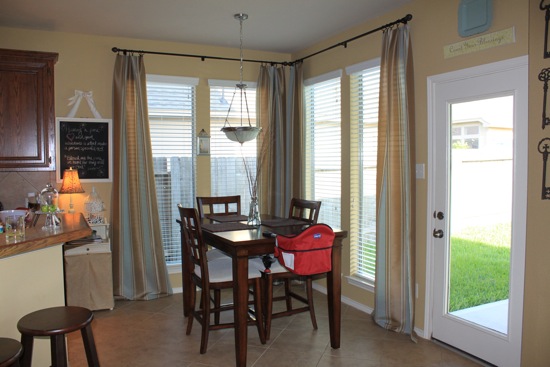 Love it!!  By the way, the paint color in here is also Tobacco Road. :)
xxoo,
Decorchick!