Hey guys happy Friday! I've been having a great time with my family that's visiting this week, and today is also my birthday so it's good to celebrate it with them. :) But ever since we did the blog redesign a few months ago, I didn't have the project galleries up but I'm happy to say that now they are up and running!
So first thing's first. When you hover over the project gallery tab in my main navigation menu, which looks like this:

you will see a drop down menu appear. That is what the little + sign means. Basically it means there is more to see when you hover over the name. So when you hover over project gallery this will appear.

Under those tabs you will find all of the projects I've ever done under those categories. And it's all nice and organized and looks pretty! Here is a little preview of what you will see when you click on the paint category.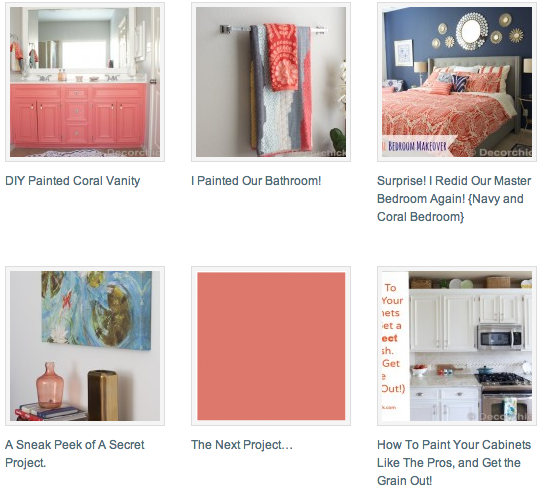 So anytime I've talked about paint, which is a lot, it will be under that tab. Same goes for all of the other tabs. :)
You know I love decorating the mantel, so all of the mantels I've done will be under mantel decor. Here's a snippet.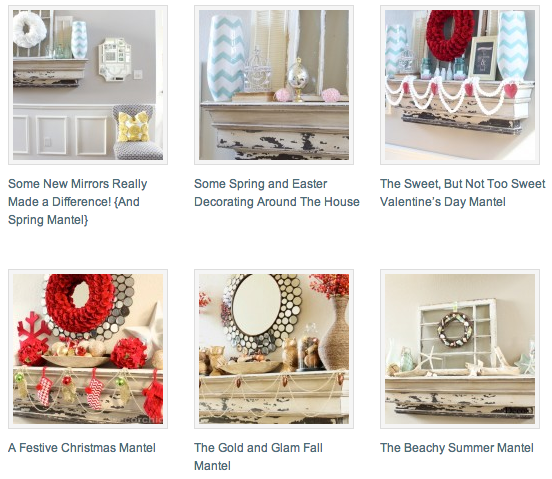 So exciting!
Then you'll also notice there is a tab that's called seasonal decor, which also has a + sign by it. That means another sub-menu will appear to the side when you hover over it.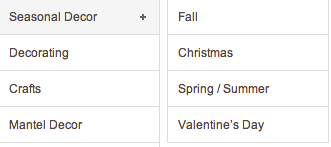 So there you will have all of my seasonal projects all in one place too! It's been so handy for me as well going through them and even remembering a few crafts that I forgot about. :)
So here's a peek of what you will see under the FALL tab.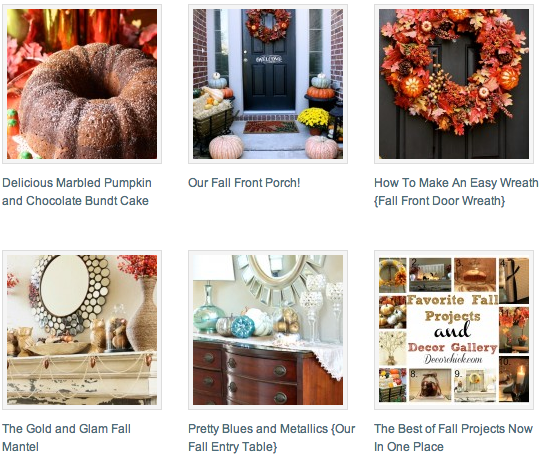 and because I can't wait for Christmas, here is some of what's under that tab as well.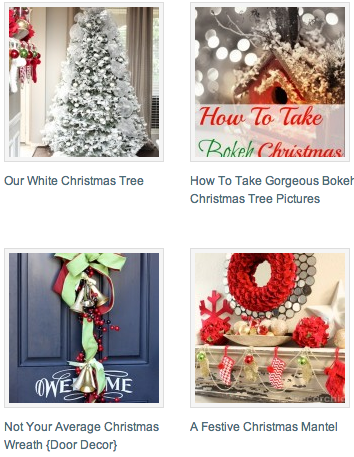 There's lots of projects to sift through guys and probably a bunch of things you've never seen before, so sit back, grab some tea or coffee and browse around. And the great thing is that from here on out whenever I have a new post in one of these categories, it will automatically update the gallery with new content. Yea baby! I'll also be adding more categories as well.
I hope you enjoy the new galleries and I hope it makes your browsing experience a better one. We will always be tweaking things on the backend so things are easier for you guys, so I hope it helps!
Also, you can still take the tour of our home right here.
Now I'm off to celebrate my 21st birthday. ;) Have an awesome weekend!
xxoo,
Decorchick!
Let's Connect!