Woohoo it's Friday!! And hopefully summer by now where you live! Today I am sharing something so incredibly beautiful and unique with you all and I know you will love it. I was able to order some goodies from the one and only MacKenzie-Childs, and now I'm just spoiled rotten. Hate me.
Established in 1983 and based in Aurora, New York, MacKenzie-Childs is a designer, manufacturer, and multi-channel merchant of high quality, handcrafted ceramics, enamel tableware, furniture, home décor, garden furniture, decorative and personal accessories. The brand is best known for distinctive designs which combine vibrant colors and pattern-on-pattern surface decoration to create a fresh, original aesthetic. 
Once you see their designs, you understand how special and one of a kind they are. I was so happy when my order arrived. And I am completely in love with my new canisters and little colander.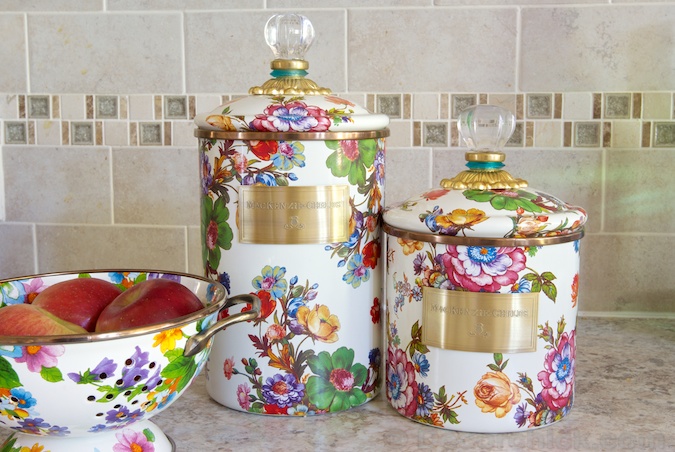 That is their Flower Market pattern, and I just love it. It reminds me of all of the watercolor things I love so much right now. And the detailing from the metal plate to the glass knobs are lovely!
Then I ordered a few things from their Butterfly Garden Enamelwear collection, and love it too. Of course.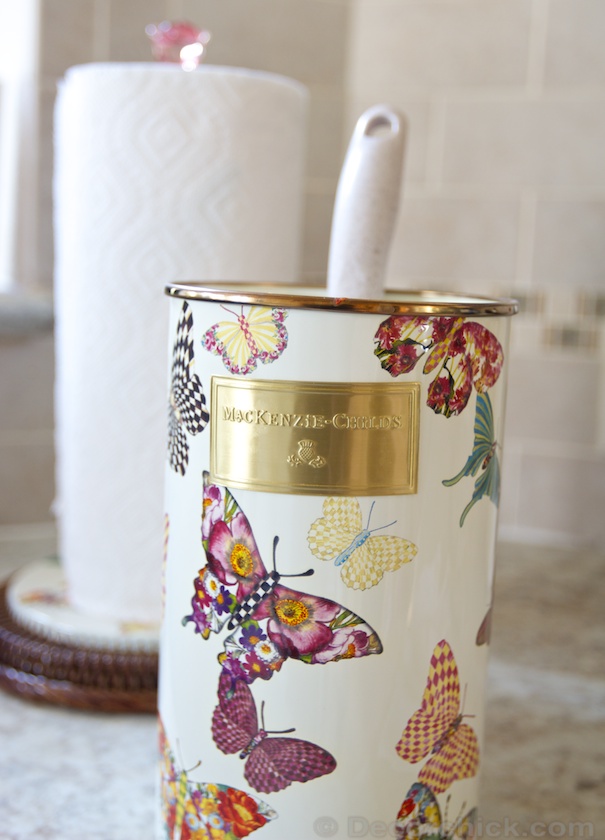 That is a utensil holder, but I use it by the sink to hold my sponge and scrub brush. I like those things hidden. :)
Then the paper towel holder in the background above, looks like this when there's nothing on it.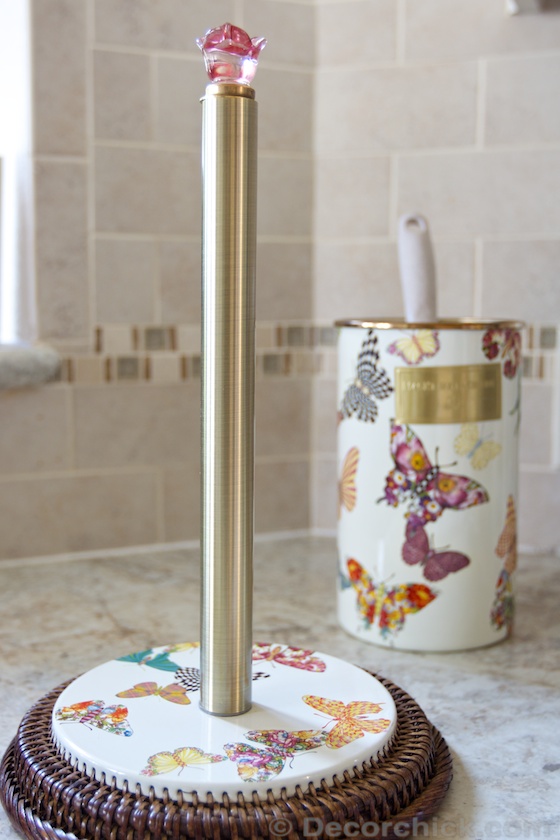 Seriously. It's all in the details. That pink knob….ahhhhh. Makes me happy!
Also from that same collection is the huge platter.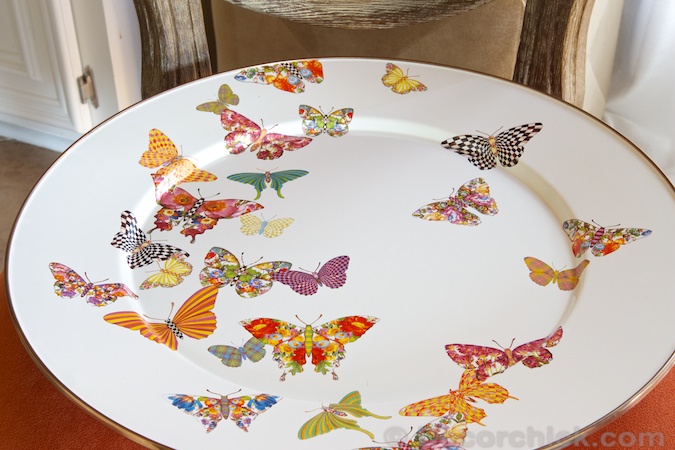 I need to have a party now.
And now back to the Flower Market pattern, I ordered these plates too.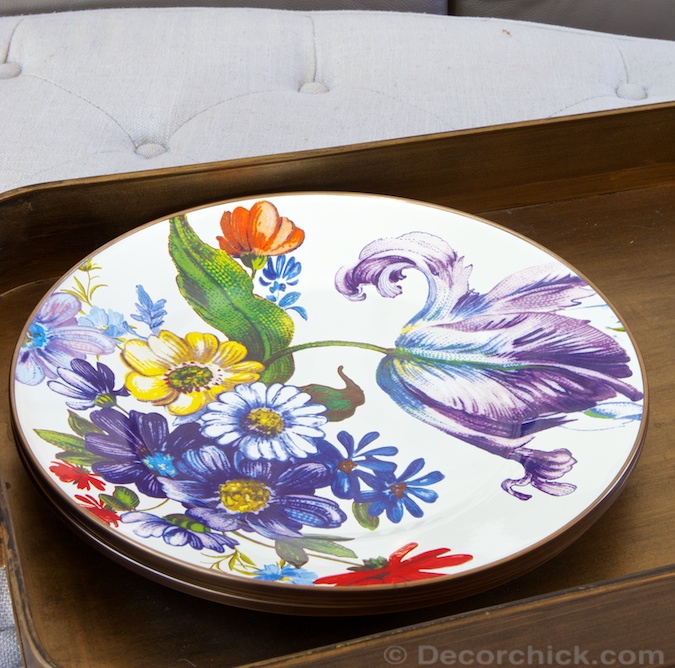 I have 4 of them, and it really does make eating dinner more fun. :)
Then these magnets…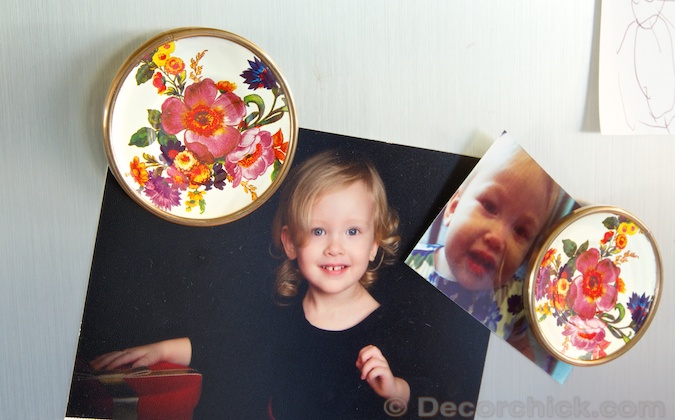 4 come in a set, and they are big and STRONG. I love a good strong magnet. I'm serious.
From MacKenzie-Childs personal accessories, I ordered a few travel pouches that were adorable. I have lots of traveling coming up so these will be perfect.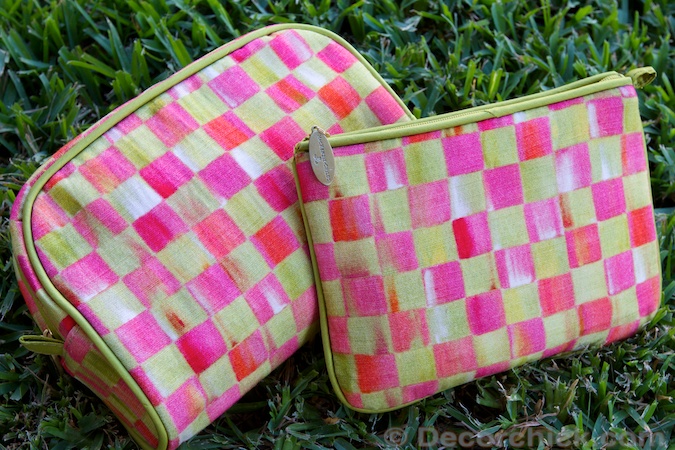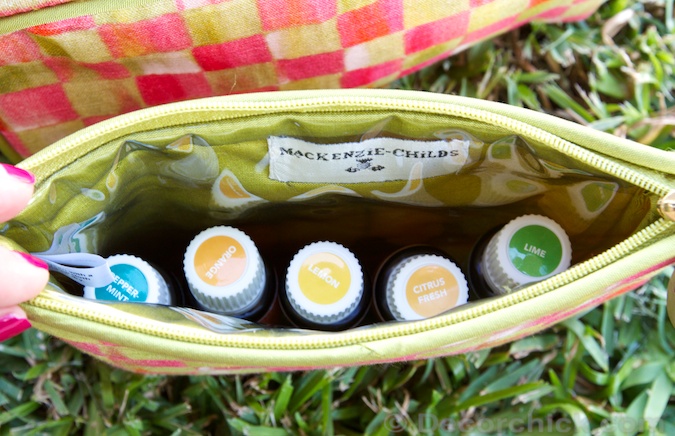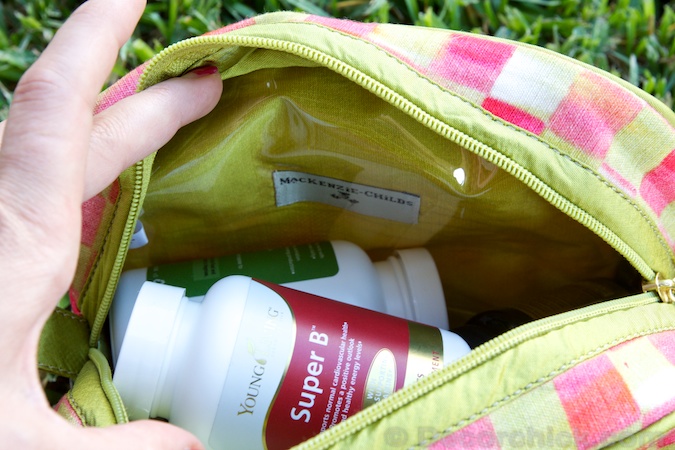 The smaller one is perfect for my purse and carrying some of my essential oil bottles, and the larger one holds several bottles of my supplements. So great for traveling! I love how the insides are lined too so if you have any spills, it will clean right up.
From their decorative hardware section, I ordered the hook on the bottom but I'm still waiting for it to arrive. Should be soon.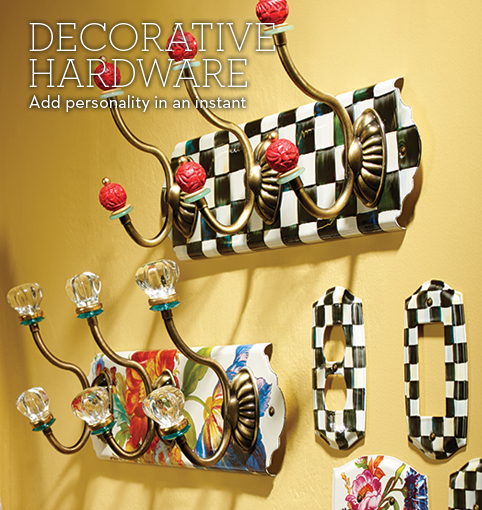 In addition to shopping online at www.mackenzie-childs.com, shoppers can purchase items at the following MacKenzie-Childs retail locations:
Aurora, New York
New York City Flagship Store
Palm Beach, Florida
Are you ready to get your hands on some of these fabulous pieces for yourself and experience some of life's finer things? Well MacKenzie-Childs is giving one lucky reader a $500 gift card to their store!!
To enter:
Leave a comment on this post and tell us how excited you are and what you would love to purchase;
For an extra entry, share this giveaway on any social media site and include a link back to this post. Pinning the above graphic will count. Then come back and leave a comment that you did.
That's it! Easy peasy. This giveaway will end on Friday, June 6, and winner will be chosen at random. Good luck everyone!
xxoo,
Decorchick!