I've received several emails from some of you asking how it is now having 2 kids now and asked how I've been feeling from my c-section.  So I thought I'd write a little bit about it, what we've experienced so far, and how we deal with it.
First of all, the c-section: I can honestly say the recovery with this one (my 2nd c-section) was a breeze compared to the first.  I know a c-section usually isn't on people's list of how they want to deliver their baby, but I happen to think they are great.  Yes they are painful, but so is a vaginal birth too, much less a natural birth.  I'd much rather be injected with something momentarily that kills the pain. I know God made our bodies for childbirth, but God also created doctors for a reason too. :)
My recovery: When I was in the hospital, I was on the pain meds they gave me and all was fine and dandy.  And felt like a million bucks. Haha.  The hospital sent me home with Vicodin and Ibruprofen to take as needed for pain. But 2 days after we brought the baby home, that Friday Ellie would NOT wake up. She seriously slept all day long, wouldn't wake up to eat or anything and it freaked me out.  I had wondered if it was the Vicodin that I was taking that was making her sleepy (because I am nursing).  And I wasn't even taking a lot, maybe 2 or 3 pills in a 24 hour period.  So I called my obgyn and asked if the Vicodin could be making her sleepy and they insisted NO that could not happen.  Well I didn't listen to them and I stopped taking the Vicodin.  The next day Ellie was like a new baby, up and alert and everything.  And I hadn't taken ANY pain medicine since then.  Yes it hurt, but it was bearable, and worth a little bit of pain knowing my baby wasn't taking a narcotic.  I also prayed a lot too during that time when it did hurt, and I think God got me through that too, because having a c-section and then 5 days later not taking any pain medicine at all is kind of unheard of.  But as of today I am totally pain free, up and around doing everything like normal. I guess the 2nd c-section is easier anyway because they cut the same incision as before and go through mostly just scar tissue that has no feeling.  So just trust your mama instinct and listen to your body if you ever go through something like this. :)
Ok now how life is with 2 kids: The answer is simple.  It depends what day you ask me. :)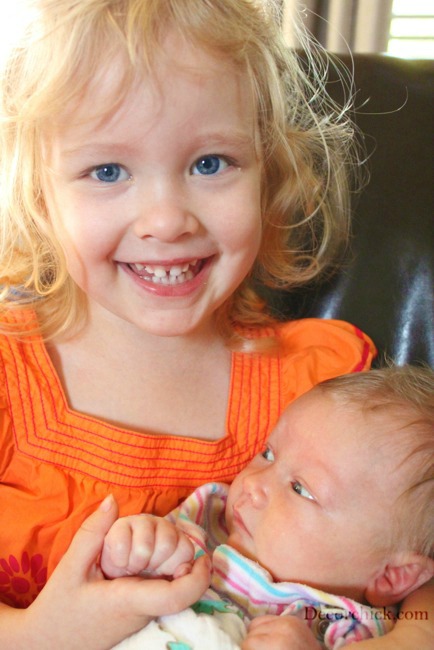 Some days it's so good that I think to myself we need to have another baby asap.  Then other days when I am screaming, well, you can probably guess how that ends.  My patience is tested daily. We have extended a lot of grace to Emma since coming home with the baby because I can't imagine how she must feel.  And Emma has been SO great with Ellie it's really amazing and we are so fortunate.  The only thing is that I can tell Emma gets bored much easier now because I can't give her all the attention she used to get all day long like before. And we haven't been going out running errands like we always used to do either and she likes getting out of the house.  She loves playing upstairs now with her dollhouse, but it kind of makes me sad when I hear her playing by herself.  I of course do my best to play with her when I can, but as a lot of you know, a newborn is pretty demanding.
I do my best to give her attention but like any other mom out there, I fail too.  I get mad, raise my voice, get mad when play doh is somehow everywhere, etc etc. It's really not Emma's fault. It's my fault.  I know myself and am TOO anal about the house being clean and orderly.  But when it's messy and the rug needs to be vacuumed, life feels chaotic to me.  And chaos isn't good for someone like myself. I really am trying to be more flexible though. It's not easy! :)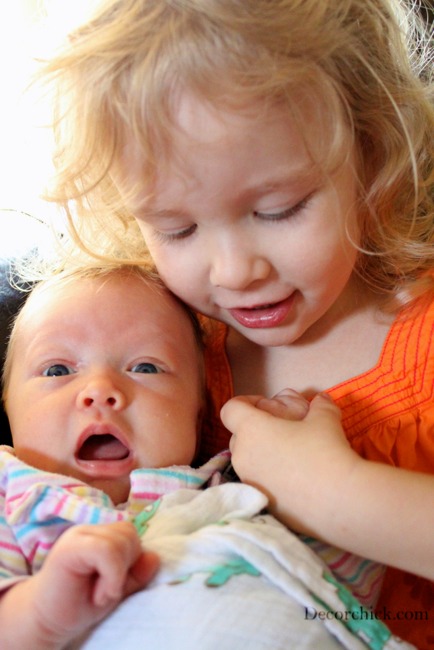 So since having 2, I'm still trying to find a balance. It's hard finding the time right now to always vacuum and clean up (as frequently as I want it done).  It's difficult letting the messes go and I seem to be getting worse with that as I get older.  Thank God Emma is a very neat and tidy kid.  I wonder where she got that from?  And yes I still do have helpers twice a month, but for the other 28 days month, it's my job. And making dinner? Well we've had lots of hotdogs as of late. :)
We are all still adjusting and it's going well so far.  Once we all get into a routine again I know it will be even better.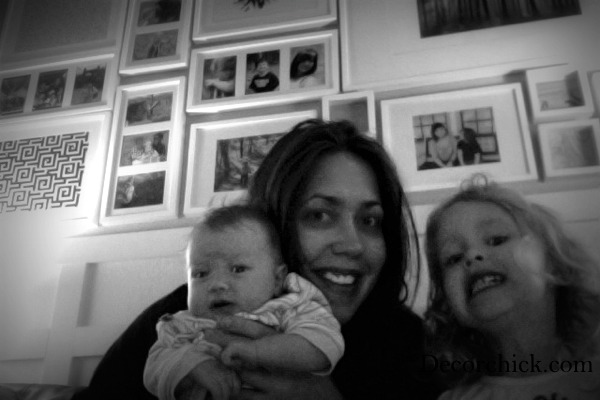 Is there would anything I would change about this "new" life? No way.  I can't imagine life without Ellie.  She's such a sweet and chilled baby too.  God knew this over-anal girl would need a chilled out baby.  But I guess God didn't give Ellie the memo that she's supposed to go poop BEFORE I change her diaper.  Not right after in the brand new clean one. :)
Aaaaand that's the latest! :)
xxoo,
Decorchick!