I mentioned to you all that my Mom got us a new duvet for Christmas.  It was the one I have been dreaming of for several months now…the Organic Cotton Pintuck Duvet from West Elm. It looked so luxurious online, and it's just as luxurious in real life.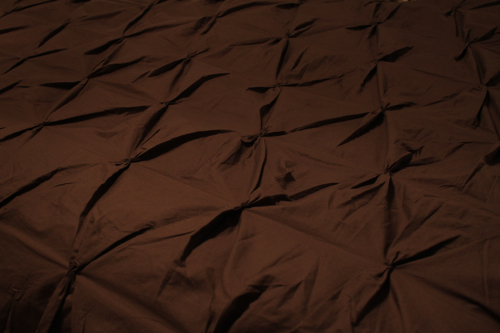 And since that was a night shot, here is a picture of the sham so you can see the true color.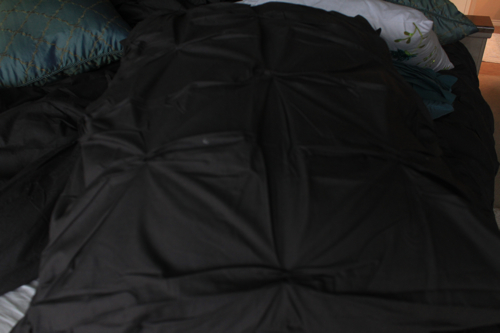 The color is called "Slate" and it's a deep charcoal gray.  Very, very pretty.  Isn't the texture of this set amazing?
So anyway, this duvet cover led to this…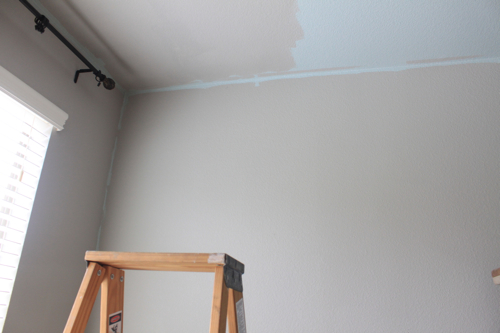 Uhh, yea.  But I had been secretly wanting to repaint our bedroom (again), so this was the perfect opportunity.  And I'm not sure what color it's appearing on your screen, but it's gray.  Straight up gray and it's gorgeous!  No funky blue, purple, or green undertones.  I've developed a deep fondness of gray.  It's really an interesting color, but a great neutral.  Buh-bye blue walls, I loved you for 6 months, but it's time to go.  It's time for calming neutrals. :)
You probably won't believe me, but this is the exact same color as what's in our office (Mindful Gray by Sherwin Williams).   Paint is SO strange.  I don't see how it can look totally different like this in the same house.  Weird, very weird.
So that's what I've been working on lately.  Another master bedroom makeover. :)  Can't wait to show you all!  Gosh, if I get tired of paint colors every 6 months, I guess I'll never have to worry about having anything to blog about right? :)
P.S. – You can also find me over at Hi Sugarplum! today as a guest poster for her Best of the Best series.

She's had a lot of great guests the past 2 weeks.  And if you don't read Cassie's blog, you really should.  She is awesome, her blog is awesome, and she's hilarious.  A perfect combination!
OH, and HAPPY NEW YEAR!!! :)
xxoo,
Decorchick!