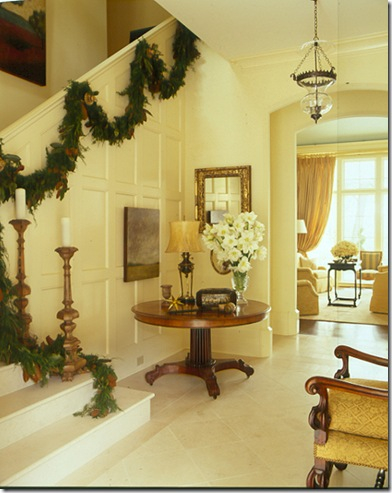 Isn't that paneling gorgeous?  That image is from Phillip Sides who does lovely work.
And I am thinking of doing it to this big wall…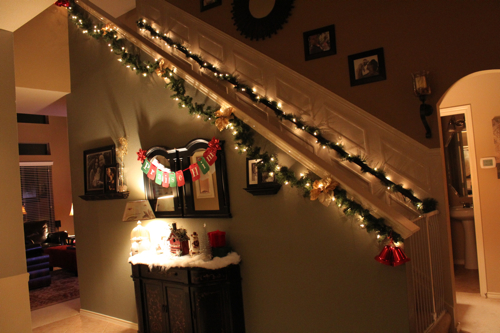 Sorry for the Christmas photos…it was raining and dark ALL day yesterday.  All Christmas decor is stored and put away and it feels so good. :)
But my question is, should I do the above paneling, or just continue with the chair rail and framed moulding boxes like I have been doing?
Here is another view with the other entry/living room wall to the left which does have the framed boxes wainscoting.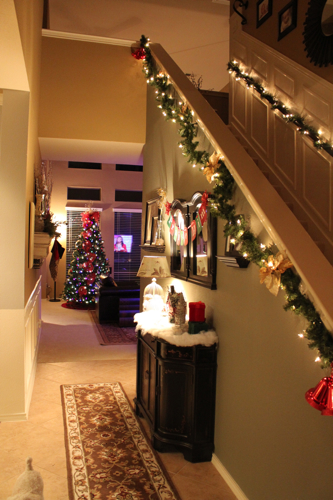 So what do y'all think?  A full wall of the gorgeous paneling, or half of the wall to keep the same pattern going with the framed boxes?
(p.s. – I just now realized my dog's rear is in that picture. Can you spot him?)
Thank you for your help!!
Don't forget you can buy the Silhouette machine for $175 here and enter the code DECORCHICK at checkout to receive the great promotion.  More details on this post.
xxoo,
Decorchick!