So I hate to even continue calling these drawers "junk drawers." But everyone has them. You just do. And I'm fed up with it! Seriously. We are making changes around here, and I'll go into more detail about that soon in a different post. But really, the junk has just been haunting me lately and I've been doing my best to put a stop to it.
And the first stop was re-organizing our junk drawers (yes that's plural), in the kitchen.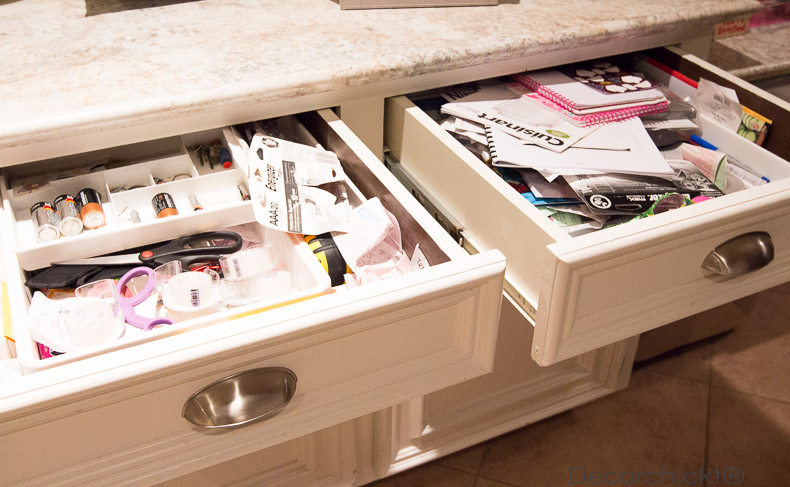 I mean, really. Yes we have 2, and yes they continually look like this. And it's always a nightmare when you want to find something, in the junk drawer. Kind of an odd phrase don't you think?
I even organized them way back when and added some trays in there. But what I realized was this. The trays I added were way too big, which in turn just turns into even MORE junk! Just the miscellaneous items you don't know where to put or don't want to put back in the right spot immediately. So when you have bigger trays in your junk drawers, you just accumulate more and more and more, and end up back at square one. With just more JUNK.
And I'm not kidding when I say I'm putting a stop to it! <insert evil laugh>
So what I did was this. I went to Walmart and bought a few of BHG's fabric drawer organizers (I bought mine in store for $5.97 each, and will update the link when I can find them online). They are smaller than what we had, so automatically, I had to decide what to keep and not to keep when I got down to business. And trust me, I had a garbage full at the end.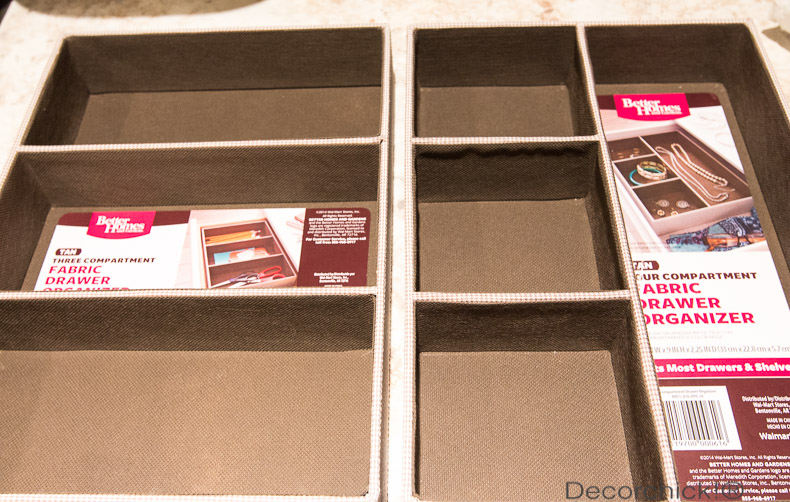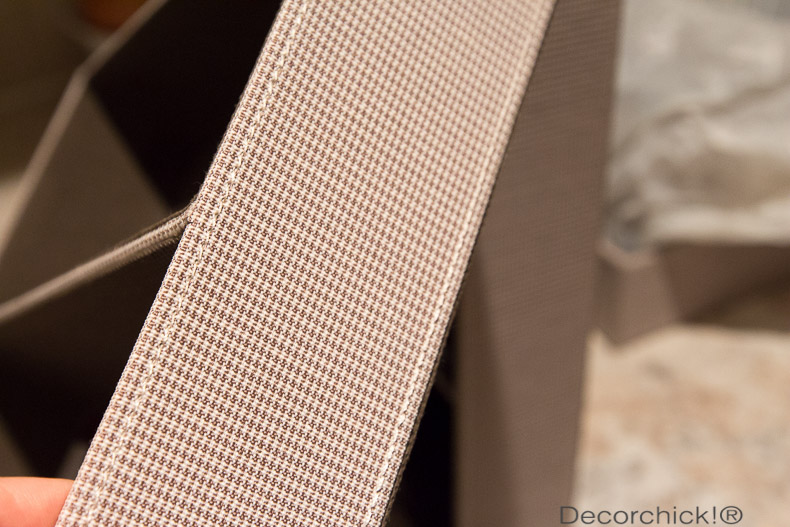 I liked the size of them, plus they are pretty cute! And again, not too big to where you would just store more junk. :)
So after going through everything and rearranging, we now have these 2 nicely organized drawers in the kitchen, with plenty of room to spare.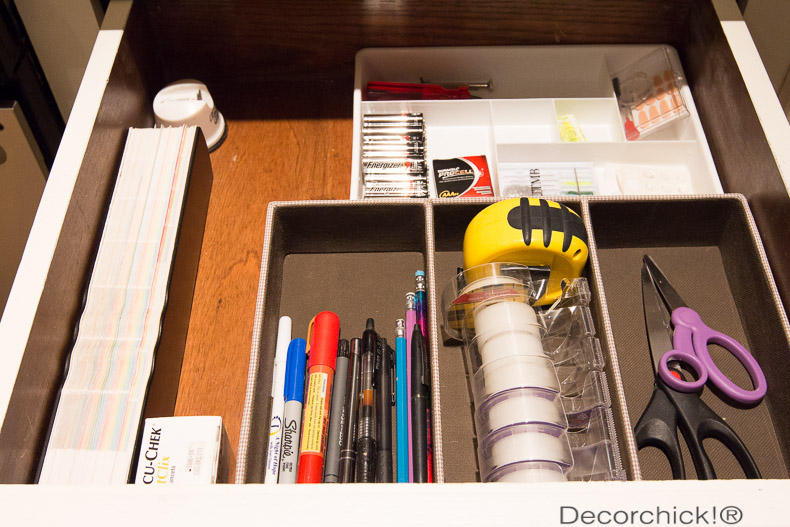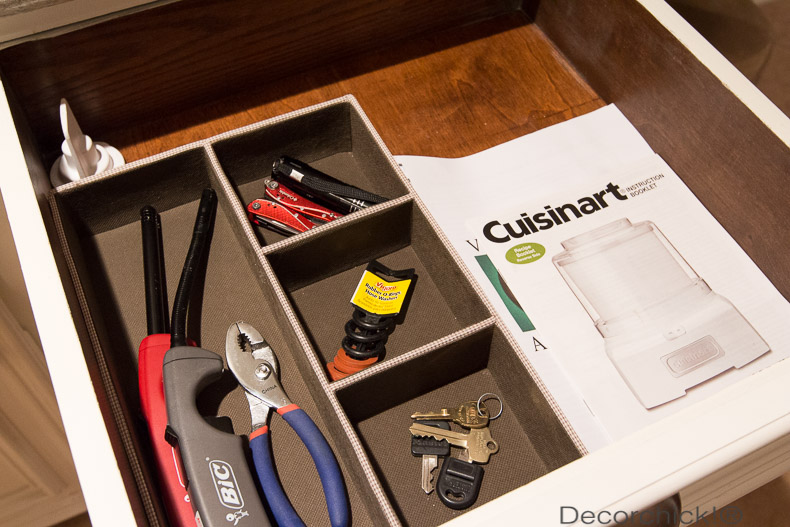 In that picture above, I'll keep only the necessary appliance pamphlets that we need. That's one thing I found when cleaning things out, was that I saved ALL of them, and then realized I have never looked at most of them once. So in the garbage they went. :)
Tape, scissors, and pens are always something that is needed. And batteries. I decided to just unpack all of the batteries and place them in a compartment for easy access. Because battery packages take up a lot of room and are bulky! So just by unpacking it all makes it so much neater.
I did keep one of my previous plastic trays in one of the drawers, mostly for my husband's tiny screwdrivers for his glasses, a small sewing kit, the batteries, and a few other miscellaneous things. But they are things I know that will be there.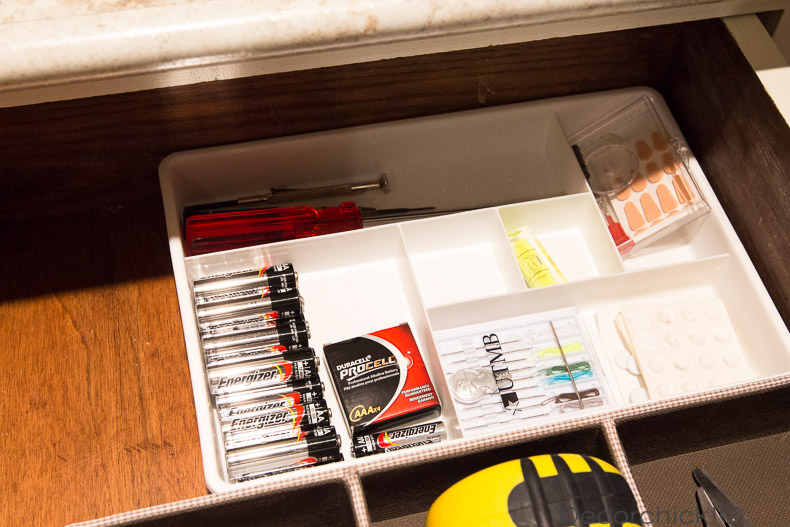 And the lovely 2 new uncluttered drawers together…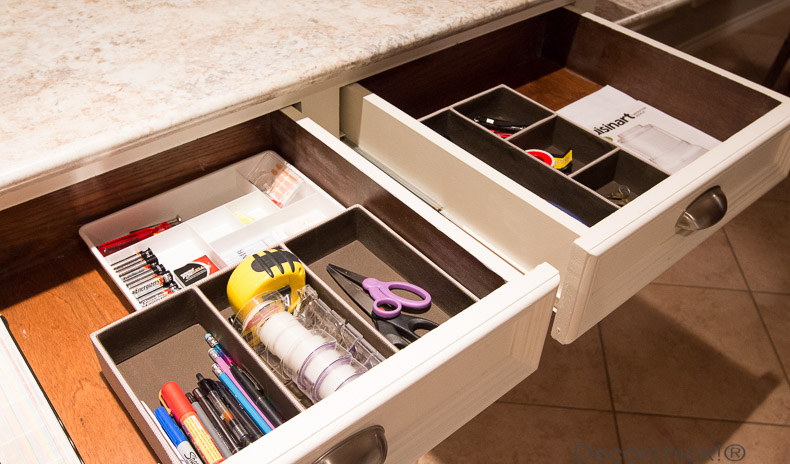 Might not be much to you, but to me, it brings a peaceful mind. It's so freeing throwing away the CRAP and keeping truly only what you need. And opening these drawers with ease is AMAZING! :)
I hope this is the solution I have been searching for. I'll keep you posted! And I can't wait to show you what else I've been doing lately around the house. Seriously, I'm on a mission and won't revert back to old habits! :)
Now who would like to win a $100 gift card to Walmart?! Need to get organized? Now's the perfect time!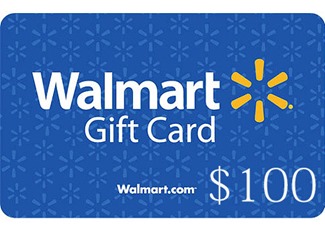 To enter, simply leave a comment on this post and tell me what you'd like to use this for!
Easy peasy. Winner will be announced next Wednesday, January 20. Winner must be at least 18 years old and a U.S. resident. Good luck!
Be sure and follow BHG Walmart on Pinterest, Facebook, Instagram, and Twitter to get their latest ideas and inspiration too.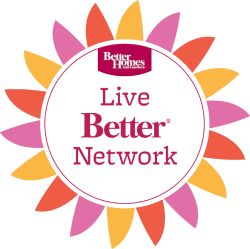 xxoo,
Decorchick!®
Disclosure: I received compensation from  BHG at Walmart for my time and participation in the BHG Live Better Network. Random thoughts, opinions and musings are of course always mine.