Bedskirts are never long enough, right?  It drives me nuts.  Like, seriously nuts.
Well, we got a new duvet for Christmas (thanks Mom!), and our old brown bed skirt wasn't going to match, plus it was too short. And I didn't want to buy a new one right now, so I thought about what I had around the house that could be used as a bedskirt. And then, a lightbulb moment…I remembered I had 2 white curtain panels that I am not using right now just sitting upstairs.
So I laid the panels lengthwise and just tucked underneath the mattress (yes, you'll have a lot of material tucked under your mattress).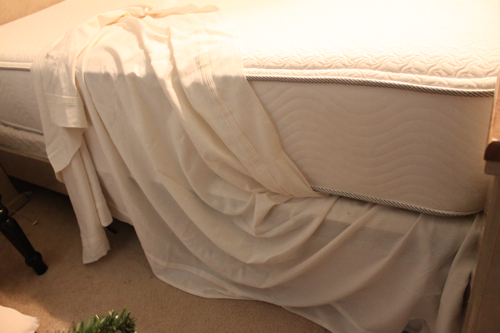 And the curtain panels were the perfect length leaving plenty of room to make a few pleats and have the bedskirt flowy.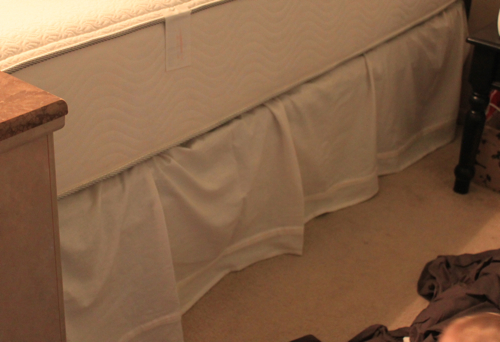 See, it actually hits the floor!!  That makes me happy.  And this couldn't have been easier, and it was free.  That was the best part. And if you don't happen to have any spare curtain panels laying around like I did, an old flat sheet would work just as well.  If there is any detailing on the sheet, just let that be on the bottom like I did with the curtains.  Easy peasy!  I think this is a good solution at least until I can get a real bedskirt, or until I need my curtain panels back. :)
I snapped these photos really quick while I was making the bed, so it's not perfect.  I'm currently working on a few updates in our master bedroom, so you'll see it all together soon, along with the new duvet which I love!  Well, you'll see it soon if this doesn't end up being a big project, which I'm sure it will since everything else seems too.  :)
But anyway, aren't short bedskirts annoying??!
P.S.-putting a duvet cover on has to be the most difficult and frustrating chore.  I'd rather be doing 20 loads of laundry.
Linking to The Shabby Chic Cottage and Thrifty Decor Chick's Before and After Party.
xxoo,
Decorchick!