Um, yes, I received a Silhouette machine to review!  Don't hate me.  Well, it's ok if you do but just for a second ok?  But don't fret…YOU will have the chance to win one too on Friday!!  AND there will be an AMAZING discount code for you to order as well. Trust me, it's an awesome deal.
So here are all of the goodies that the generous folks from Silhouette sent me.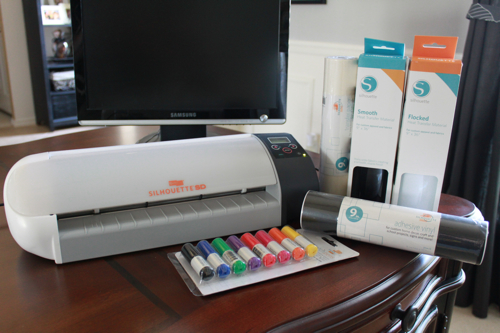 There was also a $10 gift card to their online store which was included.  Sweet!
Now, since this is a review, I am going to be completely honest here.  I had a very difficult time with the machine at first.  The software was a bit confusing for me, but I am not very savvy at that sort of thing.  I even had to get help from my friend Jen on several occasions, my step-daughter, and watch some youtube videos.  On my first attempt at using the machine, I ended up wasting the entire roll of vinyl.  But come to find out, that was pretty much my fault because I wasn't patient enough at pressing it down.  So after a full day of frustration, I set the machine aside and waited for a new day to start fresh.
AND finally, I got it, and was able to do a few projects.  The machine is very cool and cuts very intricate designs that do come out perfectly.  And if you got it perfect on your first try then you are just awesome!  It does take practice and some patience, at least from my experience. :)
I still have LOTS to learn about the machine as it can do so many different things.  It can make scrapbook pages, cards, custom apparel, vinyl decor, etched glass, sketch designs, temporary tattoos and paper crafts.  See, that's a lot of stuff to learn!
The first thing I did was download a little Christmas birdie from Silhouette's online store (which is way cool by the way!), printed it out on the black vinyl, and just stuck it on a mirror.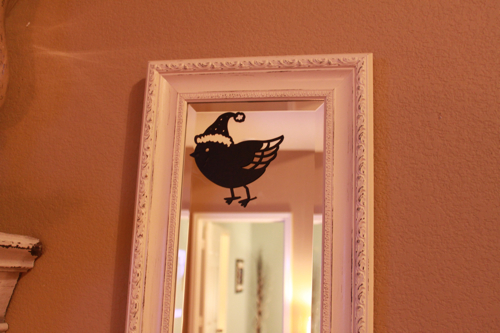 Sweet birdie!
Then I used the smooth heat transfer they sent and printed out a "Merry Christmas" saying, and ironed it on to a blank bib that I bought at Hobby Lobby.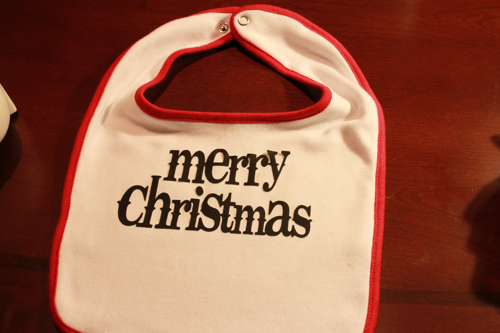 My daughter needed a Christmas bib. :)
And my favorite of all is this sign I created using the Silhouette software.  This is how it looked on my screen while printing.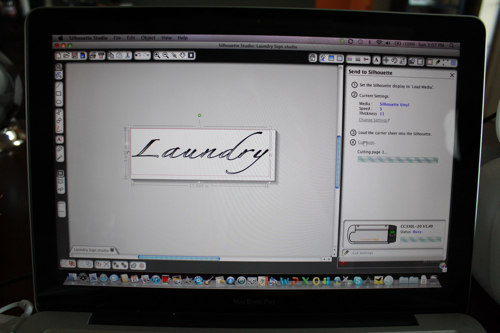 And here it is printed out and put above our laundry room door.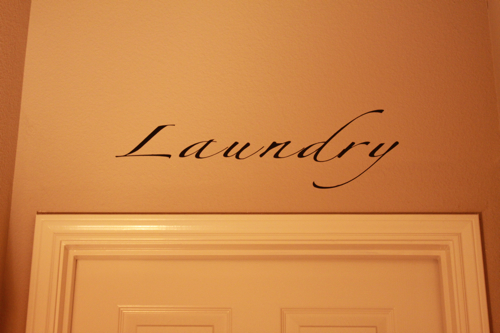 It's amazing what a little vinyl on the wall will do to a space.  By the way, this is the sign that I originally kept messing up and wasted all my vinyl on. :(
But now I feel confident when I tackle my next projects using the Silhouette machine.  I really do love it now even though it gave me grief in the beginning. But like I said, that was probably more user error than anything. :)
I'm excited to try out all of the other products and create some more crafts. And I am excited to be able to give one away this week! So don't forget to come back Friday ok??  :)  I know a lot of you want one or you know someone who wants one.  It really would make a great gift, but don't buy it until I release the discount code ok?? :)
Also, there are 2 great giveaways going on so far this week. Click here to enter the giveaway from Altar'd to win an e-book, and click here to enter the giveaway for a $50 Visa gift card.
If you are new here to my site (thank you!), don't forget you can follow me on Facebook, Twitter, and subscribe to my RSS feed by clicking here.  :)
Also, thank you to my sponsors:
Altar'd – How to paint furniture guide
Altar'd – Decorative Finishes for Furniture
xxoo,
Decorchick!