First of all, I don't really think what we have is considered a "porch" but I didn't know what else to call it.  Entryway, walkway, or is it a porch?
So, here is our porch (or entryway, walkway?) before.  And this picture was from December when it snowed because I was a bad blogger and didn't take a good before shot. Boo!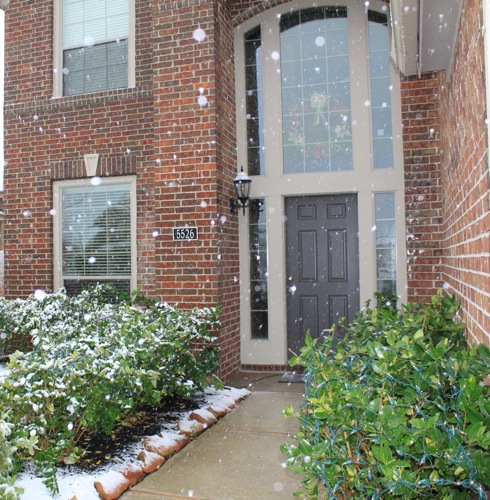 First thing I did was paint the front door black.  I used Behr's "Black Suede" and rolled it on first with a foam roller, but didn't get good, even coverage, so then my dad came over and took the door off and went over it with a few coats of black gloss spray paint.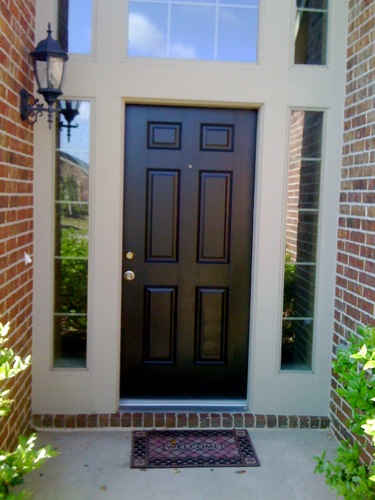 Much better.  And what's up with my pink-tone welcome mat?  Yea, I don't know either.
Then I added the wreath I made to the door.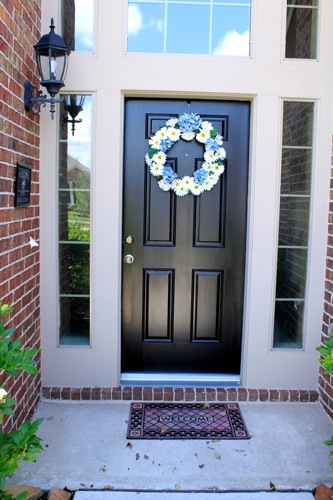 Here are some planters I found at Hobby Lobby on clearance for $15 each!!  They were originally $50.  Craziness.  I planted topiary trees in them.  Hope they survive till at least the holidays so I can put Christmas lights on them. :)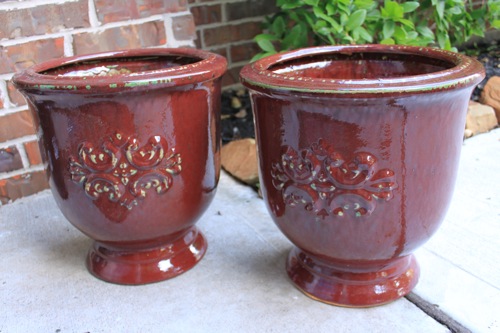 Sooo, here's what our porch-entryway-walkway looks like now…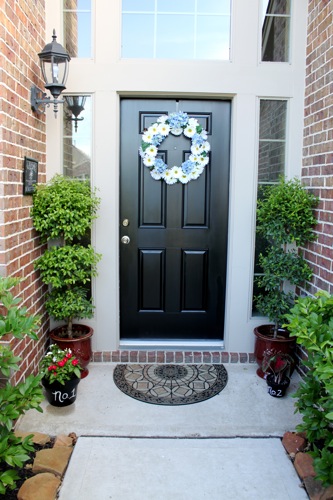 And with a little vinyl.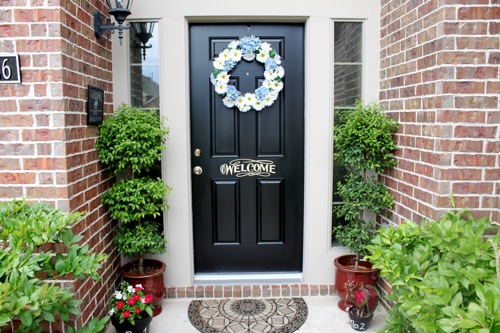 Much better right?  I'm very happy.  It's another one of those things that you think "why didn't I do this a long time ago?"
Yes, I got a new doormat thank goodness.  To find out how I made those little black numbered pots you can click here.  When you don't have vinyl, you just free-hand it.  It's all good. :)
Here are a few more shots…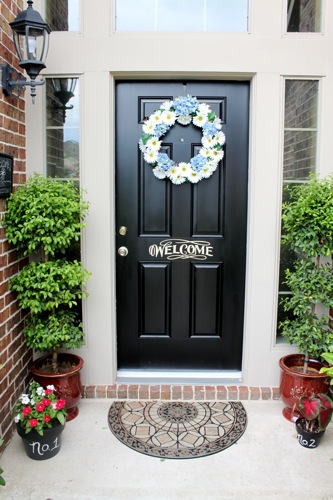 Lastly, I made a chalkboard sign to hang outside for the solicitors.  They always come knock and ring the doorbell when the baby is sleeping.  Arghh!!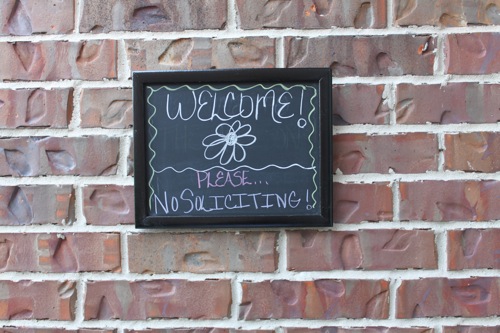 Hope it works. :)
I hope you enjoyed our little front porch makeover!
P.S.-I had to update this post to say the topiary trees have bit the dust.  The porch still looks the same, but I don't have anything in the red planters since I apparently have a brown thumb instead of a green one. :)
Sharing this post at Kate's Outdoor Party!
Don't forget to enter the Silhouette machine giveaway here for my blogiversary!  Giveaway will be open through Tuesday, May 24, 2011.
xxoo,
Decorchick