Oh sweet Lavender. There's nothing like it. My husband and I just returned from the Young Living convention a few weeks ago, and we once again got to visit our beautiful Lavender farm in Mona, Utah. It really just never gets old!! Seeing our lush Lavender plants out there growing, seeing our distillery where they actually extract the oil from the plants and get it ready to bottle up, it's just truly amazing. There is a reason they call it Seed to Seal, and seeing that process firsthand, provides ultimate comfort to me and thousands of others, knowing exactly where our oils come from and the love that comes from each bottle.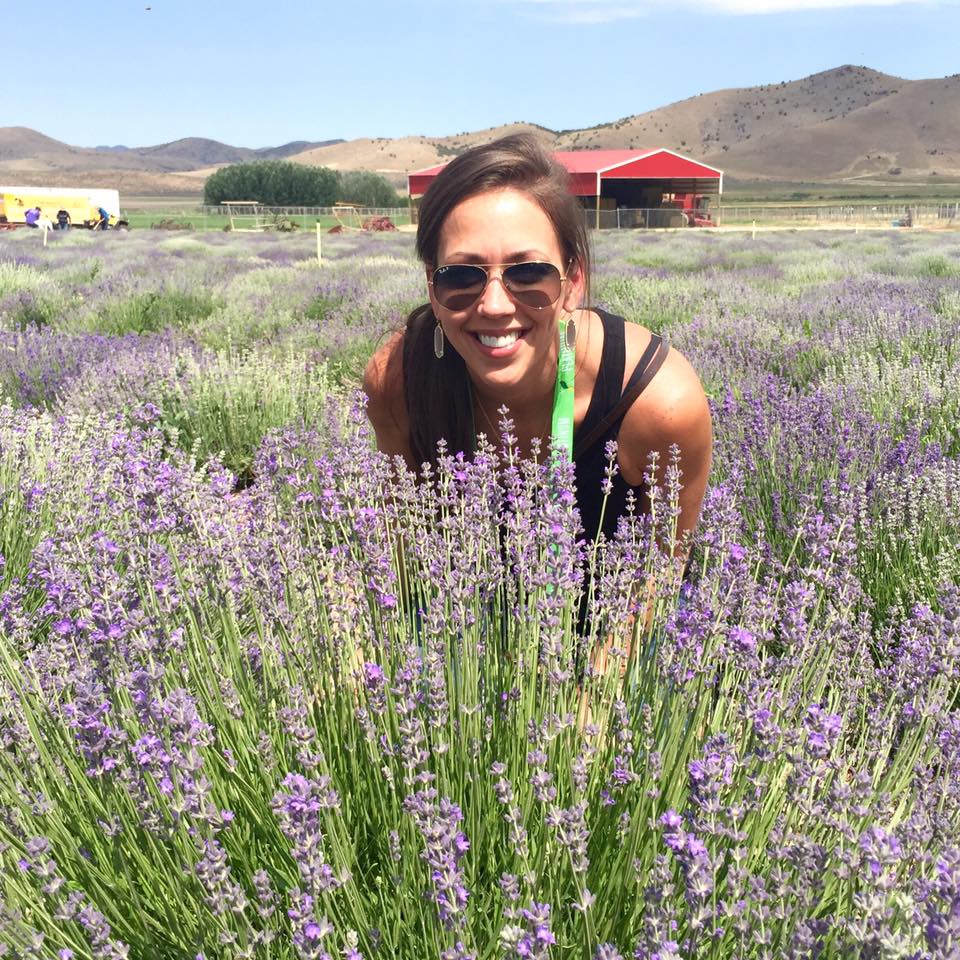 And I can't even begin to tell you all of the uses of this oil. So many. When in doubt, or you don't know what to use, use Lavender! Seriously! Never leave home without it.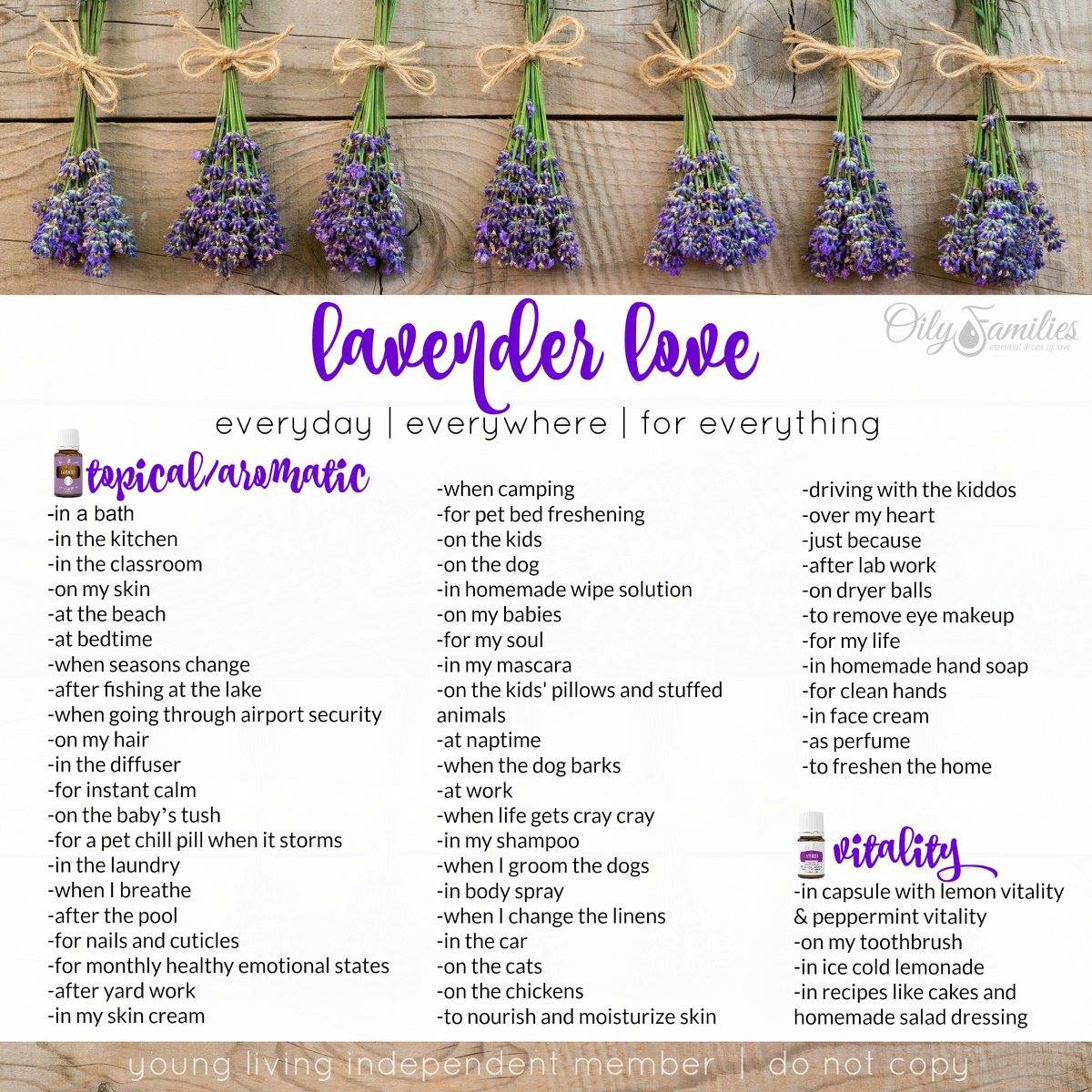 Think oils are expensive or think Young Living is expensive? Well, I have something to share with you. Think about how important it is to truly invest in your health now, so you aren't paying for it in medical bills later. It's true. I can't stress that enough. And you won't fully understand this until you just try them!
Check out more ways to use lavender here:

And Young Living is SO much more than just essential oils y'all!! It can be a total chemical-free lifestyle overhaul if you allow it to be! We use the supplements, chemical-free cleaning products, skin care, soaps, lotions, KidScents items, NingXia Red, weight management items, toothpaste, food, and of course the oils! So why wouldn't I want to order all of that from Young Living instead of the drugstore, and earn LOTS of points back each month by being enrolled in the Essential Rewards program and cash them out later for FREE product? It's a no-brainer! Plus, I know I'm putting the best on my families bodies, and inside their bodies, and you can't put a price tag on that. 
Speaking of, Young Living has an awesome promotion this month in celebration of Lavender Harvest Days!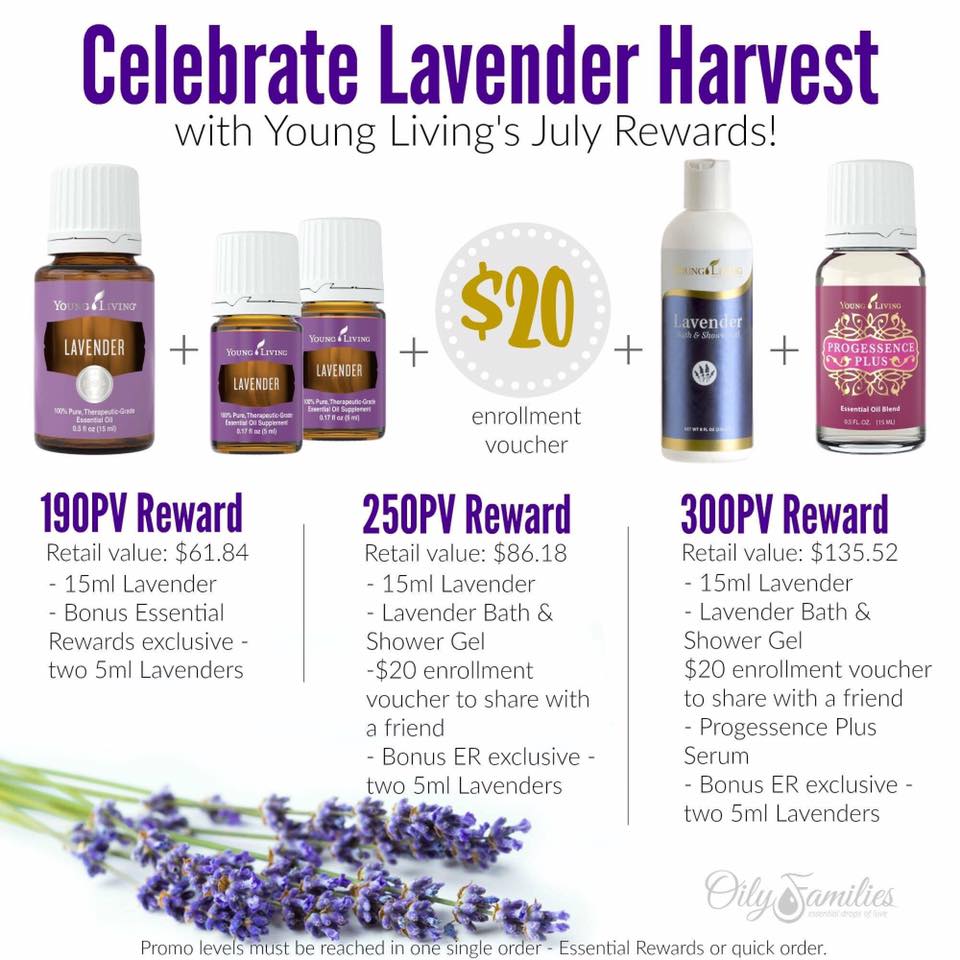 So if you order one of those 3 promo tiers, you will receive for FREE those goodies! And let me tell you, the Progessence Plus…every woman needs this! It helps support my mood, my cycles, and I have been using it daily for almost 3 years now. I honestly can't.live.without.it.
I know I write about the oils a few times a month here, but if you are really serious and have put this on the back-burner, DO IT! And enroll in Essential Rewards now! Why? Because come October you'll be receiving 20% back on each ER order, which is a huge amount to later cash out for FREE product! On September 1 they are re-vamping their ER program (to make it even better), and if you enroll this month and stay on it for at least 3 months, you'll start earning 20% back in October!! I am SO incredibly excited about this new change. And you will never NOT find something to order if you are truly trying to live a chemical-free lifestyle.
And part of my new-member special is awesome too, because I will personally send you all of these goodies, and reimburse your shipping cost so you get FREE SHIPPING!!!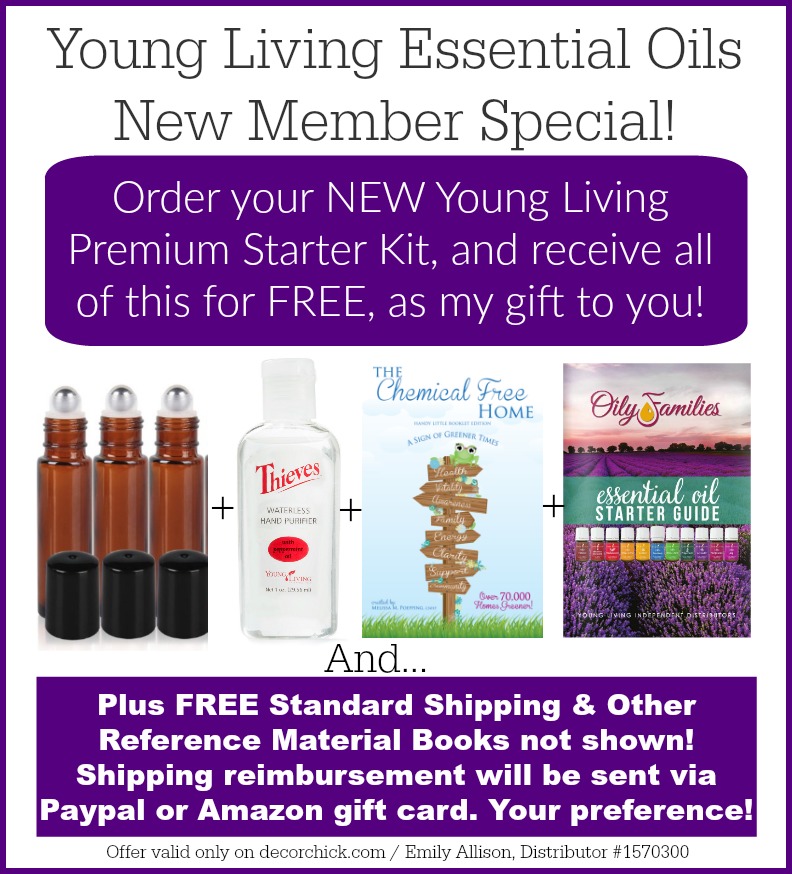 I will send you:
Set of 3, 10ml Roller Bottles. These are great to make your own custom oil blends!
FREE Shipping! I will provide your standard shipping reimbursement (up to $15) via PayPal or an Amazon Gift Card. Your choice! Email me which you'd prefer, and what your standard shipping cost was.
1 Thieves Hand Purifier (can't live without this!)
The Chemical Free Home Book (You'll be addicted in no time)
Some of my favorite Reference material books (that will help you in researching and learning about how to use essential oils)
1 Essential Oil Starter Guide (a MUST have in your new journey)
So if you're ready to take the plunge, click here. You can also visit my essential oils page for more info as well. I'd love to help you on this oily journey!
Later this week I will show you what is NEW from Young Living and what was released at convention. Seriously awesome new products! ETA: Here is my post on what's new from Young Living.
If you have any questions please don't hesitate to ask! I hope you all have a wonderful day! :)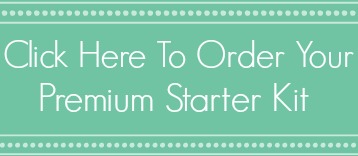 xxoo,
Decorchick!®