Well, luckily this week I haven't had any more cabinet disasters, and that's because I've been working outside on the patio!  I can't wait to show you all the full reveal of that, but today I'm going to share a very simple and quick little centerpiece I put together for the patio.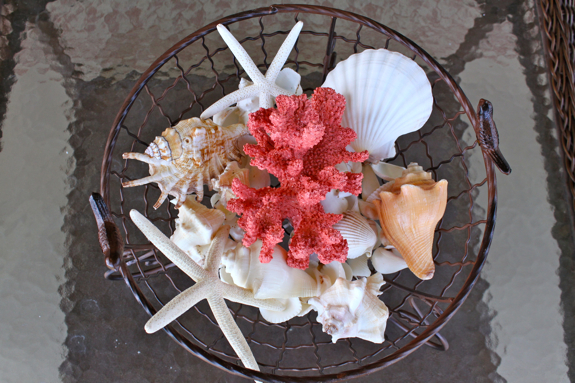 Isn't that piece of coral pretty??  Well, I'm sure you all have seen Beth's genius tutorial on how to make pretty faux coral right? That's where I got the idea from and thought it was so cute when she posted about it, so go check it out! I never would have thought to buy a piece of coral from the pet department at Wal-Mart and spray paint it, but luckily we have Beth's ideas to copy. :)
Now back to the centerpiece. That piece of coral wasn't always that pretty. It first looked like this.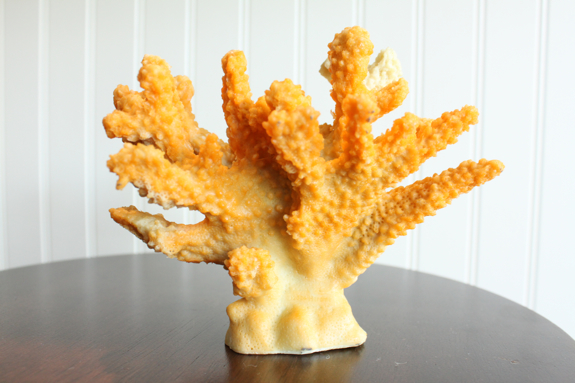 So then I used a little bit o' this that the Krylon team sent me to try out, and I looooove this color.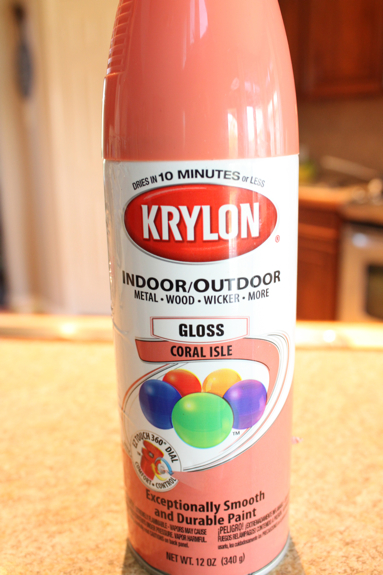 I first heard about this color when Mandi painted a dresser this beautiful coral, and I loved it so much and was dying to use it on something! You must go see Mandi's dresser redo! I have a few other projects I want to use this color on because I'm on a coral and aqua kick right now.
Here is my piece of coral after it was painted.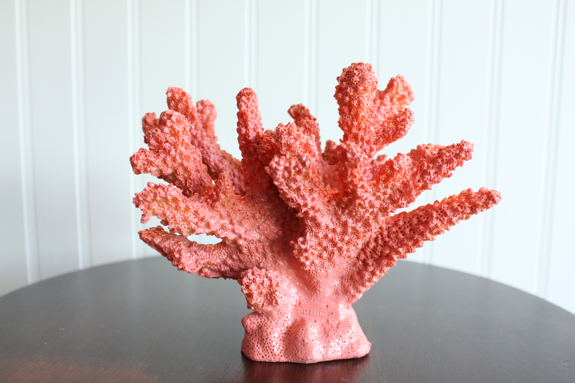 Much better!
And then I threw a bunch of shells and starfish that I already had in a cute metal bowl stand thingy that I got on clearance at Hobby Lobby, and put the coral in the middle.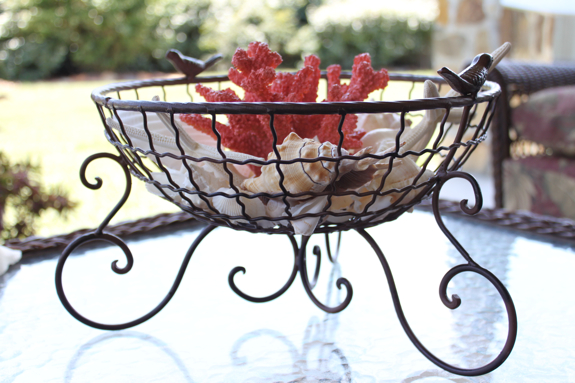 So simple but I love it!  And I know this turned out to be beachy, so just pretend those birds on the bowl are Pelicans okay?  :)
You probably want to see more of what the centerpiece is sitting on, so here's a sneak peek of a new addition to our patio.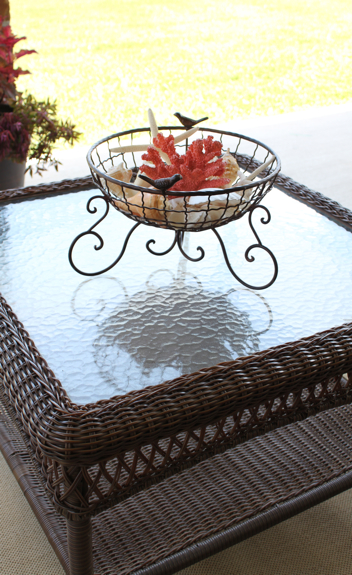 We got an awesome deal on some patio furniture off of Craigslist a few weeks ago and it was JUST what I was looking for!  It's been so nice lounging outside now, and I'll show you everything next week. :)
So have any of you joined the coral craze yet? Better hurry and head to the pet section (specifically the fish dept.) at Wal-mart! :)
Sharing this post at The Shabby Nest Frugal Friday and Between Naps on the Porch.
Don't forget to visit my subscribe page if you have a minute. :)
xxoo,
Decorchick!