Happy Monday and happy labor day everyone!! And since it's labor day that means it's now September, so that means it's officially time for Fall!! At least here in Texas that's what it means, even though it's 100 degrees outside. But you know all of those beautiful deco mesh wreaths you see everywhere? Ones that cost a small fortune? Well today I'm going to show you how to make a gorgeous burlap and deco mesh wreath perfect for Fall, and perfect for your budget since it will only cost you about $10-$15. Yea!
When my family was here in town last week, I had my cousin (who is the master bow-maker that I've mentioned several times before) make me a new wreath for the front door! I knew I wanted to use a lot of burlap this year because I'm really liking it again, so we found this burlap-looking deco mesh at Hobby Lobby and it was perfect.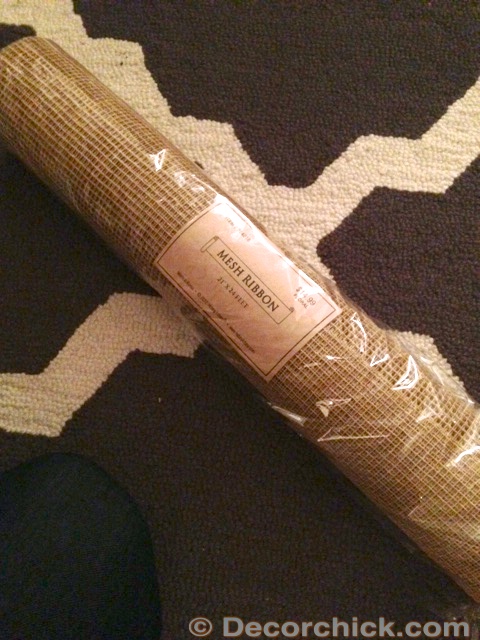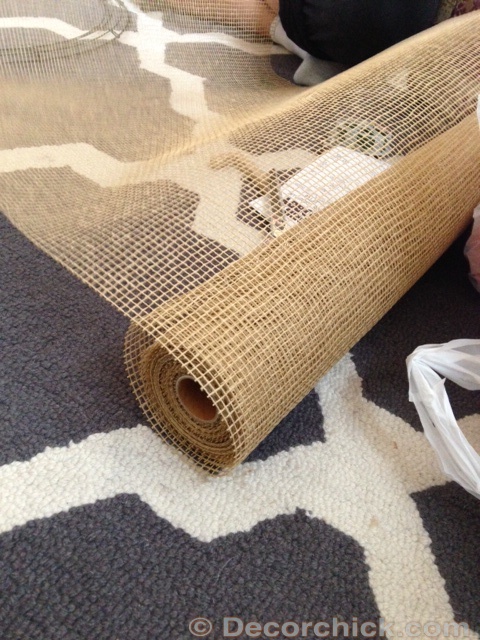 And sorry for the iphone pics but you're gonna see a few.
So first thing all you do is get one of those wire wreath forms at your craft store for about $3. I bought the larger one.  Then you just unroll some of the mesh, make a poof (it basically does that on its own), and tie it down with floral wire.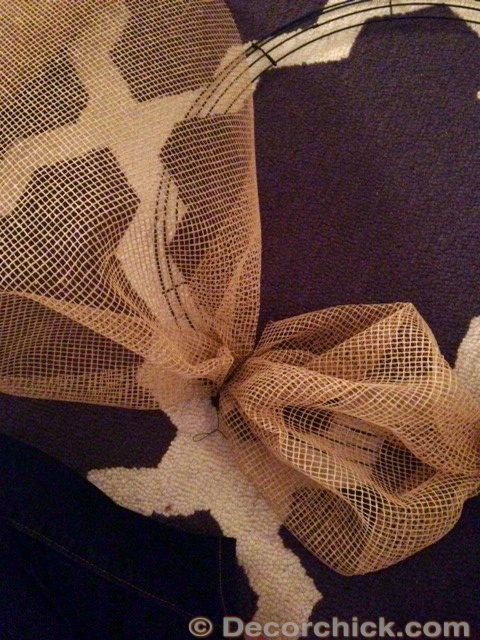 Do this all around the wreath form one time, starting with the most outer wire.
Once you go around 1 time your wreath should look something like this.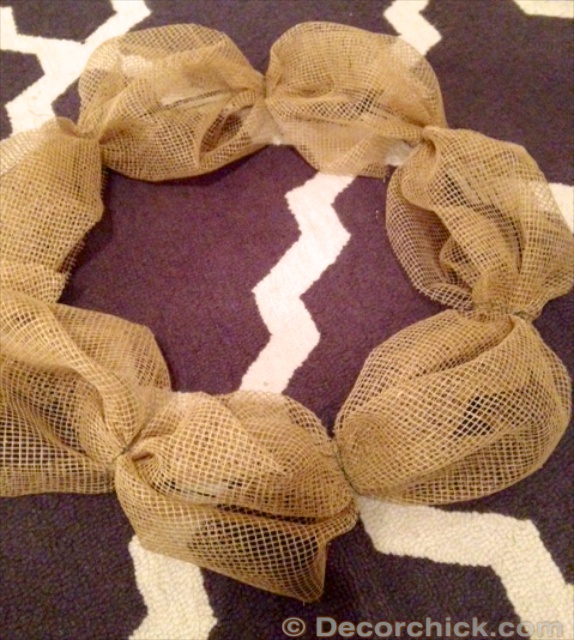 Then next thing all you do is do those same steps above, but this time have the 2nd layer poofs fit in between the poofs on the first layer. You will also be securing the floral wire on the inner most wire of the form. Does that make sense?  It should once you start doing it.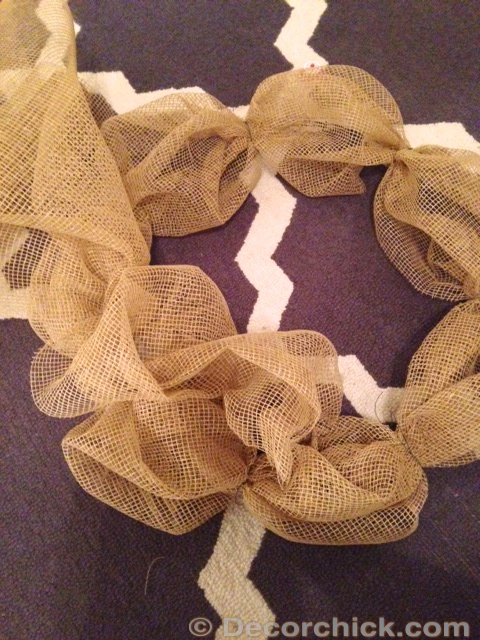 That's really  it. It was really simple and glad my cousin did the first one for me so I could see how she did it.
The last thing she did is tied in some pretty ribbon. This step is optional.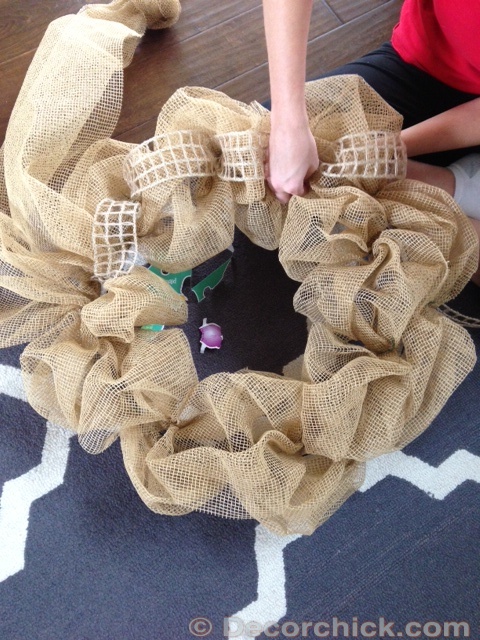 You can add any embellishments you wish. Any Fall swag of any sorts would work too. We used an A, but a cute Fall sign or something would be cute too. I just love how it turned out!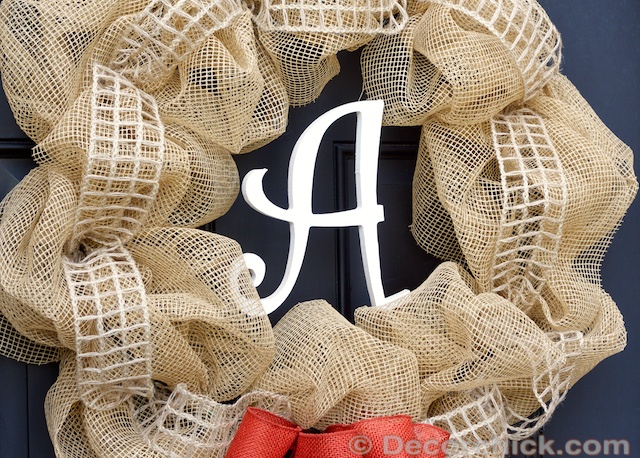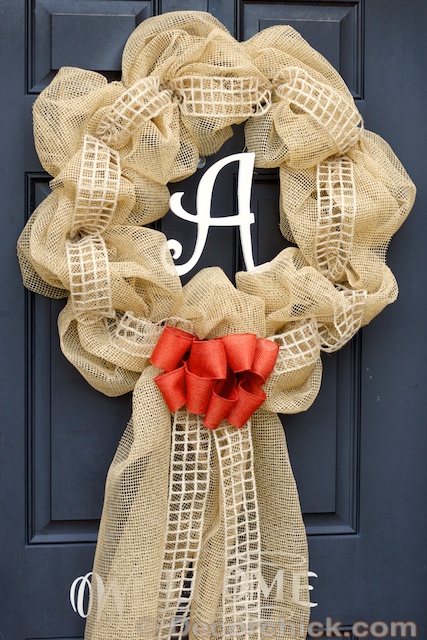 If you want the 2 "tails" as I call it, just unroll some mesh before you start tying. Do that for both the outer and inner layers. I think it adds something special to the wreath.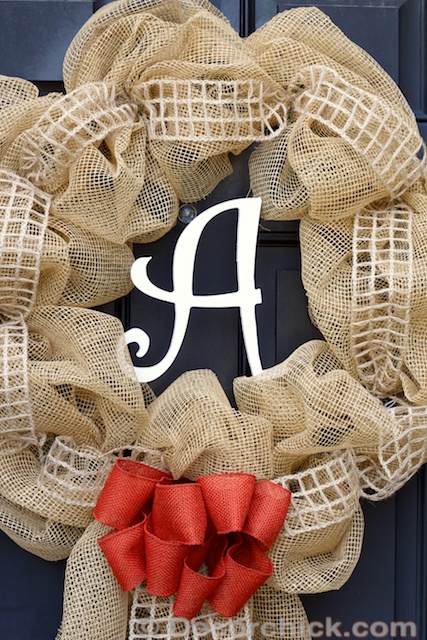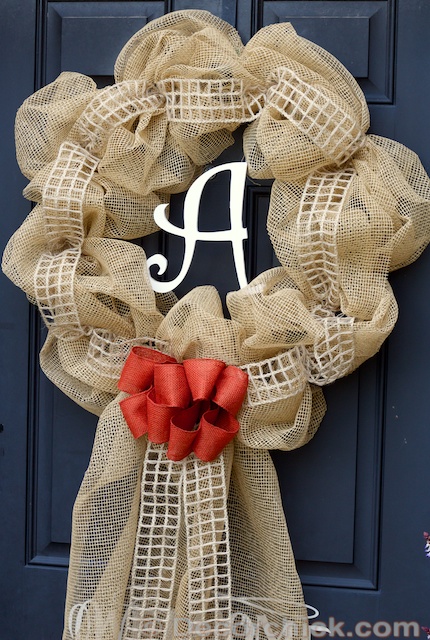 And that's it! Ahhhh I love Fall so much. It just feels so cozy to me and I adore the traditional Fall colors. And burlap. And deco mesh. :)
The cost breakdown was $8 for the mesh, $3 for the wired wreath form, and $2.50 for the letter. All of those prices are with the half off price at Hobby Lobby or with using a coupon. I didn't add in the ribbon cost because you can use any ribbon you want! And I bet a lot of you have some around your house somewhere. :) And the A is attached to the wreath with clear Beadalon wire in case you are curious. But that's a great price I think for a big, full, fluffy wreath like this!
Are you ready to try and make one too? I can't wait to show you where I added the 2nd one I made too. Happy Fall y'all! :) Sharing this post at Thrifty Decor Chick's Before and After Party.
xxoo,
Decorchick!
Let's Connect!