Well me and the hubs did a DIY project all by ourselves!  We installed crown in our dining room.  It was actually very easy, inexpensive, and anyone can do this, trust me.  I love doing things to our home that adds value, and architectural features definitely do that.  I'll give a brief tutorial as I go.
Here is our dining room before the crown (sorry, bad cell phone pic):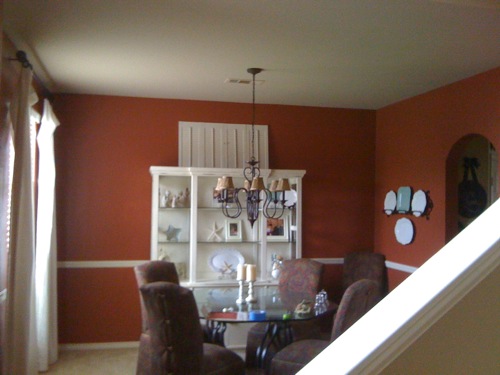 And here it is after the crown: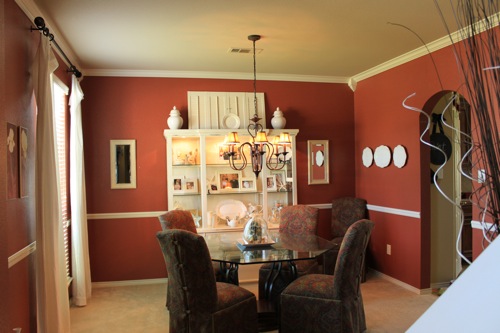 Nice difference!  You can read how I transformed that hutch and buffet table here.  It was quite ugly before. :)
Now, when I went to Lowe's to get the molding, it was then I discovered those decorative corner pieces.  The guys there helped me with my measurements, and we figured out that if we use 2 of those corner pieces, then we wouldn't have to miter any corners!  Score!!  That one back wall is about 13 1/2 ft, and once you add the corner pieces, that took off almost 3 inches per side, so then one piece of the molding would fit pretty much to a tee.  Make sense?  And I believe the molding we bought was either 13 or 14 ft?
We used a nail gun for this project.  What a handy little tool that is.  It's not ours, and we've been borrowing it from a friend who I secretly hopes doesn't ever ask for it back.  CW are you reading this?
Oh, and you definitely want to paint all of your crown before you put it up!
So first you put up your corner pieces, then measure the wall again, and put up your first piece and nail it in.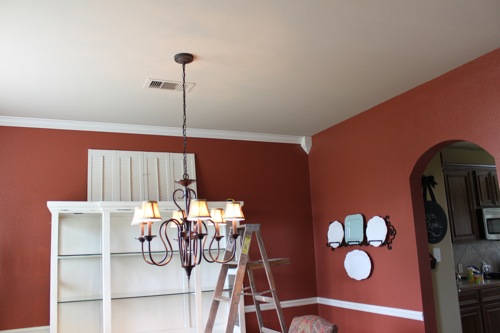 My husband had to cut off just a little bit of the molding for it to fit because it was a little long.  And you can use your miter box and saw to cut your straight edge.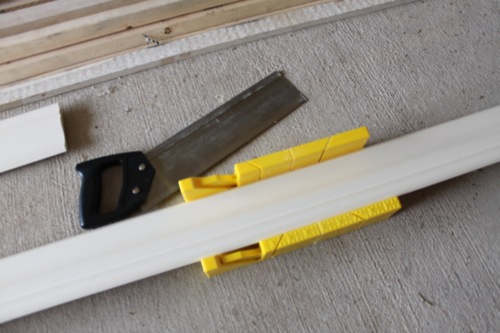 The molding just sits flush against the corner pieces.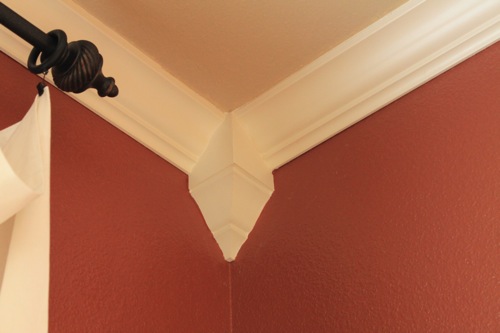 On the other 2 connecting walls, the molding just sits flush against the end of the wall.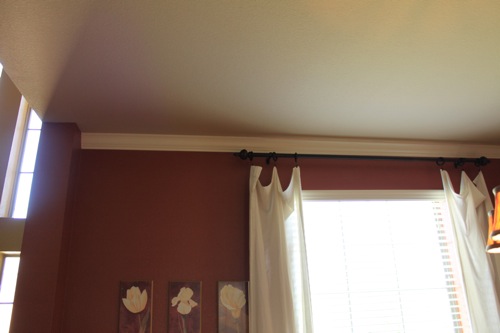 Here is my man workin' it with the nail gun.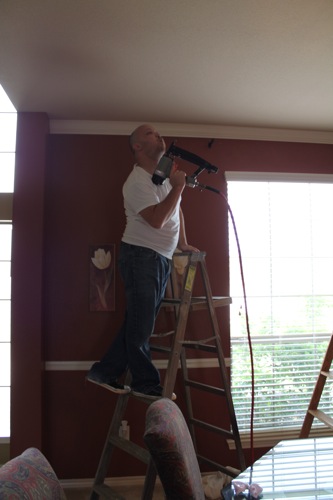 And that is pretty much it for the installation.  We had all of the molding up in less than an hour, no lie.  But what the looooong part is, is all of the caulking and paint touch ups.  Oy!
Here is me caulking between the molding and the ceiling.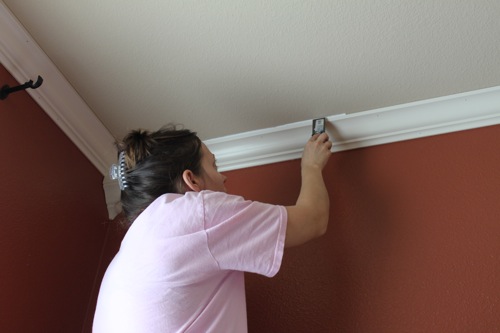 Then I went around with a tiny artist brush for the touch ups.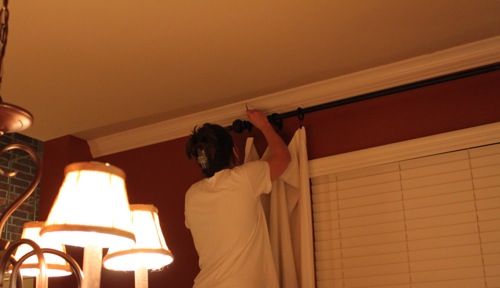 One happy and amazed DIY-er…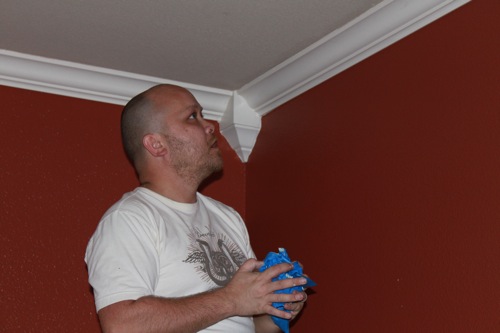 And here are some more afters of our dining room now.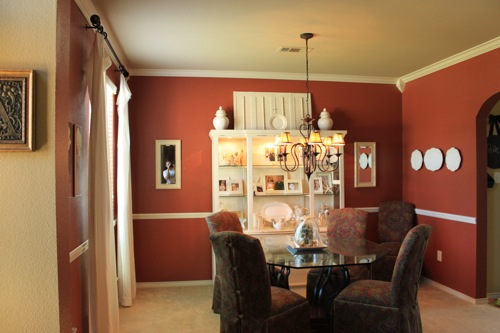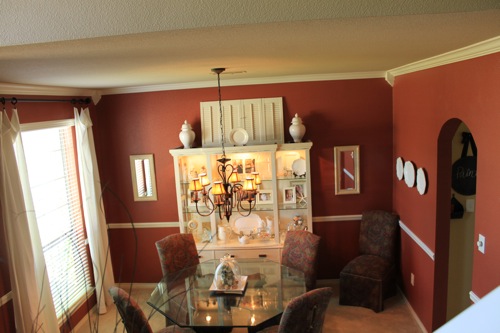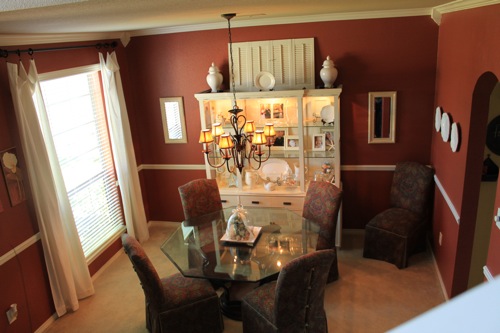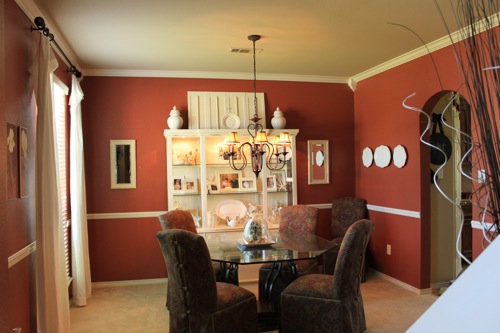 So that's about it!  I think the molding definitely adds a nice touch.  The total cost for this project was about $75, which isn't bad at all for the value you are giving your home.  The chair rail was an easy DIY project too.
Now, don't get too attached to my dining room (I know that will be easy), because it's getting a little makeover soon, and that will probably turn into a big makeover I'm sure. First thing to go is the paint.  Hope my hubby isn't reading.  I like this color, but don't love the color, and never have.  We painted it this color last year, all according to some stupid picture we had.  We don't even have that picture anymore, as I returned it.  So yea, don't ever choose your paint color according to colors in a picture!  But I will blame hubby for this one because he wanted a rusty red.  :) Oh, and the other dumb thing we did was use a semi-gloss paint in here!  Why, oh why?  That's what I call a hot mess.  Live and learn I suppose. :)  All of my decorating mistakes sure keep me on my toes!
Now go install some crown molding, I promise you can do it!!  :)
xxoo,
Decorchick!