We are big coffee drinkers here. Are you? My husband is a coffee connoisseur and loves a good cup of joe. I do too. I'm one of those "don't talk to me in the morning before I had my coffee" type of people. I'm not monster-like or anything, but I do NEED it. :)
So when I saw that HauteLook is having a sale event on their Capresso and Jura coffee machines and accessories, I salivated a bit.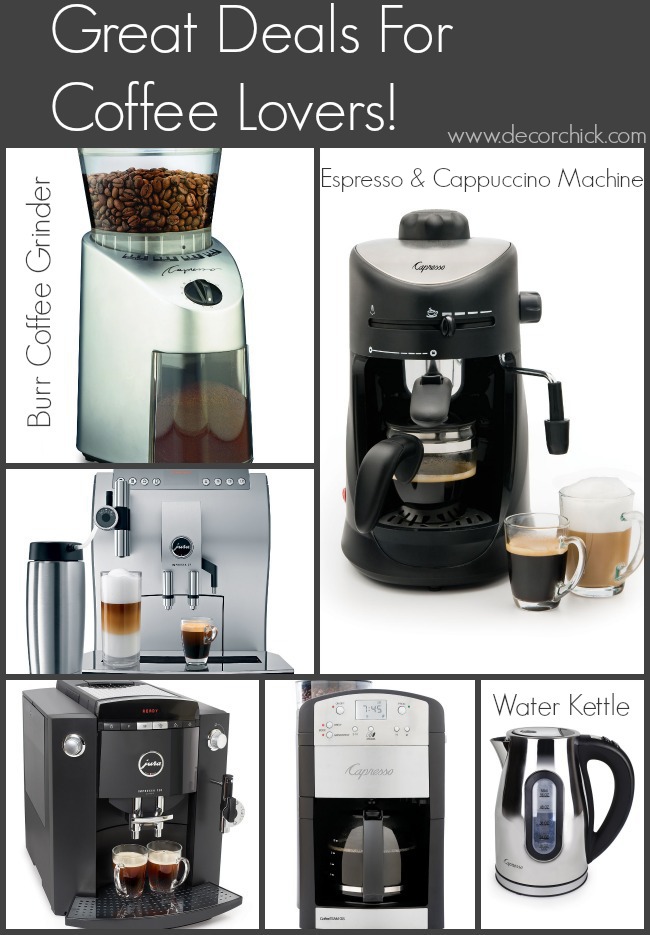 And when my husband sees this post, he will too.
After Christmas he went on a coffee buying binge buying all sorts of closeout deals of coffee stuff that J.C. Penney's had. One of them was a water kettle that heats up water in 60 seconds. I was scared of it at first thinking it would blow up, but LOVE it now and it's perfect for making tea. The other thing that was his favorite already broke, and that was a coffee grinder. :( Sooooo, I think I need to order him this new Burr grinder. A good coffee grinder is an essential.
And I love that coffee pot that has a built in grinder! And of course the fancy espresso and cappuccino machines.
And all at incredible prices!
To shop at HauteLook's special deals up to 75% off daily, you can get started here. It's free to join and of course they have other amazing events every day. HauteLook is part of the Nordstrom family, so you know it's good. Plenty of top fashion deals and their home decor section is rockin' too.
I wish we could have a cup of coffee together!
xxoo,
Decorchick!