Our patio furniture has seen better days I'll be quite frank. Heck you've seen my disaster of a closet, so why not show you other filth right? It's the least I can do. I actually do enjoy cleaning when I have the time, which is rare. We go outside on the patio all the time, but kind of just "ignore" the nasty. Why we do that to ourselves I have no clue. Case in point, our coffee table out there.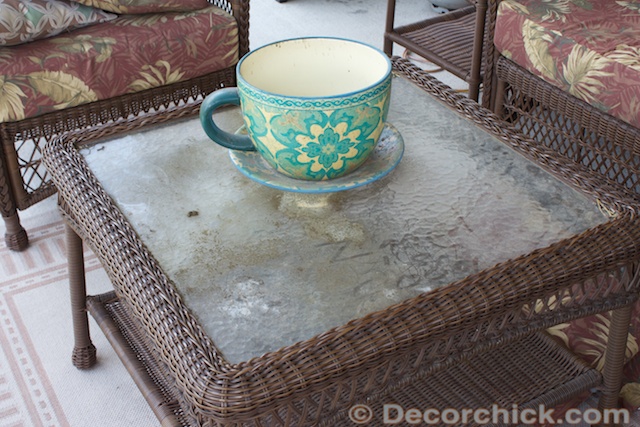 I know! You'd think I purposefully made it that dirty but nope. The only thing I did remove from this picture was the sippy cup of rotten milk. No lie. I know. Terrible. We are pigs.
I received a few outdoor cleaning products to try out and put to the test.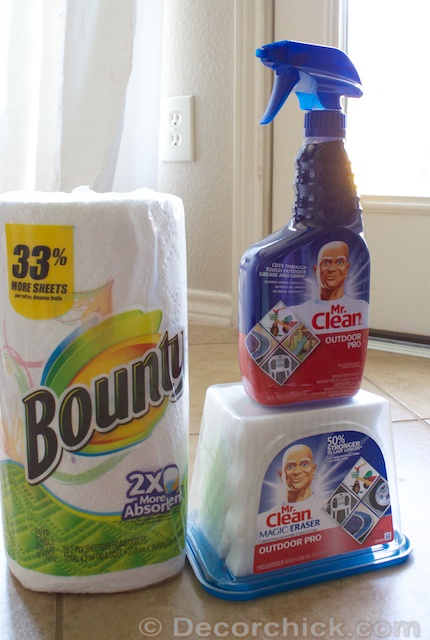 I was pretty excited to get out there and clean. Great motivation!
I started out by cleaning our tables with the Mr. Clean Outdoor Pro spray and used the Bounty paper towels.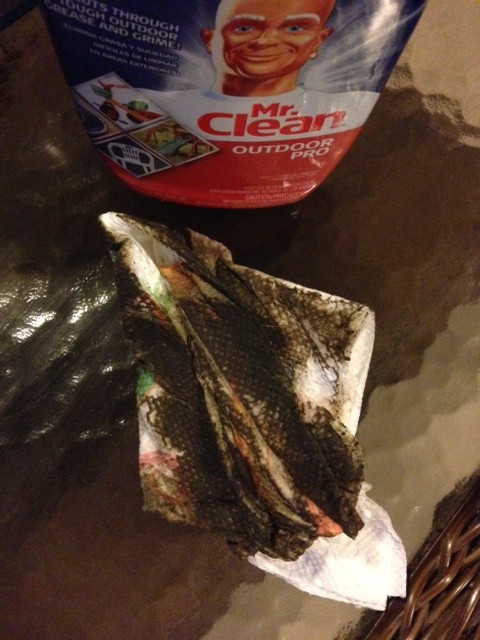 Ick!
But the table did come out looking all shiny and pretty.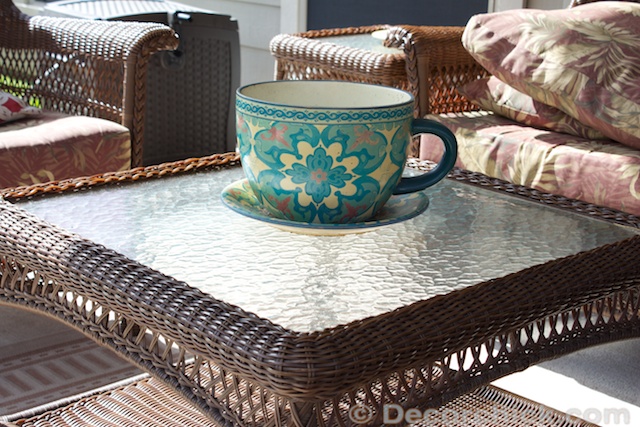 I really loved how the spray cleaned the table. I needed something STRONG for all of that funk. It didn't get the glass smeary or anything either. The only thing is that it smells funny to me and is kind of strong. But that won't prevent me from using it for the bigger jobs because let's face it…things that live outdoors are just going to require a little more elbow grease because of all of the weather elements.
I decided to put it to the test even further and use it on these spots we have on the concrete.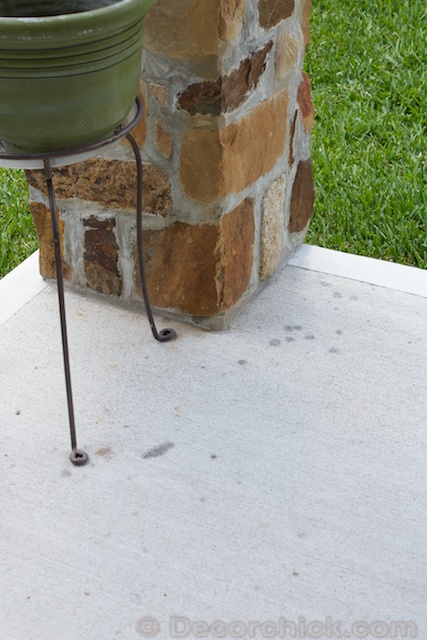 I'm not even sure what all of those are from. I am thinking though from my husbands BBQ pit because he does roll it over in this area when he cooks. Hmmmm.
So I just sprayed that outdoor spray and used a scrubber brush thing I had and this is how it looks now.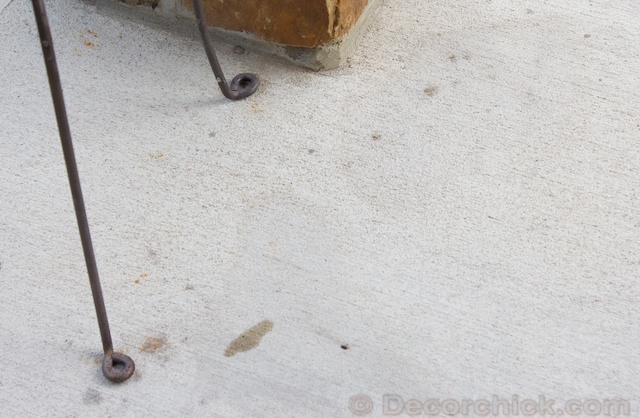 It didn't take them away completely (a few it did), but it definitely minimized their appearance don't you think?  And that big wet spot I'm not sure what's up with that?!  Since I was on a roll I went ahead and did the majority of the patio and cleaned up the spots that I could. The slab is looking much better already!
Then to try out the Mr. Clean Outdoor Pro Magic Erasers, I used it on the kids' little rollercoaster.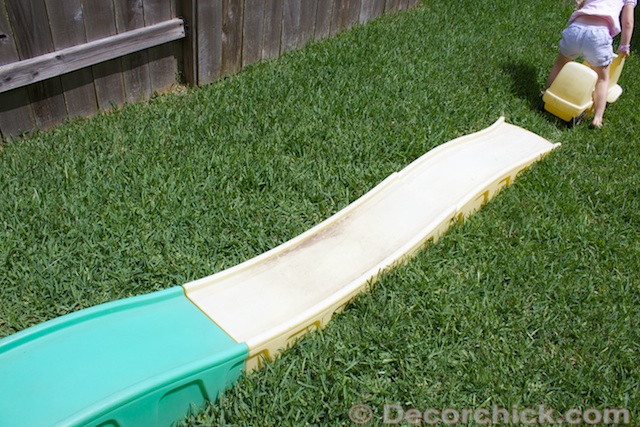 I love love love magic erasers so I was really excited about these outdoor ones. That spot on the coaster is not a spot that just washes off in the rain and that's why I chose to test it out here. Magic Erasers clean EVERYTHING. They are amazing. Almost amazing as baby wipes. :)
So you just wet the eraser, squeeze out the water and wipe away.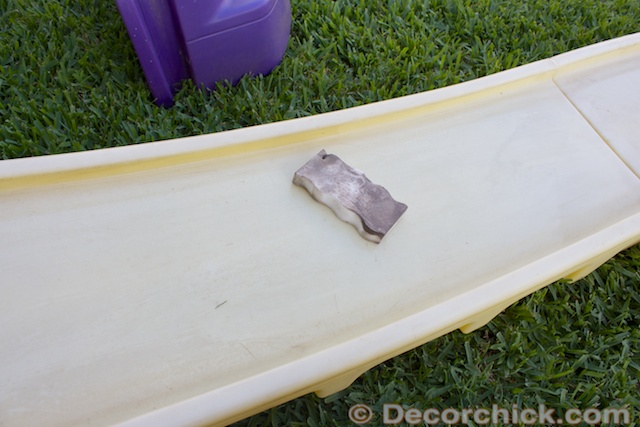 See, it's magic! You can reuse the erasers too which is great. These will come in handy for the BBQ pit and our new backyard fort to use on the swingset and slide etc. It's just not that dirty yet so I haven't used it on it.
So all in all I thought the products cleaned very well, and you can find all of these products at your local The Home Depot. The ole bald man passed my inspection. ;)
And good news for you all is that they want to give one of you a "ReadyDoneClean" prize package (shown above) AND a $100 gift gard to Home Depot! To enter just leave a comment and tell us which product you'd like to try out and why. Easy peasy! I'll announce a winner Thursday, June 6, 2013.
Happy cleaning friends!
*THIS GIVEAWAY IS NOW CLOSED* Congrats to Tera, entry #309 for winning*
xxoo,
Decorchick!
Let's Connect!




I did receive these products for my consideration from Proctor & Gamble and they are also providing the giveaway prize. As always, opinions are and always will be my own.