*This giveaway is now closed*
Hello hello!  Hope you all had a great weekend!  We have yet another great giveaway this week, brought to you by Better Homes and Gardens.  I recently participated in a promotion BHG is doing to "make your home guest-ready for less."  We were able to choose $100 worth of product through the Better Homes and Gardens collection that Walmart carries. And while we don't have a designated "guest room" at our house, my mom does so I freshened up one of her rooms. :)
Here is her guest room before: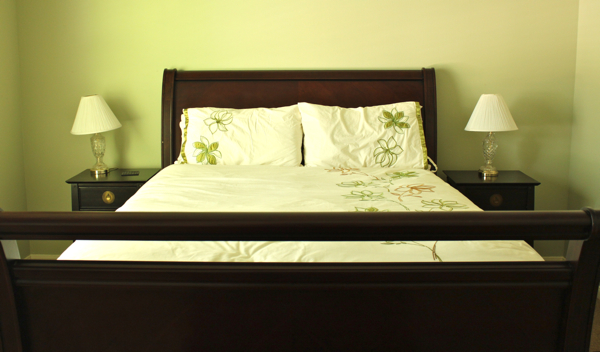 Her room wasn't bad or anything before, but it could use a little sprucing up (and non-crooked lampshades).  And don't forget she just moved into their new home so there are still other things that need to be done.
And here is the after with a little love from some new Better Homes and Garden bedding!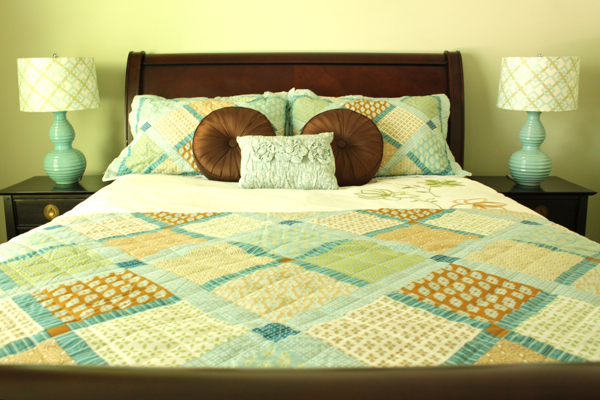 I kept the same duvet cover she already had, and just laid a new quilt down on the end of the bed. And it cozied the bed up right away.  This is the quilt I ordered, and it was only $24! And for a King! She has a queen bed, but I ordered the King so it hangs longer on the sides.  I also ordered the matching pair of shams for $9.00!
You'll also notice there's new lamps in the room.  My mom already had those in another room, and we just did a little switcheroo because they matched the new bedding perfectly!
I love the new pillows too…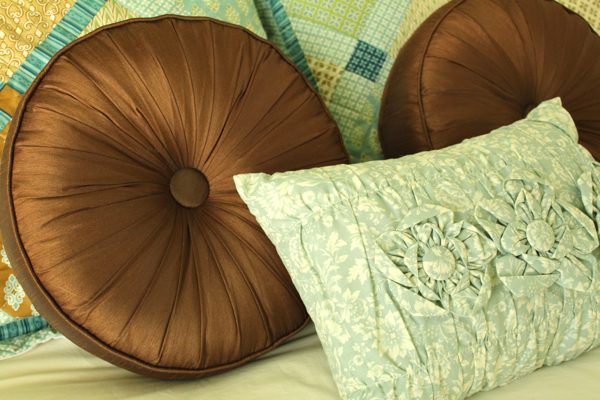 The 2 round brown pillows are so cute, and just $11 each!  I love the little blue and white flowered pillow also. :)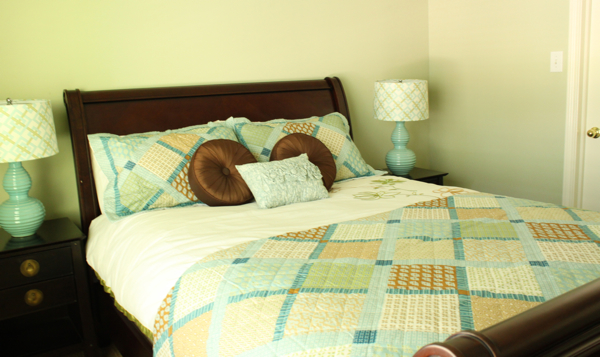 So all of that came in well under $100, and I think it's definitely ready for guests now!  And all just by adding a nice quilt at the end of the bed and a few new pillows, and it feels like a nice little room makeover. The prices were great and everything I chose for the room seemed to be very nice quality.  I want to go spend the night at my Mom's so I can sleep in the new bed. :)
And now for the giveaway!  The generous folks from Better Homes and Gardens would like one of you to win a $100 gift card to Walmart! Woohooo!!
To enter the giveaway for the $100 gift card to Walmart, please do the following:
Tell us what room you would like to redo in your home if you had a choice.  Would you like to use some BHG products for the makeover?
Bonus entry: Like BHG Live Better on Facebook (tell them thank you on their wall if you have time too).
Bonus entry: Tweet or Facebook about this giveaway, and include a link back to this post.
And that's it! Please leave separate comments for each thing you do.  Giveaway will be open until Saturday, October 8, 2011 and winner will be selected via Random.org.
Good luck!!
*This giveaway is now closed*
xxoo,
Decorchick!