Happy December 1st friends!! I'm here to kick off December with a fabulous giveaway from Bellacor! They offer beautiful home decor items, and gorgeous lighting! And what I love is that they seriously have ALL different styles to choose from, so finding something to suit your taste will not be a problem. :) Here is a little bit more about them as a company:
At Bellacor, we believe home is a life in progress. Since 2000, we've made it our goal to partner with you through every step of that journey. We understand that what you choose to bring into your home is a major decision, and we relish the responsibility that comes with it.

You put your style and life together in all kinds of ways – and no one offers you better choices than Bellacor. We give you the elements and the design inspiration to create a home and life you love. Chic, fun, classic, cozy – we go where you want.

Even though we're a fast-growing internet retailer, we maintain our humble Midwestern roots and values. We still take your phone calls, still answer all your questions and still offer you the same level of personal service that we have from the beginning, back when we were the little lighting store around the corner.
And I just have to say, I LOVE browsing on their site too. It's very clean, easy to navigate, and easy to narrow down your searches to find that particular item you are looking for. It makes the online shopping experience so much more enjoyable!
Ok so let's look at some of their beautiful lighting options! They have tons like I said, but these pendant lighting options caught my eye…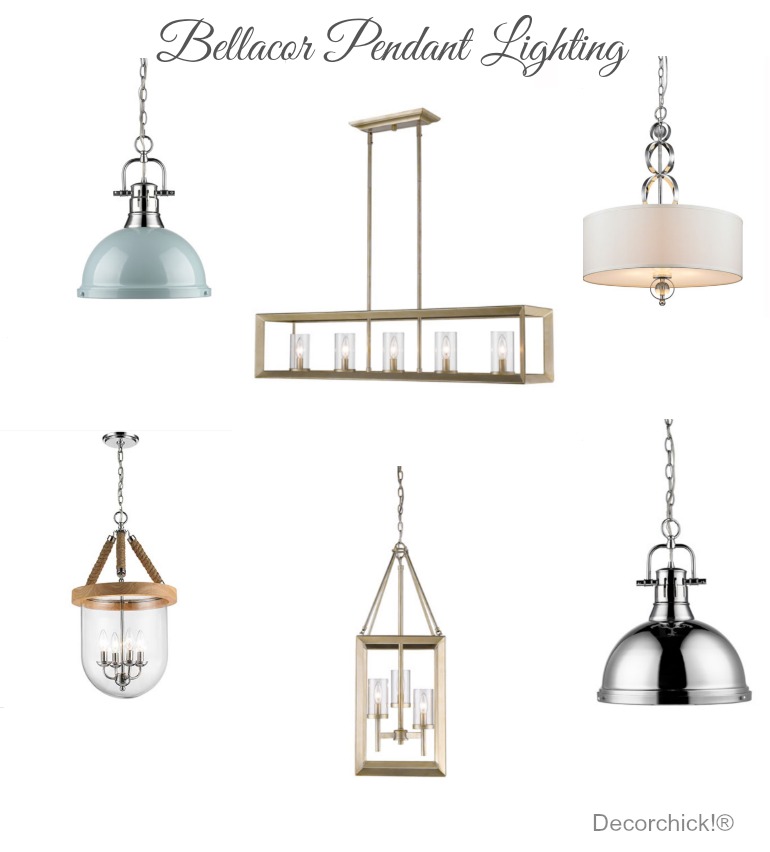 So pretty right? Just love them!
And I also love these bathroom lighting options!
Love them! Adding extra lighting to your home can make SUCH a huge difference too. Or even just updating old fixtures for something new and fresh can make your room feel brand new again!
Bellacor is offering TWO $500 gift certificates to go on a golden lighting shopping spree! Woohoo!!! To enter the giveaway, follow the instructions on the box below. Good luck everyone!!
xxoo,
Decorchick!®