Yep, I said 10 months. That's just 2 months away from being a year old. Sadness. But happiness too because she's still getting cuter and cuter each day. :) I think this is the month where she really looks different when I took her photos. Probably because she has a mouth full of TEETH!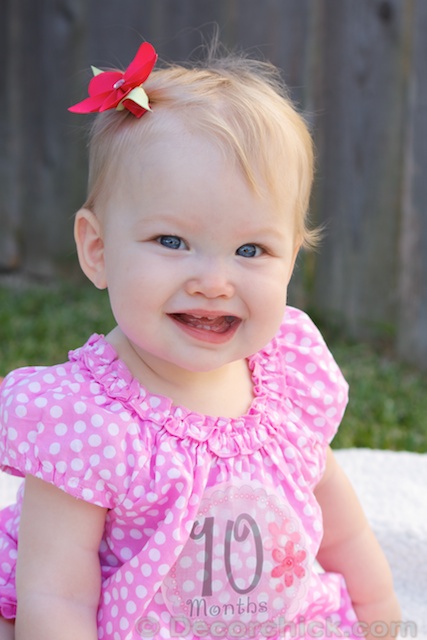 Isn't that insane? She has 7 teeth in, and the 8th is coming in also! So 4 on top, and 4 on bottom. 8 teeth just seems like a lot for a 10 month old. It really seems a new one just sprouts up each week or something. Crazy.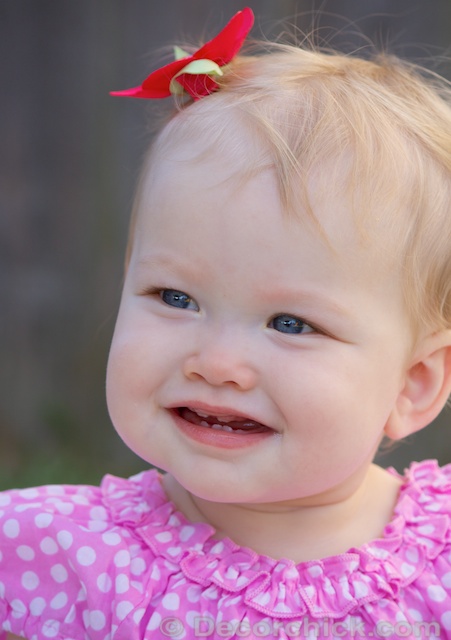 She looks so funny to me. Like a real little person now and not just a baby. :)
She's still a great eater, is crawling everywhere, and pulling herself up on everything now. She loves to try and climb your leg too.
She's still just my easy going little girl. There were a few days this week where she didn't want to be put down and that was difficult, but the past 2 days she's been having fun exploring and likes to make her way into whatever room we are in.
I'm sure I'm the only person who will think this video is funny and precious, but that's ok I'm her Mama. :) She just continued to do this for about 5 minutes even after I stopped recording last night. Determined little thing.
Yep, still cute. Haha. You can follow me on Instagram too (@decorchick1) for more of this cuteness.
And that's it for 10 months! Better start working on her birthday party!
xxoo,
Decorchick!