Congratulations to Mandie at Mandie's Mumblings!!  You are the new owner of a $50 gift card to Hobby Lobby!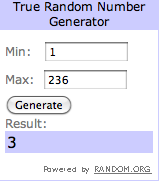 Mandie, shoot me an email so I can get your info!  Now you can go do some shopping.  :)
Thanks so much to everyone who entered.  Y'all are awesome.  Hopefully we can do fun things like this often. :)
xxoo,
Decorchick!